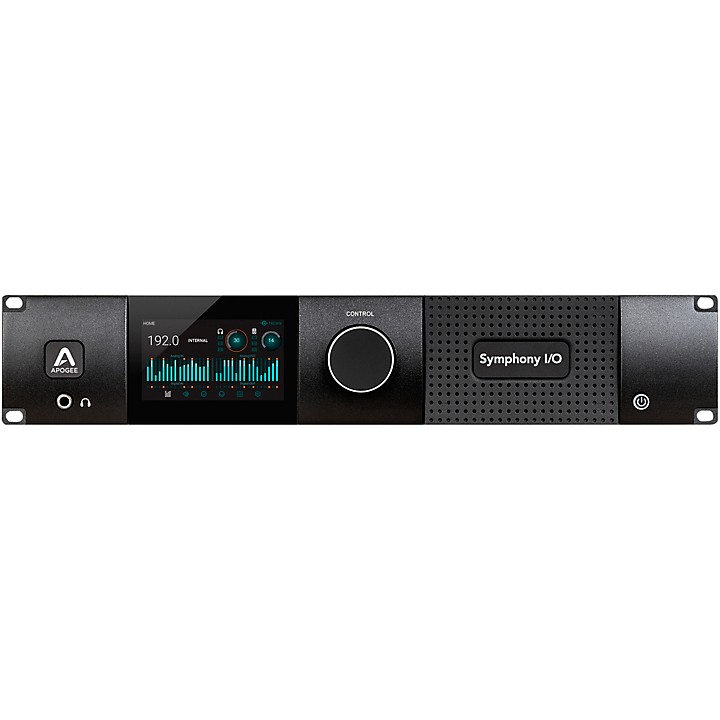 High I/O capacity.
Symphony I/O Mk II is a multi-channel audio interface featuring Apogee's flagship AD/DA conversion, modular, configurable I/O (up to 32 inputs and outputs), intuitive touchscreen display and optional world-class microphone preamps. Designed to deliver professional sound quality for audio recording, mixing and mastering, Symphony I/O Mk II is the ultimate music production centerpiece for any modern studio. And now, with the Symphony I/O Mk II Dante option card and a simple ethernet cable, Symphony I/O Mk II can be easily connected and shared across post production, broadcast, live sound or recording studio networks, unleashing legendary sound quality on the world's most popular audio-over-IP solution. The Symphony I/O Mk II Dante option card also includes Pro Tools HD connectivity for integration of Pro Tools HD systems into a Dante network environment. No other Dante-enabled audio interface offers this level of quality, flexibility and modularity. Modular and Configurable The Symphony I/O Mk II Dante option card uses Audinate's Brooklyn II module which features plug-and-play media networking for up to 32 bidirectional channels at 96kHz and 16 bidirectional channels up to 192k. The system can be configured with a number of custom options ranging from 8-32 analog I/O channels. Symphony I/O MK II Dante allows up to 32 channels with ProTools and redundant Dante connectivity to be fitted into a single two space rack device providing the smallest footprint available with this feature set. Available Configurations Symphony I/O Mk II 2×6 Dante + PTHD Symphony I/O Mk II 8×8 Dante + PTHD Symphony I/O Mk II 16×16 Dante PTHD Symphony I/O Mk II 8×8+8 Mic Pre Dante + PTHD Symphony I/O Mk II 16×16+8 Mic Pre Dante + PTHD Symphony I/O Mk II 24×24 Dante + PTHD Symphony I/O Mk II 32×32 Dante + PTHD Pro Tools HD Over IP Made Easy With the included Pro Tools HD peripheral port, Symphony I/O Mk II lets you route audio between your Pro Tools session, the Dante network and Symphony I/O modules, no need for an additional, stand-alone box. Apogee Network Control Software Symphony I/O Mk II features Apogee Network Control Software. Apogee Network Control gives you remote, software access to all Symphony I/O Mk II settings. From your computer you can calibrate all channels, set output monitor levels, select analog level type, adjust mic-pre gain and more. Drag and drop setup and color coding let you create custom view that let you see up to 6 devices in a single window. Apogee Network Control works on macOS and Windows 10 computers and is compatible with the Apogee Control hardware remote. About Dante Developed by Audinate, Dante enables digital audio distribution over standard Ethernet networks. Dante allows audio, control, and all other data to coexist on the same network in an ultra-low latency environment and with near-perfect synchronization. The Dante Controller software and network management features make even the most complex network configuration quick and easy.
Specifications
Analog to Digital: THD+N: -115dB @ 22dBu (0.00020%) unweighted
Dynamic range: 122dB A weighted
Maximum input levels: +4dB setting: +24dBu
-10dB setting: +6dBV
Frequency response at 44.1kHz: 1-20,000 Hz (+/- 0.05dB)
Input impedance: 10K
Digital to Analog: THD+N: -119dB @ 21dBu (0.00014%) unweighted
Dynamic Range: 126dB A weighted
Max output levels – ∞ to +24dBu
Frequency response at 44.1 kHz: dc to 20kHz (+/- 0.05dB)
Output impedance: 50 Ohm
Outputs are balanced through Apogee's proprietary Perfect Symmetry Circuitry (PSC)
Headphone Output: 1 stereo 1/4″ headphone output on front panel
THD+N: -110dB @19dBu into 600 Ohm (=80mW)
-101dB @14dBu into 32 Ohm (=470mW)
Dynamic Range: 121db A weighted
Output: Apogee's proprietary Constant Current Drive™ provides smooth frequency response with any headphones
Operating System: Thunderbolt: Mac OS only 10.10 and above
HD: Any Mac or PC running Pro Tools HD 9 or greater
Software Compatibility: Thunderbolt: Logic Pro or any Core Audio compatible application on Mac OS X
HD: Pro Tools HD 9 or greater
Package Contents: Symphony I/O Mk II Interface
Symphony I/O Mk II Dimensions: Inches: 17.75 (19 with Rack Ears) x 11.5 x 3.5
Centimeters: 45 (48.26 with Rack Ears) x 29.2 x 8.9
I/O Module Box
Inches: 13.75 x 12.25 x 3.25
Centimeters: 34.9 x 31.1 x 8.3
Features
Best AD/DA conversion of any Thunderbolt™ audio interface
Up to 32 channels of modular analog I/O with optional 8 mic preamps
Original Symphony I/O modules are compatible with new Mk II chassis
Best per-channel value of any interface in its category
Choice of Thunderbolt, Pro Tools® HD (Mac/PC) or Waves SoundGrid® connectivity
-Dante connectivity coming soon
Ultra-low latency performance – 1.35 ms with Thunderbolt and Logic Pro X
All new, highly customizable Symphony Control software provides easy access to all I/O parameters
Intuitive touchscreen display and front panel control
Designed in California, Built in the U.S.A.