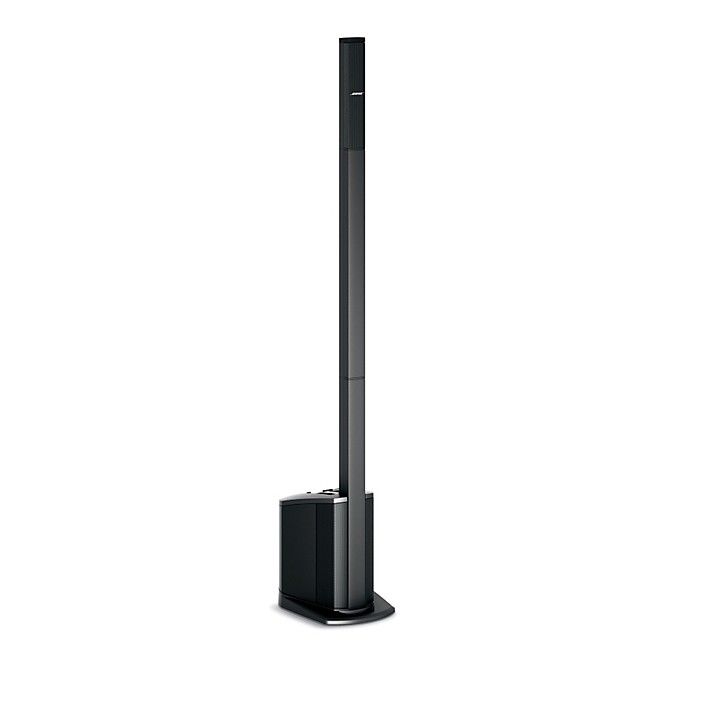 Easy-to-set-up, lightweight, professional PA system.
The Bose L1 Compact system combines conventional PA and monitors into one sleek unit. The L1 Compact is one of the original L1 systems that helped shape an entirely new category of portable PA invented by Bose. Positioned behind or to the side of a performer, DJ or presenter, it delivers 180-degree horizontal sound coverage throughout the stage area and audience, even off to the extreme sides. It's Bose's smallest, lightest, easiest-to-set-up L1 system, and it only weighs 29 lb.

The L1 Compact system's six-driver line array distributes sound clearly and evenly throughout the room, thanks to Bose Spatial Dispersion technology. The speaker's unusual vertical shape makes it distinctly different from conventional PA speakers and gives it a very positive effect on sound coverage. Even audience and band members on the extreme sides will hear the same clear, tonally balanced sound as anyone sitting in front.

With the L1 Compact system, you won't have to carry a separate amplifier, mixer or bass cabinet since they are already built in. The system's power stand also includes an integrated bass speaker and amplifier, plus a built-in mixer for a total of four inputs and two outputs.

Channel 1 is an XLR input with a customized ToneMatch preset for a handheld dynamic microphone. The preset automatically optimizes a handheld microphone's tone when used with the L1 Compact system. Channel 2 accepts up to three inputs at once (1/4" instrument input, RCA stereo input and 1/8" stereo input), including a guitar, keyboard or other instrument, DJ mixer, MP3 player, laptop or projector. It features a customized ToneMatch preset to optimize the sound of an acoustic guitar.

You can choose between three setup positions, depending on the space: a collapsed position for smaller spaces, mid-height for medium-sized audiences, and the fully extended position to fill larger rooms. If you're looking for minimal complexity and outstanding clarity, the L1 Compact is for you. Carry it in one trip. Set it up in one minute. Fill the room with one system and leave audiences wanting more.
Specifications
W x H x D: 13.25" x 16.5" x 16.75"
24.6 lb. (11.2 kg)
Features
Lightweight and portable
Professional-quality sound
180-degree horizontal coverage
Built-in two-channel mixer
Four inputs and two outputs
ToneMatch EQ presets
No need for monitors or amps