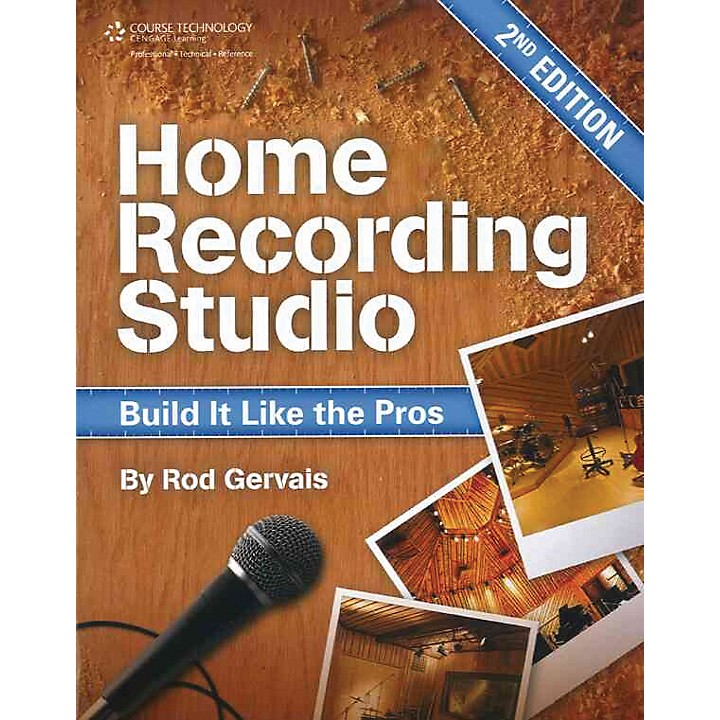 Provides a step-by-step guide to the construction of a home recording studio.
With the advances in digital technology, musicians can now produce their own music. But the gear is only part of the equation when it comes to recording and mixing. The next part is finding a soundproof room that you can produce it in. Unfortunately, any old room in your house will not suffice for a quality recording. Without a decent room, you'll never be able to record a studio-quality recording you'll be proud of and excited to have other people hear.

So how do you go about creating a space in your home that has similar acoustics to that of a world-class studio? How do you soundproof this room to keep your sound in and outside noise out? How do you construct or modify the room so that its size and shape best complement its function? HOME RECORDING STUDIO: BUILD IT LIKE THE PROS, SECOND EDITION teaches you how to do all these things, from building a professional home studio to saving thousands of dollars in the process.

This book teaches you how to design and understand your room how to treat it, wire it, and condition it while using widely available materials. Each step features visual aids to illustrate underlying concepts, as well as professional tips and examples from actual studios. Everything is covered, from room design to electrical considerations, from room treatments to codes, permits, special needs, and more.

The new edition is fully updated to include new techniques and technologies for the home studio introduced after publication of first edition back in 2006. There have been many changes to building codes and technological advances since that time.

Contents
1. Getting Started.
2. Modes, Nodes, and Other Terms of Confusion.
3. Isolation Techniques - Understanding the Concepts.
4. Floor, Wall, and Ceiling Construction Details.
5. Window and Door Construction.
6. Electrical Considerations.
7. HVAC Design Concepts.
8. Room Testing.
9. Room Treatments.
10. Putting It All Together.
11. Myths and Legends.
12. Codes, Permits, and Special Needs.

About the author
With more than 34 years of construction experience, Rod Gervais gives you a comprehensive and cost-effective plan for building that home studio that will have you building and recording in no time. A complete glossary of terms is also included, and a collection of handy tools to aid you in your design is available on the companion Web site.
Specifications
Home Recording Studio: Build It Like the Pros, 2nd Edition
Rod Gervais
ISBN-10: 143545717X ISBN-13: 9781435457171
352 Pages PB
2011 Published
Features
Written for musicians who are looking to produce digital or analog music recordings in their home studio environment.
Provides a step-by-step guide to the construction of a home recording studio, whether they plan to build in the basement of their home, or the bedroom of an apartment.
Allows readers to begin building quickly, using tested construction techniques and cost-effective techniques.
Features tips, examples, and vivid illustrations throughout.