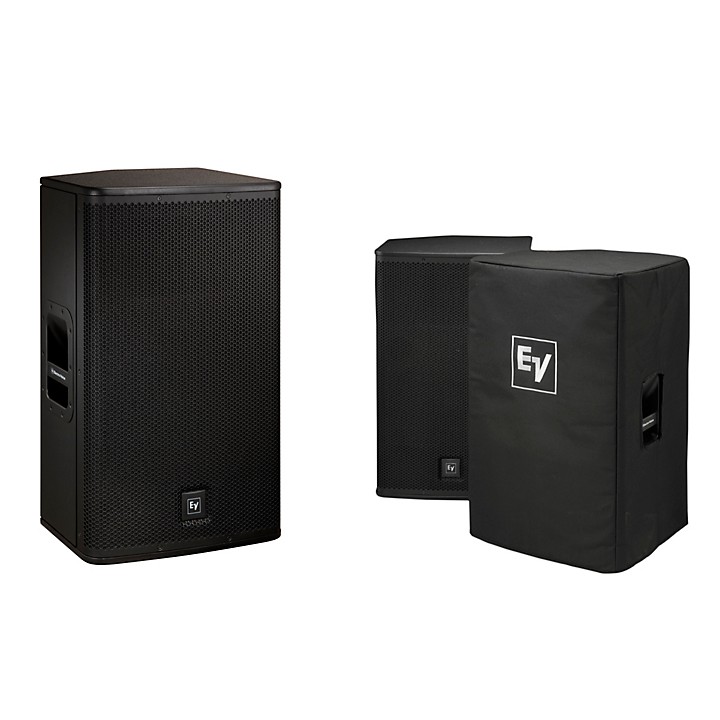 High quality, high affordability, comes with covers.
Part of Electro-Voice's Live X series, the ELX115 can be used with a wide range of amplifiers or powered mixers thanks to its exceptionally efficient design and power handling capability. Designed with the latest Electro-Voice-engineered 15" woofer and 1.5" titanium compression driver, the ELX115 provides excellent audio quality with 400W power handling (1600W peak), exceptional SPL output, and a 75Hz-18kHz frequency response. The ELX115 is constructed of 9-ply, 15mm plywood, and is internally braced, making it sturdy yet completely portable. It has built-in side handles for transport, and pole mount for stacking it on top of a acoustically matched Live X series sub.

This kit comes with a pair of custom-fit logo cover with holes cut for handle access. Protects your investment!

Specifications
Freq. Response (-3dB): 75Hz-18kHz
Freq. Range (-10dB): 50Hz-20kHz
Axial Sensitivity: 95dB
Max. Measured SPL: 134dB
Recommended HP Freq.: 40Hz
Coverage (Horiz. x Vert.): 90 x 50
Power Handling: 400W Continuous, 1600W Peak
LF Transducer(s): (1) EVS-15K, 381mm (15") Woofer
HF Transducer: DH-1K, 39mm (1.5") Titanium Diaphragm Compression Driver
Crossover Frequency: 1.7kHz
Nominal Impedance: 8Î
Minimum Impedance: 7.4Î
Connectors: Dual NL4
Enclosure Material: 9-ply, 15mm Plywood, Internally Braced, with Textured Paint
Grille: 18GA Steel with Black Powdercoat
Dimensions (WxHxD): 432mm x 708mm x 382mm (17.02" x 27.89" x 15.05")
Net Weight: 23.0kg (51 lb.)
Features
Electro-Voice-engineered woofer and 1.5" titanium compression driver provide exceptional audio quality
Outstanding crossover performance
Lightweight materials, balanced design, and ergonomic handles for convenient transport, set up, and load out
Stylish-yet-rugged 15mm plywood construction with textured finish says serious gear on any stage
Easy to connect and control with versatile input and output options
Designed to polemount or stack with Live X subwoofers
Built-in 60 monitor angle