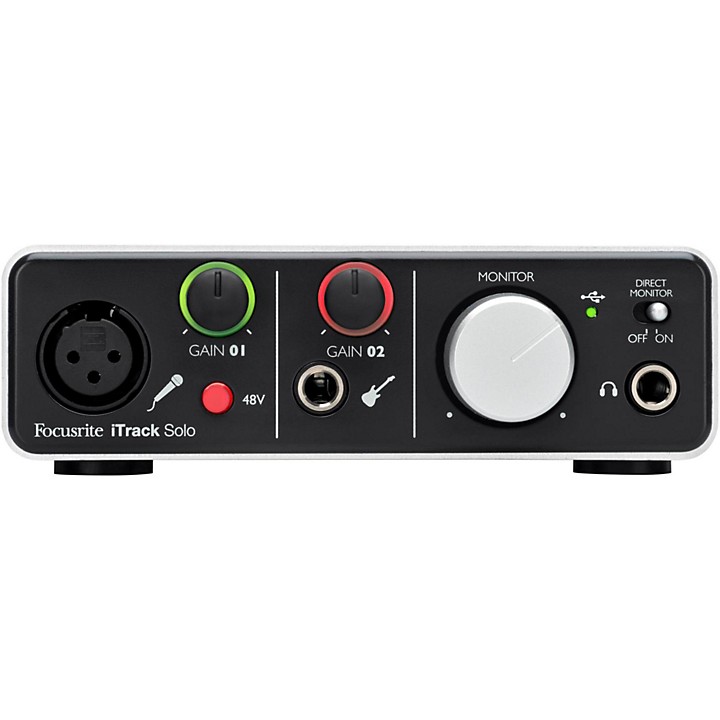 Now get the power and precision of Focusrite recording on your Lightning-enabled devices.
This latest generation of iTrack Solo is the easiest way to record instruments and vocals on your Lightning-compatible iPad. Simply plug into the legendary Focusrite preamp and dedicated instrument input to start capturing your sound in pristine quality, using the very best in digital audio technology. Compact, lightweight and housed in rugged aluminium case, iTrack Solo is the perfect companion for any singer-songwriter who wants to make exceptional demos on iPad, Mac or PC.

Since 1985, Focusrite has been a leading manufacturer in the professional audio field. Focusrite mic pres have played a key part in the recording of hundreds of hit records and they're a top choice of leading artists, recording studios and engineers around the world. This experience has been used to great effect when designing the input section of iTrack Solo, which features a clean, low-noise, low-distortion preamp. iTrack Solo also provides phantom power for professional condenser microphones.

With a guitar input alongside the microphone input, you are free to record both vocals and your instrument simultaneously to separate tracks in your software*. You could even use both a microphone on your guitar and the guitar input at the same time to get a different sound.

Unique halo signal indicators, also found on Scarlett 2i2, let you know that you've got a good volume for recording. Red means that your signal is clipping, and that you should reduce the gain. The halo will momentarily turn amber as the signal returns to a healthy level, at which point the halo will turn green again.

A large monitor dial provides a tactile control for the volume of your speakers and headphones, whilst a high-quality headphone amp provides a clean yet loud signal to headphones connected to the front panel socket. The direct monitor switch routes audio directly from the inputs to both the headphone and speaker outputs. This allows you to hear the incoming signal with no latency, which can be distracting and affect your performance.

On the rear panel you will find phono outputs allowing you to connect iTrack Solo to a pair of powered speakers, or to your home Hi-Fi system. The speaker volume can then be controlled using the large dial on the front of iTrack Solo meaning everything you need is within reach.

iTrack Solo will also work with Mac and PC allowing you to record with your desktop or laptop. There is an included version of Ableton Live Lite and Focusrite's Scarlett Plug-In Suite, which provides essential effects for recording - Reverb, Compression, Gate and EQ.



Specifications
2 In / 2 Out USB audio interface
96kHz, 24-bit conversion
One Focusrite microphone preamplifier
Silver "soft-touch" aluminum unibody chassis
Front Panel
1 microphone input - XLR
1 Instrument input - 1/4" unbalanced
2 Gain knobs
2 Gain halo signal indicators
48V Phantom power switch
Direct monitor switch
Large monitor level dial (controls headphone and line level outputs)
USB Connection LED indicator
Headphone output: 1/4" TRS jack
Rear Panel
2 unbalanced monitor outputs: RCA Phono
DEVICE LINK port (to connect iTrack Solo to iPad)
Lightning Port
Kensington Lock slot
Included Software
Ableton Live Lite: professional music-making software to use your iTrack Solo with a Mac or PC.
Focusrite Scarlett Plug-in Suite - collection of software plug-ins bringing effects to your music software (like Ableton Live for example)
Novation Bass Station - legendary Novation synthesizer modelled in software as a soft-synth plug-in instrument
Loopmasters content - 2 GB of royalty free samples
Mic
Frequency Response: 20Hz–20kHz +/- 0.2dB
THD+N < 0.002%: (minimum gain, -1dBFS input with 22Hz/22kHz bandpass filter)
Equivalent Input Noise (EIN) < -120dB: measured at minimum gain with, -1 dBFS (20Hz/22kHz band pass filter)
Gain Range: +10dB to +55dB
Max Input Level: -3dBu
Instrument
Frequency Response: 20Hz–20kHz +/- 0.2dB
THD+N 0.003%: (measured with -1dBFS input and 22Hz/22kHz bandpass filter)
Noise: -87dBu (22Hz/22kHz bandpass filter)
Gain Range: -10dB to +55dB
Max Input Level: -3dBu
Analog Output Performance
Nominal Output Level: 0dBFS = +9dBu, unbalanced
Frequency Response: 20Hz–20kHz +/- 0.2dB
Noise: -87dBu (22Hz/22kHz bandpass filter)
Gain Range: +10dB to +55dB
Max Input Level: -3dBu
Analog Output Performance
Nominal Output Level: 0dBFS = 10dBu, balanced
Frequency Response: 20Hz–20kHz +/- 0.2dB
THD+N < 0.001%: (measured with 0dBFS input 22Hz/22kHz bandpass filter, un-weighted)
Digital Performance
Clock sources: Internal clock only
A-D Dynamic Range: 105dB 'A-weighted' (all inputs). Converter chipset A-D dynamic range: 114dB
D-A Dynamic Range: 105dB 'A-weighted' (all outputs). Converter chipset D-A dynamic range: 114dB
Supported sample rates: 44.1kHz, 48kHz, 88.2kHz, 96kHz (Mac/PC)
44.1kHz, 48kHz (iPad)
Crosstalk
Input to Input: Better than 90dB
Output to Output: Better than 90dB
Input to Output: Better than 85dB
Input Metering
Ring LED lit Green: Signal present (-24 dBFS)
Ring LED lit Red: Signal overload (0dBFS), peak held for approximately 1 second
Weight and Dimensions
Height: 1-3/4"
Width: 6"
Depth: 4"
Weight: 1lb.
Features
Lightning device compatibility
Focusrite Control makes it simple to route your audio and cue mix, loopback and monitor mixes from your Mac, PC, iPad, iPhone or iPod touch
High-quality award-winning Focusrite microphone input
Compatible with iPad, Mac OS X and Windows
Record your songs with many apps including GarageBand
Directly connect your microphone or instrument
Aluminum unibody case
Signal halos for level and clip indication
Outputs on the back panel allow you to connect directly to your speakers
Front panel headphone output for easy monitoring
Large speaker/headphone level dial and "Direct Monitor" function
Switchable phantom power for condenser microphones
Ableton Live Lite recording software to use with iTrack Solo and your PC or Mac
Scarlett Plug-In Suite: professional plug-ins for PC and Mac
Focusrite offers a 3-year manufacturer's warranty
WARNING: This product can expose you to chemicals including Lead, which is known to the State of California to cause cancer, and Lead, which is known to cause birth defects or other reproductive harm. For more information go to www.P65Warnings.ca.gov.