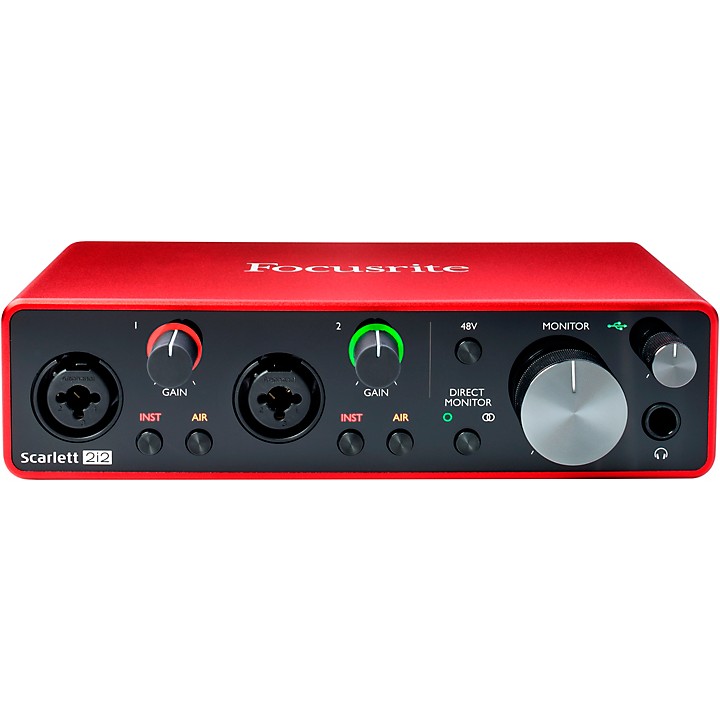 Two-by-two audio interface with quality mic preamps.
One of the most popular audio interface for artists across all genres, the third-generation Scarlett 2i2 provides two mic/line/instrument inputs, allowing simultaneous recording and playback of up to two channels with independently controllable headphone and monitor outputs.

The 2i2 features two upgraded third-generation Scarlett mic preamps: with optional Air setting to reproduce the Air effect of Focusrite's original ISA mic preamp, giving your vocal and acoustic recordings a brighter and more open sound.

Equipped with high-performance 24-bit/192kHz AD-DA converters, Scarlett 2i2 guarantees the same professional sound quality throughout the third-generation range. The high-impedance, high-headroom instrument inputs allow you to record guitar or bass without any clipping or unwanted distortion, while Gain Halo metering makes it easy for you to set the input level.

Scarlett 2i2 is designed to stand up to days on the road, and connects straight to your Mac or PC via USB cable, with no external power required.

All the tools you need to start recording right, now
There's no better way to step into studio recording—your Scarlett interface comes with some of the best-loved tools in the business, including Hitmaker Expansion, with exclusive content from legendary Auto-Tune creators Antares, along with Brainworx, Softube, XLN Audio, Relab and more. Read below for more info on the included software:

Ableton Live Lite
The iconic DAW gives you everything you need to get started including instruments, effects, and Live's trademark clip and scene launching for taking ideas further or performance.

Splice Sounds
Three months Splice Sounds membership with new Splice accounts—offering millions of high-quality, royalty-free one-shots, loops and presets, with new releases daily.

Three-Month Avid Pro Tools Artist Subscription With Complete Plug-in Bundle
A three-month subscription to Avid Pro Tools Artist and Avid Complete Plug-in Bundle, with a 25% discount on Avid Pro Tools Artist after the subscription period, or a 33% discount on Avid Pro Tools Studio.

Landr Studio, Plus Five Free Masters
Produce and release your best work with two months' access to Landr Studio, as well as five free masters you can use even when your two months subscription is over.

Hitmaker Expansion
Antares Auto-Tune Access
For everything from natural sounding, near-real-time pitch adjustment for getting the best vocal takes, to lightning-fast hip-hop-inspired pitching for adding a whole new sound to your tracks.

Relab's LX480 Essentials
Get four reverbs, modeled on The Hit Factory NYC's reverb unit, and used on countless hits. LX480 Essentials gives you the sounds of a studio which has played host to names from Springsteen, the Stones and Kool and the Gang to The Weeknd, Pharell, Katy Perry, and everyone in between.

Softube Marshall Silver Jubilee 2555
The modern evolution of the iconic JCM800, brought to you by analog-modeling experts Softube. The Silver Jubilee offers everything from warm cleans, through classic crunch, and up to modern high gain tube amp sounds.

XLN Audio Addictive Keys
Add beautifully captured piano to your tracks with the choice of one of four professional-sounding models from Steinway, Yamaha and the classic Rhodes. Plug in your MIDI controller and play; instantly be transported to a professional recording studio set up to capture one of these beautiful pianos—right from your studio.

XLN Audio Addictive Drums 2: Studio Rock
Add the sounds of a pro drummer to your songs easily. Featuring expertly captured samples from high-end TAMA and Pearl drum sets and Paiste and SABIAN cymbals, recorded at Decibel Studios in Stockholm.

Brainworx Bx_console Focusrite SC
The preamps that made Focusrite what they are today to your music. No other plug-in offers the unique character of the iconic large-format console, with ISA 110 preamps—the origin of the famous "Air" you still hear on Focusrite interfaces today. Bx_console Focusrite SC is a full channel strip, offering EQ, de-esser, compressor, limiter, gate and expander.

Focusrite Red 2 & 3 Plug-in Suite
Features a pair of meticulously captured digital models of the truly iconic EQ and Compressors which have made the Focusrite name a staple in world-class facilities across the globe. If you've kept up with major music releases over the last 30 years, you've heard Red 2 and 3.

The Focusrite Sound: Officially Supported on iPad Pro
Scarlett 2i2 is officially supported in use with USB-C iPad Pro. Setup and operation is simple: just plug in, fire up your favorite music-making app, and enjoy the Focusrite sound wherever you go.

And as with all Focusrite products, you'll also benefit from a three-year warranty and award-winning customer support.
Specifications
Connectivity: USB Type-C
Protocol: USB 2.0
Form factor: Desktop
Simultaneous: I/O 2 x 2
A/D Resolution: 24-bit/192kHz
Number of preamps: 2
Phantom power: YES
Instrument Inputs: 2
Line inputs: 2
Analog outputs: 2
Headphone outputs: 1
Bus powered
Dimensions: 1.875" x 6.875" x 3.875"
Features
Two of the best-performing mic preamps the Scarlett range has ever seen, now with switchable Air mode to give your recordings a brighter and more open sound
Two high-headroom instrument inputs to plug in your guitar or bass
Two balanced line inputs, suitable for connecting line-level sources
High-performance converters enable you to record and mix at up to 24-bit/192kHz
With the Easy Start tool, it's now easier than ever to get up and running
Scarlett 3rd Gen included software:
Ableton Live Lite
Three-month Avid Pro Tools Artist subscription
Three-month Splice Sounds subscription
Focusrite's Hitmaker Expansion includes:
Antares Auto-Tune Access
Relab LX480 Essentials
Softube Marshall Silver Jubilee 2555
XLN Audio Addictive Keys
XLN Audio Addictive Drums 2: Studio Rock
Brainworx bx_console Focusrite SC
Focusrite Red Plug-In Suite
In the box
Scarlett 2i2 3rd Gen.
1 x USB cable (Type C-A)
Three-year warranty