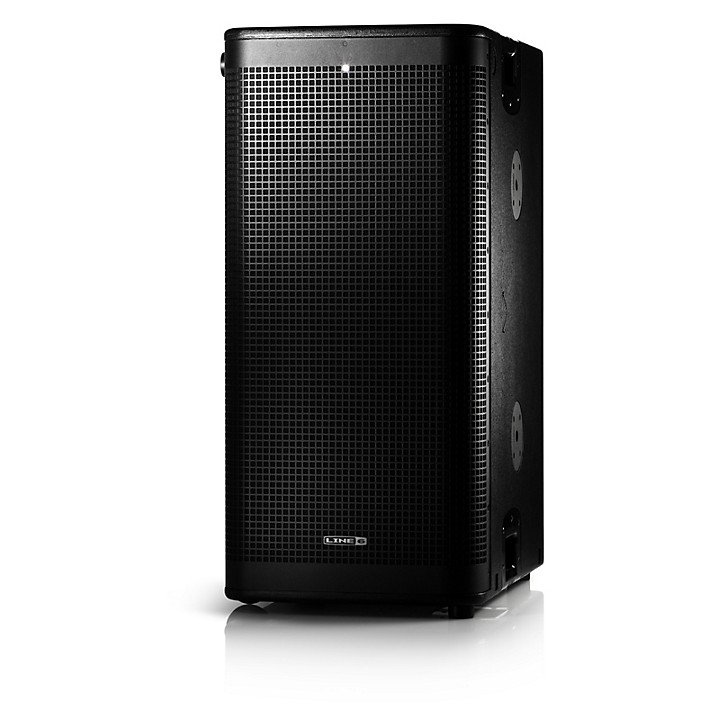 Smart and versatile, this powered sub is almost as smart as your band.
The L3S subwoofer from Line 6 is a 1200W powered 2X12 cabinet with bass reflex configuration for low distortion and extended bass response. Using StageSource L3s with your existing live sound rig is easy. The I/O section includes stereo inputs to accommodate mixers and line-level sources, and stereo outputs to connect to additional loudspeakers.

StageSource L3s combines versatile design with Smart Speaker modes, automatic speaker configuration via L6 LINK digital networking and a tour-grade enclosure for the widest variety of live sound applications

With a precision bass-reflex design, StageSource L3s delivers 1,200 watts of powerful, extended sub-bass and incredible fidelity. Based on an innovative new technology platform, StageSource L3s combines intelligent DSP and multi-function design to provide outstanding performance and easy system integration via L6 LINK digital networking.

Smart Speaker modes
Low-end clarity is crucial for powerful musical performances, but different scenarios can require different bass tunings to ensure the best results. Designed for the widest range of applications, StageSource L3s subwoofers feature Smart Speaker modes that allow you to tune the subwoofer output to deliver the perfect low-end performance at the touch of a button. Whether you need huge punchy kick and bass sounds for a live rhythm section, or deep, controlled sub-bass for DJ performances, Smart Speaker modes make setup simple and deliver stunning sound in every application.

StageSource L3s Smart Speaker modes include:
PA modes - Optimized for live music applications
¢ Reference mode features smooth and powerful low-end performance optimized for use with a PA. With a flat frequency response and maximum extension down to 30 Hz, the L3s delivers stunning sub-bass clarity.
¢ High Punch mode provides extra power in the kick drum frequency range, delivering the right amount of energy to help the kick and other low frequency instruments cut through the mix.
Playback modes - Optimized for pre-recorded music applications and DJ rigs
¢ Extended Bass mode provides an extra low-frequency accent at the very deep end of the frequency spectrum, right around 40 Hz to deliver that huge sub-bass sound that DJs need to move their audience and energize the dance floor.
¢ Ultra Bass mode delivers powerful sound at even lower frequencies by employing extended low-frequency response with a bump at 30 Hz.

1,200-watt bi-amped design
Easily capable of delivering powerful low-end to large audiences, StageSource L3s features a dual 12-inch bass reflex configuration with 1,200 watts of power for maximum headroom and superb low-end definition.

For maximum flexibility depending on the application, the enclosure can be used vertically or laid horizontally. For integration with StageSource L3t loudspeakers, a threaded pole mount insert is located on the top of the enclosure. Two additional threaded pole mount inserts can be found on the side of the enclosure allowing two L3t's to be arrayed together. Indicators on the enclosure clearly show the optimal speaker splay angle.

Integration with your existing live sound gear is easy via stereo inputs and out/thru connections.

Digital networking via L6 LINK
L6 LINK digital networking takes the complexities out of configuring a multi-speaker rig. In an L6 LINK network, StageSource L3s automatically detects other StageSource speakers and automatically configures its settings accordingly; crossovers and polarity are set, stereo signals are summed, through signals are passed, and more.

When connected via L6 LINK, StageSource speakers and the StageScape M20d digital mixer are capable of unparalleled power and flexibility. Together they redefine the typical mixer-speaker paradigm and create an intelligent live sound eco-system rather than merely a linear combination of components.

Rugged construction
StageSource L3s was built with the road in mind. The heavy-duty plywood enclosure has three threaded pole-mounts to support multiple configurations with other Line 6 speakers. A solid steel grille with protective screen keeps the drivers secure of dust, objects and liquids. StageSource L3s has rattle-free wheels for "tilt-and-go" portability, making it easy to transport.

Specifications
Dual 12 in. Bi-amplified Subwoofer
Frequency Range(-10 db): 34 Hz to 2.8 kHz(P.A./Reference Speaker Mode, half space)
Frequency Response(+/-3 db): 38 Hz to 910 Hz(P.A./Reference Speaker Mode, half space)
Low-Pass Frequencies: 80Hz, 100 Hz, 120 Hz, Off(User-selectable)
Stereo Line-level XLR-1/4" Balanced
Output High-Pass Frequencies: 80 Hz, 100 Hz, 120 Hz, Off (User-selectable)
Controls: Master level, Speaker Mode, Crossover Frequency, Polarity
Indicators: Signal Present/Clip, Limit, Polarity Inversion, 4 x Crossover Frequency, 4 x Speaker Mode, L6 LINK Status
Speaker Modes: P.A./Reference, P.A./High Punch, Playback/Extended Bass, Playback/Ultra Bass
Digital Networking: L6 LINK intelligent Speaker Networking System
Power Amplifier: Class D
Power Supply Voltage Range: 100-240 VAC, +/- 10%, 50/60 Hz, automatic voltage selection
Pole Mount Plates: M20 x 2.5 thread, qty 3
Dimensions (H x W x D): 34.125 x 16.5 x 23.25"
Weight: 82.5 lbs.
Features
Digital Networking
Flexible Crossovers
Multi-function Design
Innovative Bi-amped Design
Stereo In/Out/Thru
Tour-grade Construction