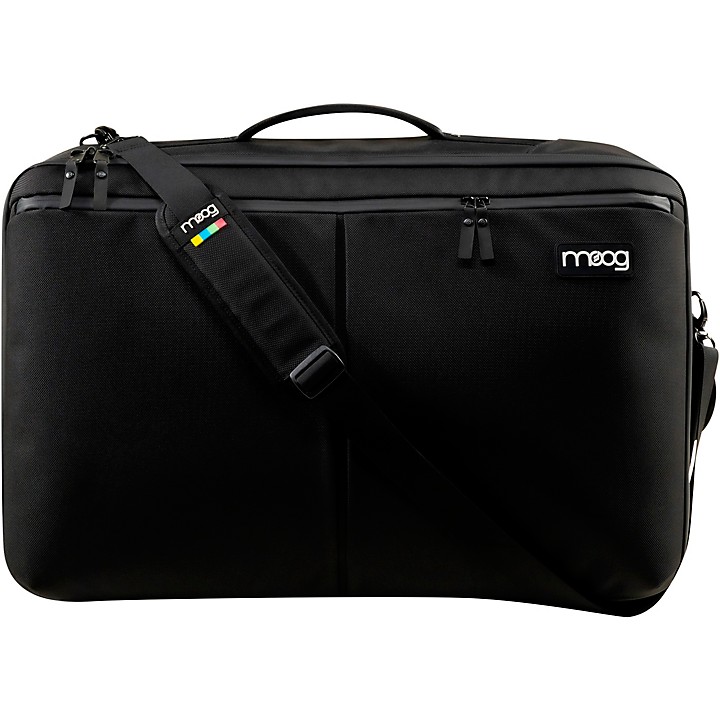 Stores your Moog safe and gets it thee in one piece.
Moog SR Series Cases are here to safeguard your Moog Grandmother synthesizer where you need it most and ensure your sound travels far and wide.

Musician's report the most important performance a case can offer are protection from
impact and protection from water - in that order. With that in mind, Moog SR
Series Cases have been developed to be the first line of defense for your
synthesizer.

Moog SR Series Cases feature generous padding around a semi-rigid ABS shell, a rugged
Ballistic Cordura outer that resists tears and abrasions, and laminated
water-resistant zippers to offer on-the-go protection and safe storage for your
instrument. Multiple strap and handle configurations keep your commute
comfortable, and multifunction pockets ensure you're organized on arrival.

Specifications
INTERNAL:
Padded plush liner
EXTERNAL:
Durable abrasion resistant 1680D Cordura, water-resistant
Laminated zippers, reinforced stitching and metal rivets
Features
Moog SR Series
Cases are a perfect fit for your Moog Grandmother Synthesizer
PADDING:
Semi-rigid ABS, generous foam padding
HANDLES/STRAPS
Smooth and durable webbed handles (top and side) with reinforced stitching
Removable anti-slip shoulder strap
POCKETS
External Pockets
Multi-compartment
Exterior Pocket
Rear pocket for storing tablet or laptop
Zippered
Velcro pocket