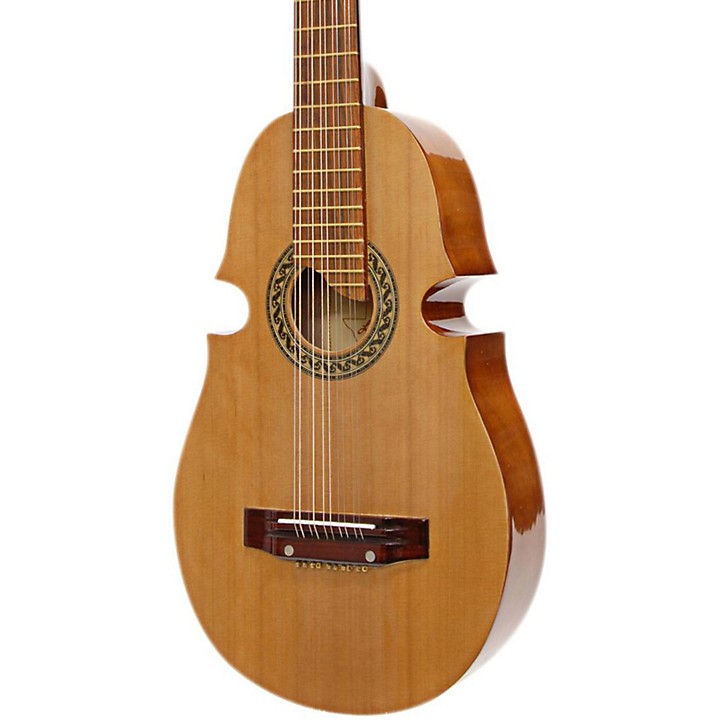 A unique latin American instrument with 10 strings and a full sound.
The Paracho Elite Guitars Puerto Rican Style Cuatro Acoustic Guitar is a unique instrument, originating from Puerto Rico. The Cuatro is sort of violin-shaped, more rounded like a guitar, but with points at the inner bouts like a violin. The bridge is a classic guitar type, but the instrument is steel strung. It's played with a flatpick and sounds like a cross between a 12-string guitar and a mandolin. It's tuned low to high B E A D G, with the B and E in octaves and the A, D and G in unisons.

Paracho Elite Guitars are made in the legendary mountain village of Paracho-high in the Sierra Madre Mountains of Mexico. Paracho artisans have been perfecting their craft for over 200 years. Many of the luthiers that work at the Paracho Elite shop are fourth and fifth generation musical instrument makers. These hand-crafted, quality guitars are made from some of the finest woods. Each guitar has its own unique styling and beautiful inlay craftsmanship. Most importantly, they produce remarkable sound and are played by recording and performing professionals.

Case sold separately.
Specifications
Fits oblong cases 31-1/2" X 10-1/2" X 5"
Features
Solid cedar top
Cedar back and sides
Satin finish
Rosewood fingerboard and bridge
Case sold separately