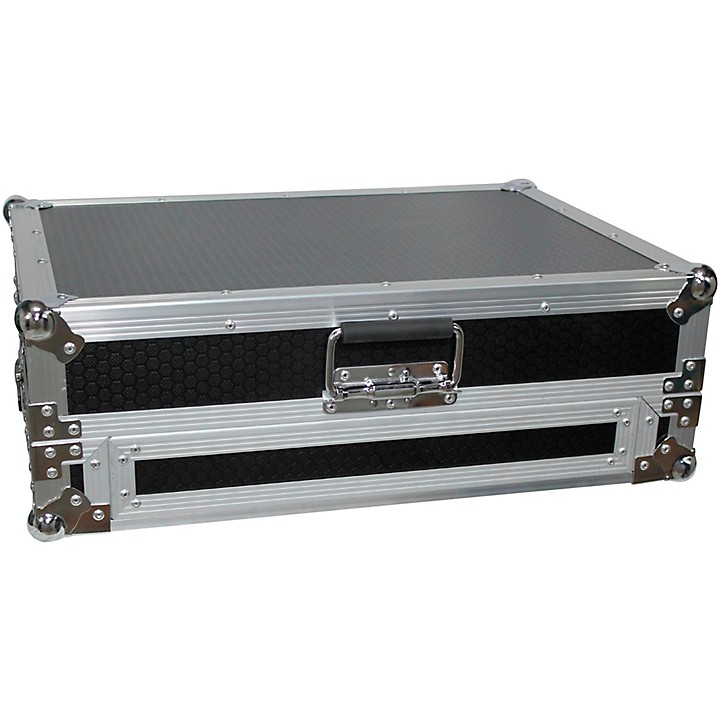 Rugged construction with steel-ball corners.
The X-DNMC4000LT is the perfect companion for the state-of-the-art digital DJ, made to fit Denon MC4000 digital DJ controller.

This ATA style 300 gig-ready case has a sleek silver and black exterior that is sure to turn heads. It is designed to protect the Denon MC4000, and it does the job well. The case is constructed with a rugged and durable 1/4" Premium Series Plywood, reinforced steel ball corners, as well as recessed steel padded handles and latches.

There is additional space for cables and small accessories in the back of the unit for convenience, as well as a removable front panel so you can access your inputs easily.

The Sliding Laptop Shelf creates a tablespace and gives you functionality and ease of use during gigs. For the safety of your equipment, do not attempt to transport with any gear stored on the sliding shelf and be aware that the shelf can be removed when slid out to its furthest point.

This ATA-style, road-ready case has a sleek, professional look that is sure to turn heads and make your setup look legit. It's manufactured with a unique honeycomb-pattern laminated surface design for added good looks and durability. Unlike standard laminated plywood ATA-style cases, ProX's surface design helps prevent minor to mild scratches.

All ProX cases use CNC technology during the manufacturing process to ensure consistent build quality. The durable hard rubber foams used in ProX cases contain 70% recycled content. Of that 70%, 80% of it comes from recycled plastic bottles and the remaining 20% from recycled post-industrial material.


Features
ATA 300-style gig-ready flight case
Sliding laptop shelf
Designed to fit the Denon MC4000 DJ controller perfectly
1/4" thick plywood walls with honeycomb laminate exterior
Steel-ball corners, recessed butterfly latches and spring-loaded handles