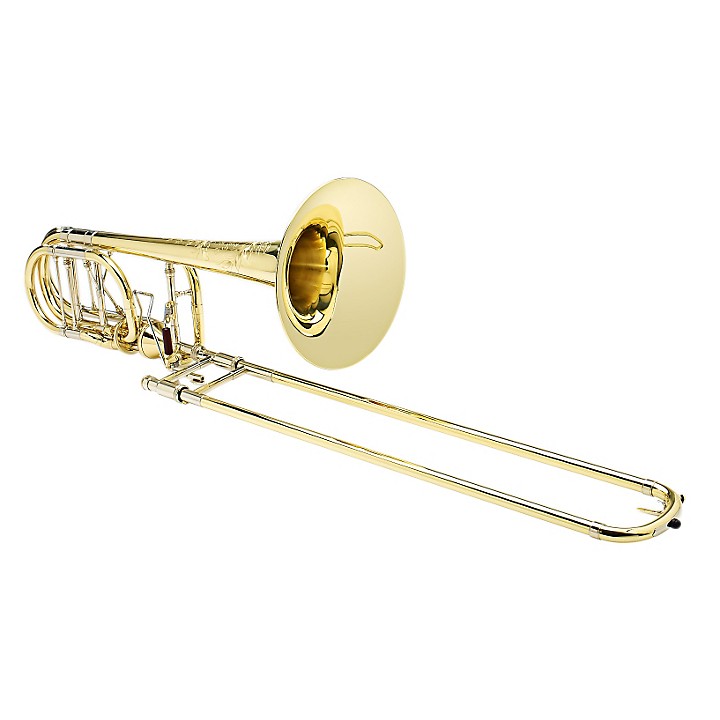 Rich and powerful.
The Blair Bollinger Model bass trombone was developed through the close collaboration of Blair Bollinger with Steve Shires and the craftsmen of S. E. Shires. The resulting instrument includes several specific design elements not found on any other S.E. Shires trombone.

This instrument features the Bollinger Tuning System which combines independent F and flat G (1/4 tone between G and Gb) valve tunings. This allows for more efficient use of the independent valves, facilitating cleaner and smoother technique. This allows the player to concentrate on the art of music making and not the operation of the instrument. In addition, the heavyweight dual-bore slide and bell combine to produce a sound that is rich and powerful, capable of maintaining its breadth, with a pure core at the most extreme dynamics. The tone enhancing collar gives a more centered feel to the instrument, as well as channeling more energy forward for crisp, clean articulations and centered tone. The result is the seamless marriage of a powerful, resonant sound associated with large bass trombones coupled with the facility and nimble feel of a much smaller and lighter instrument. From the expanse of orchestral halls to intimate settings of chamber concerts, the Blair Bollinger bass trombone is the ideal choice for the serious musician. Mouthpiece and case not included.

Recognized as a leader in brass instrument design and innovation, S.E. Shires Co. sets the benchmark for blending traditional craftsmanship with high-tech consistency and precision. Shires fabricates its bells, tubing and valve sections onsite in its Massachusetts factory to exacting standards. The valve components are tested thoroughly for accurate tolerances and perfect action at every stage of manufacture. Shires draws its own slide tubes to precise tolerances, assembling them without tension, and aligning them carefully to assure smooth, trouble-free action that is second to none. This handcrafted approach to instrument construction also ensures that the sound of every S.E. Shires trombone displays incredible depth, complexity and character—giving the player an unrivaled sonic palette with which to work. S.E. Shires makes beautiful instruments, built to last for many years.

Specifications
Bollinger Bell: 9-/12", two-piece, hand-hammered Bollinger custom taper in medium-weight yellow brass with traditionally brazed seams and soldered bead
S.E. Shires axial-flow valves, independent, F/Flat G Bollinger Tuning System
BYC Tuning Slide: "C" taper, Bollinger custom tuning slide in drawn yellow brass
B62-78HYC Handslide: .562/.578", dual-bore, heavyweight yellow brass, yellow-brass crook
Three interchangeable yellow-brass leadpipes, tone-enhancing leadpipe collar
Bell engraving: S.E. Shires Blair Bollinger Model custom engraving
Mouthpiece and case not included
Features
Smart design
Rich and powerful
Big, warm sound
Unexpectedly nimble