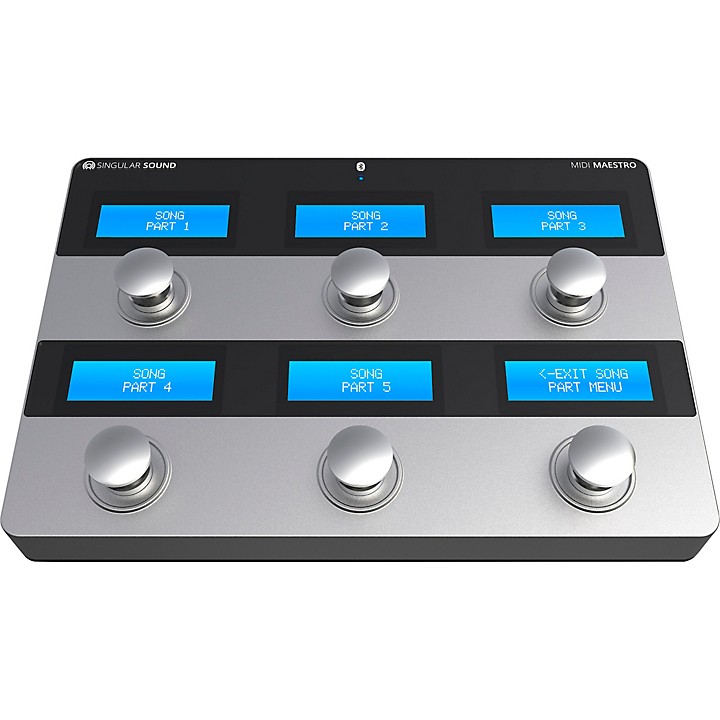 Get ultimate command of your rig right at your feet with this easy-to-use MIDI controller.
The Singular Sound MIDI Maestro puts the full power of MIDI into a package that's easy for anyone to use. It's the first MIDI control that lets musicians skip on reading lengthy MIDI manuals and just jump right into playing. However, the MIDI Maestro's not just easy to use! For example, it has great depth for those willing to explore its more new features.

With preset in app commands, easy customization, and presets for popular gear, the MIDI Maestro is the premier choice in MIDI controllers. Further, there's no stress about pressing the wrong button thanks to the built in displays. In addition, with 10 active pages per preset, and the ability to send up to six MIDI commands in a single press, you won't find yourself limited.

6 screens that display easily customized orders.
Included presets for popular gear including the BeatBuddy.
No need to read through MIDI manuals for codes, all commands are preset in the MIDI Maestro app during setup.
The dynamic page system results in boldly increased ability without increasing the pedal's footprint.
Daisy chain MIDI Maestro's together for unlimited control.
Specifications
Anodized aluminum
Easy to press, barefoot-friendly buttons
Expression pedal + extension pedal ports
5 pin MIDI IN/OUT ports.
Buttons send up to six MIDI orders with one press, and can innately send you to other pages
10 active pages per preset
3 presets that can be switched quickly using a small "mode" button on the back, no app needed
Dimensions: 8.375″ x 5.75″ x 1.875″
Weight: 1 lb, 12 oz