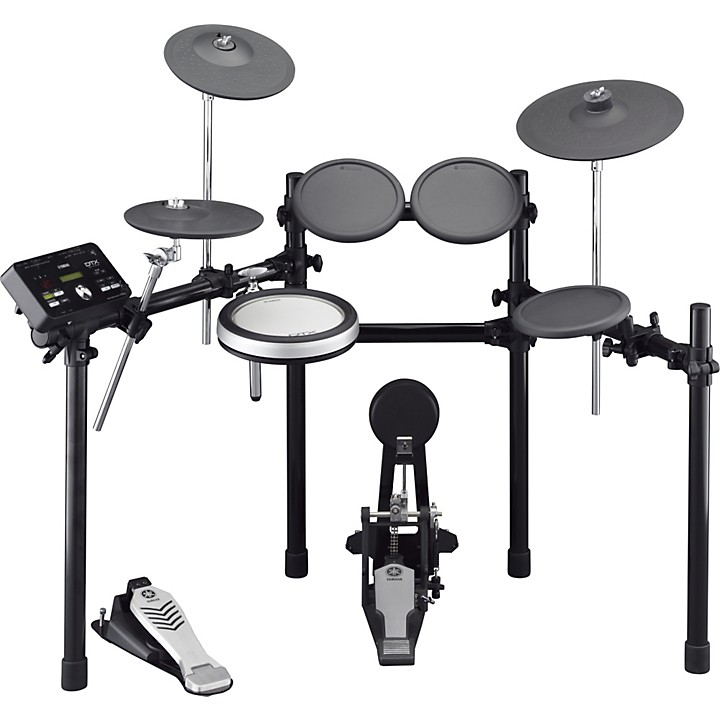 Yamaha's next advancement in the DTX series!
The DTX522K Electronic Drum Set by Yamaha features the DTX-PAD snare with newly developed tom pads, exclusive 3-zone hi-hat and cymbal pads, plus the incredible sounds and features of the DTX502 module in an affordable kit configuration.

Utilizing the DTX-PAD snare for superior stick feel, you can play the head, open rimshot, and closed rimshot voices in each of the three zones for authentic snare expression. This model also features 3-zone operation for the ride, crash and hi-hat. The drums and percussion voices in the new DTX502 module lets you sound your absolute best, and with the advanced practice tools and easy song recorder you will be getting better all the time. The USB port allows control over VSTi software and lets you import custom wave files.

Using proprietary laser technology to analyze drum strokes, Yamaha precisely tuned the trigger settings on the DTX502 series resulting in a more natural feeling with laser accuracy. You also get advanced features from higher end models like cymbal muting, natural cymbal swells, and smoother snare drumrolls so the kits respond to every nuance of your playing, and 3-Zone hi-hat technology when using the PCY100 as a hi-hat pad.

The DTX522K also features the professional 3-zone cymbal pads, which can express a different sound in each of the cup, bow and edge zones. These cymbals have a good stick feel and low acoustic noise, which is essential for electronic drums when used for private practice. In addition to a very natural swaying motion, they also have the "choke" function 360-degrees around the edge. You can even mute the cymbal before striking it - a DTX exclusive feature!

New drum training functions are included to challenge you no matter your current skill level every time you practice. Working with these tools will help you improve the most important skills for drumming from rhythmic timing to pad accuracy and endurance. The system will even generate a score so you can track your progress as you improve.

The DTX502 module can be expanded with four additional pads or triggers. Pad upgrades let you build your dream kit as your skills improve. USB connectivity lets you connect to a PC.

Kick pedal sold separately.
Features
DTX502 module with over 400 wave ROM and drum sounds
XP80 3-zone snare pad for head, rim-shot, side-stick
Includes KP65 Kick Pad
Large 10" Ride and Crash cymbals and 10" Hi-Hat cymbal (all 3-zone) with exclusive 360-degree "choke" function
HH65 remote hi-hat foot controller, allows half-open, pedal and splash hi-hat sounds
7" Drum Pads newly designed for greater playability and durability
Training Functions with Voice Guidance
Module: DTX502
Snare : XP80
Tom: TP70 x 2
Floor Tom: TP70
Bass Drum : KP65
Hi-Hat : PCY100 + HH65
Crash Cymbal: PCY100
Ride Cymbal : PCY135
Rack : RS502