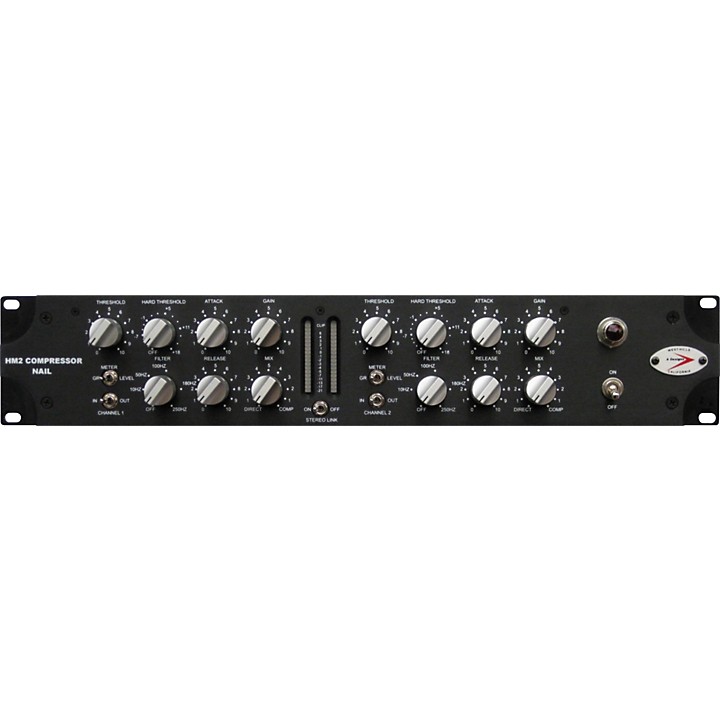 A unique solid state/tube hybrid compressor featuring parallel compression and a high-pass filter for bass-heavy mixes.
A Designs Audio HM2 Compressor "NAIL"-After taking the recording industry by storm with the Pacifica preamp, A Designs Audio has once again outdone themselves with the HM2 Compressor "NAIL." It's exceedingly rare for a new piece of recording equipment to arrive on the pro audio scene that's truly ahead of its time or sets a new standard. The A Designs HM2 Compressor "NAIL" does both. And they're not alone on that. Almost immediately after its debut to the audio world, The NAIL compressor was awarded a "Mix Certified Hit" by Mix magazine.

The NAIL is a feedback-, diode-based design. In building the NAIL, A Designs' goal was to create a hybrid of tube and solid-state technology that would integrate with the digital world, yet deliver analog warmth with a hint of color and richness to your recordings.

What makes The NAIL compressor unique?
Three features that set the NAIL apart from ordinary compressors are Hard Threshold, Filter, and Mix. Due to the unique nature of the design, the NAIL will take you to places you have not experienced before, offering endless possibilities for controlling compression and envelope shaping. This new design doesn't require you to relearn compression from the ground up, but it will teach you some new tricks that are guaranteed to expand your sonic horizons.

Among the unique controls of the NAIL compressor is the Hard Threshold, which works with three stages, Threshold, Hard Threshold, and Filter. With the Hard Threshold in the off-position the Threshold feature acts more like a Gain Reduction control. With the Hard Threshold engaged, you have your choice of filter frequencies and amount of compression. The Hard Threshold control ranges from Off to +18dB.

The A Designs NAIL compressor has the Attack, Release, Threshold, and Gain controls found on standard compressors. However, ratio is not set by a front-panel control. The NAIL features a variable ratio that changes in relation to settings of the Threshold and Hard Threshold controls, as well as the amount of gain reduction. In this way, the NAIL compressor provides a much more musical-sounding style of compression instead of simply stonewalling an input signal.

Mix
The A Designs compressor's Mix feature is very a powerful tool providing an extremely valuable function for producers and mix engineers. It provides endless combinations of mixing the sound of the NAIL's compression with your audio signal path. You can go from "dry" to full-on compression, depending upon your needs or taste.

With the Mix control, you can perform maximum compression on a signal, such as drums, and then blend it into the audio path. This is also referred to as parallel compression. You won't find this option on most compressors, and without it, you find yourself fighting the mix to achieve the right balance between normal and compressed signal. The NAIL compressor takes the fight out of it, and makes it easy to blend just the right amount of compression into your signal path.

Filter

Another unique feature of The A Designs NAIL is the Filter. The Filter is a variable high-pass filter on the compressor's sidechain. The Filter allows you to compress all frequencies above the selected frequency without fully compressing the frequencies below. For example, if you would like to compress everything above 100Hz but don't wish to drag down the frequencies below it, simply select 100Hz on the Filter. The frequencies below 100Hz will be touched by the NAIL's compression, but they will NOT be dragged down the way most compressors will. This feature, in combination with the Hard Threshold and Threshold, gives you greater simultaneous control over the frequencies you wish to compress more and those you want to compress less.

Remember, The NAIL compressor is by no means a multi-band compressor, but it works along similar lines. It will not isolate the assigned frequency the way a multi-band compressor would, but it does allow you to be very flexible in your application of compression. The Filter is extremely useful with recordings that are kick drum-forward or bass-forward, such as rock, R&B, hip-hop, and rap. But it doesn't end there. The NAIL has much more to offer with numerous other applications.

Meters
A great deal of thought and consideration went into the decision to use an LED array as opposed to the traditional VU meters often seen on compressors. Aesthetics and personal taste were factors in choosing combination of "old school" and modern looks. But in the end, plain old work environment dictates that the LEDs can be seen from across a dark studio much easier than a backlit VU meter, and in some cases with more accuracy.

2-bus and tracking
The NAIL HM2 compressor was designed with the 2-Bus (main stereo mix) in mind as well as tracking. The Stereo Link switch allows the NAIL to operate as a true stereo compressor on your 2-bus, or as a dual-mono compressor for tracking. In Stereo Link mode, all functions on both channels are controlled via channel 1's controls (with the exception of Gain and Mix). And again, with the utmost in versatility in mind, switching to dual-mono operation makes it a great tracking compressor as well.

Mojo, vibe, color
All equipment brings something unique to the table. The NAIL is no different in that respect. It has it's own sonic flavor, but it can also be neutral, clean, or colored; the choice is yours.

Components for versatility and long life
The NAIL's ability to provide you with greater control of your sound is reflected in every choice of components. For example the 12AT7 tube was selected because it allows the most on-demand control. The potentiometers, or pots, are a conductive plastic. The conductive plastic pots are found to be most reliable and have an above-average lifespan. There is a lesser chance of getting that "scratchiness" when compared to a carbon-based pot. Custom-milled aluminum knobs, and a milled-aluminum faceplate complement this unit with just the right "touch"-both physically and visually.

Switches
The NAIL compressor has six 6 switches that offer additional functionality. Aside from the main power switch and aforementioned stereo link switch, it has two gain-reduction/level switches, one for each channel that let you choose your metering preference: Gain Reduction or Level. There are also two in/out switches, one for each channel, that allow you to hard-bypass the compressor channel.

Connectors
The NAIL has four balanced male and female XLR connectors on the rear panel, for easy standard integration for any studio.


The HM2 Compressor completes the A Designs Audio signal chain, which includes the MP-2A tube microphone preamplifier, Pacifica solid-state preamplifier, and HM2EQ "HAMMER" hybrid 3-band dual mono EQ. All units are 19" rackmountable for both the professional and home enthusiast.

The HM2 compressor and all A Designs products are beta tested to the max and then field-tested by audio professionals such as Ronan Chris Murphy (King Crimson, Terry Bozzio, Steve Morse) and Tony Sheppard (Madonna, Whitney Huston, Elton John, Kenny Loggins). It's comforting to know that once an A Designs product has been released, it's already been used to make records by top professionals. That's how A Designs assures you're getting boutique audio at affordable prices.

The NAIL is a great addition to your studio's working environment. Not only will it enhance your audio signal, you will no longer be controlled by compression-you will have control of compression. And the more you use the NAIL compressor, the more you will understand its unique functions and greater possibilities it has to offer.

Specifications
Mix Direct/Compressor: Bypass to full compression
Noise: -89dBu
Balanced output: XLR
Balanced input: XLR
Clipping: +20dBu
Filter: 8Hz to 250Hz
Channel Isolation @ 1kHz: 90dB
Variable ratio design: Self adjusting
Frequency response: 3Hz to 50kHz
Power Requirements: 120/230 VAC - 23W
Dimensions 19" X 3-1/2" X 10"
Weight 10 lb.; 12 lb. shipping weight
Features
Solid state/tube design
Dual channel
Filter (to 250Hz): prevents bass from being "dragged down"
Mix control lets you blend wet/dry signal for parallel compression
Hard Threshold gives you choice of filter frequencies and amount of compression
Custom-milled aluminum knobs
Custom-milled aluminum faceplate
LED Indicators switchable to stereo
Gain-reduction switch for meters
Balanced XLR outputs
Threshold
Attack
Release
Gain
Carling toggle power switch
Red jewel power indicator
In/out switch
Dual rack mount