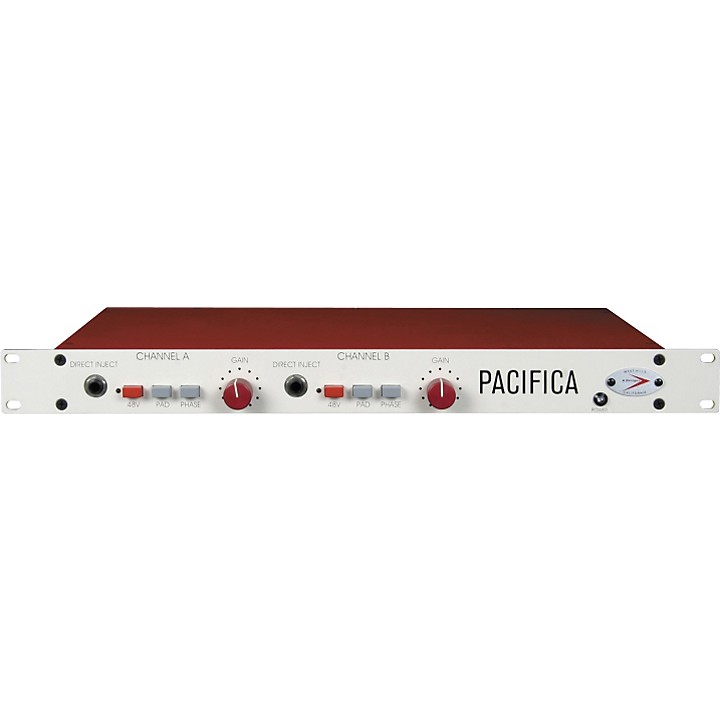 A TEC Award-nominated preamp that wins the hearts of all who hear it.
Consider the A-Designs Pacifica solid state stereo microphone preamplifier if you're ready for your first really good preamp--or the last one you may ever need.

How often in life do you encounter someone or something that no one has anything bad to say about? We haven't met that "someone" yet, but the "something" is the A Designs Audio Pacifica solid state, dual-channel preamp. This Tec Award nominated beauty has won more praise from engineers and producers than just about any other preamp to hit the streets in a long, long time.

A Designs Audio Pacifica, First Take:
2-channel, solid state preamp with 2 x front-panel Hi-Z inputs
Custom-wound input and output transformers
Captures the sound quality of the legendary Quad Eight console but with more presence and high end
Balanced XLR I/O, phase reversal, -20dB pad, +48V phantom power

The Sound of the '70s Reborn

The 1970s was a time of great music and great change in pro audio--a golden age if you will. The introduction of "solid state" electronics led to an explosion in development and a very different sound than the tube gear of previous decades. The recording console in a high-end 1970s studio was likely a Neve, API, or Quad Eight. These companies set the standards for audio quality -- with a unique sound firmly imprinted on the popular recordings of the era. Even though the Quad Eight mysteriously faded from view, many engineers firmly believe that the Quad eight Ventura, Coronado, and Pacifica consoles were the very best sounding of the big three. Boston's "More Than a Feeling" and Pink Floyd's The Wall were mixed on a Quad Eight!

But rather than just crank out another clone, A Designs Audio's Peter Montessi and audio designer Jon Erickson (who spent years bringing vintage gear back to life for LA studios), added their own touch to bring the preamps of the glory days to serve the present-day needs of the recording world. The result is the Pacifica, a fabulous-sounding preamp the captures the heart and soul of the California and takes the LA sound a step further.

Custom Transformers, the Key to a Big Punchy Sound

In solid-state preamp design, the key to a big punchy sound rests in the input and output transformers. (That's where you get what is known as the "big iron" sound of the '70s). To ensure top-quality sound, A Designs has their transformers custom-built by Tom Reichenbach of Cine-Mag, whose lineage extends back the days when his father Ed built transformers for Altec-Lansing in the '40s. (Ed Reichenbach was also one of the designers of the Quad Eight console on which the Pacifica is based.) Not only are the transformer hand-made, they're also ear-made" by Jon and Peter, who won't okay a transformer design until they get exactly the sound they're looking for. After extensive listening tests and redesign after redesign, they finally found the sound they were looking for. And herein is the most important distinction of the A Designs Pacifica. While its name, look, and inspiration was taken from the Quad Eight Pacifica, the A designs Audio Pacifica has a sound all its own, and one that top producers and engineers feel that they could make an entire record with (that's pretty rare in this business).

Pacifica Performance

Aside from the custom wound transformers, which, by the way, the instrument inputs are routed directly into for the fullest possible sound, the Pacifica boasts a frequency range of 9Hz-101kHz. (Another reason for its great sound. Input impedance is 600 ohm at 400Hz and the gain range is a remarkable 72dB -- so break out those ribbon mics and go to town. Since the focus of A Designs is sound quality first and foremost, you're not paying for bells and whistles and extra devices in the circuit path that can degrade sound. Features are kept to the necessary minimum, which include polarity reverse, a -20dB pad (which sounds nearly invisible, +48V phantom power with indicator LED, and balanced XLR I/O.


Channel Strips of the Stars: Ted Perlman

Ted Perlman, renowned Grammy-winning producer, musician, arranger, engineer, and programmer, has a resume that reads like a who's who of popular music. His credits include Bob Dylan, Chicago, Burt Bacharach, Elton John, Dave Mason, Brian Wilson, Carole King, Albert Hammond, Jr. (The Strokes), Desmond Child, Young M.C., Dolly Parton, and, well, the list goes on. Ted was kind enough to provide us with his go-to recording vocal chain as well as his choice for guitar and percussion. Here it is, straight from Ted Perlman himself:

"I'm producing and writing with Sara Lumholdt of the mega-selling Swedish pop group A-Teens.

Her vocal recording chain is: Pearlman TM-LE condenser mic* > A Designs Audio Pacifica preamp Daking FET 2 Compressor (#482850).

ALL guitars go through the A Designs REDDI DI box (#189904) > Hammer EQ (#180185) > Pacifica preamp > Toft DC-2 Compressor (#187025)."

I just finished up a CD on the most famous Pilipino singer in the world - Imelda Papin. Her signal chains are exactly the same.

I also finished up two songs for music legend Burt Bacharach and Tony-winning songwriter Steven Sater.

Paulinho Da Costa played percussion on one. I used a Studio Projects LSD twin mic > Pacifica preamp > Daking FET 2 compressor (#482850).

Gary Herbig played alto sax on the two songs. He went from an AKG 414 mic (#278591, 278590) > Pacifica preamp > Daking FET 2 compressor (#482850)."

Channel Strips of the Stars: Ronan Chris Murphy

World-class producer/engineer/mixer Ronan Chris Murphy's credits include King Crimson, Steve Morse, Terry Bozzio, Victor Bisetti, Gregg Bissonette, Tony Levin, and projects with members of Tool, Ministry, Weezer, Dishwalla, and Yes. A huge fan of A Designs Audio, Ronan was kind enough to share some of his drum-recording signal chains:

"Well all of the drums for Terry Bozzio's Jazz trio were recorded with all A Designs Audio solid state preamps. For drum overheads I used Shure KSM32 condenser mics (#270141) into a Pacifica to a Manley Variable Mu Limiter Compressor (#620908); for kick drums, AKG D112s (#271161) into A designs Pacificas. (I prefer the Shure Beta 52 (#270267) for kick but they were pre-mounted inside Terry's (Bozzio) kick drums. Actually I have used the Shure KSM32 into Pacifica combo on tons of great drummers, including Terry Bozzio
Victor Bisetti (Los Lobos), Gregg Bissonette (Santana, David Lee Roth), and Pat Mastelotto (King Crimson, Mister Mister, The Rembrandts)."

Ronan also uses the Emperical Labs Distressor on drum overheads (#501579, 501581).

Note: for more information about individual units in the signal chain, enter the Item ID# into our search box.


*Check out Dave Pearlman Mics at pearlmanmicrophones.com (Dave also has quite an impressive resume as a recording engineer and owner of Rotund Rascal Recording Studio.

Check out Ted Perlman's website at tedperlman.com





Specifications
Input impedance: 600Ohm@400Hz
Gain range: 72dB
Mic Phantom: switchable 48V power source
Mic input phase: switchable 0-180
Instrument input jack: 1/4" phono
Balanced XLR out
Frequency response: 9Hz to 101KHz
Distortion: less than 1%
Power requirements: 100/120/230 VAC -23 Watts
Dimensions: 19" x 1.75" x 10"
11 lbs.
Features
Custom input and output transformers
Single rack space
Balanced XLR ins and outs
Level controls
-20dB pad switch
48v switch
Phase switch
Blue LED power indicator
72dB of gain
Hi-Z 1/4" input
Red LED phantom power indicator