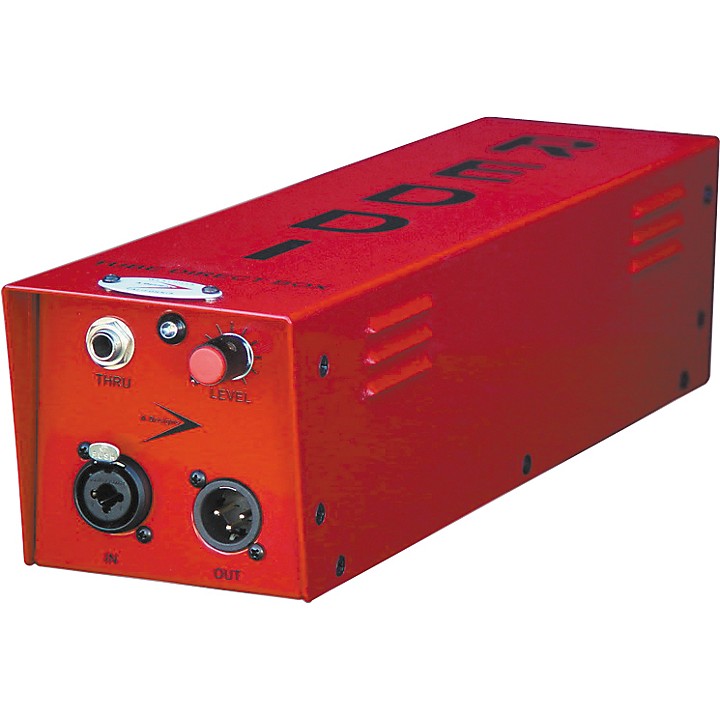 All-tube DI with incredibly high-quality sound at a project-studio price.
What do world-class bassists Reggie Hamilton and Justin Meldal-Johnsen have in common with producer/engineers Tony Shepperd, Ted Perlman, and Dylan Dresdow? The answer is using the A-Designs REDDI Tube Direct Box as their go-to DI. The REDDI has been field tested and referred to by recording engineers as the "best tube DI ever made." With wider bandwidth and just the right amount of gain, the REDDI stands clear and clean above the competition. Great for basses, guitars, synths, and electronic instruments that require a direct box for recording, the REDDI is ready to give you sound for recording or live performance that you won't ever want to be without.

A Designs Audio REDDI, First Take:
All-tube direct box with custom output transformer
Based on the Ampeg B-15 with an ultra-wide frequency range
New version adds a 1/4" thru jack
Field-tested by notable engineers/producers before release

All-tube and custom transformers -- the key to big, punchy sound

Inside its unmistakable fire-engine red case, the REDDI houses a toroid power transformer, which offers the quietest operation, and a 6N1P tube-driven amplifier that feeds signal direct into a massive custom output transformer. Therein lies the secret to its sound. It's a well-known fact that transformers are responsible for a truly big, punchy sound (also called the "big iron" sound of the '70s). By sending the tube-amplified, harmonically rich signal direct to a transformer that is hand and "ear" built you get a sound like no other. (You don't have to take our word for it, see what the pros are saying below.)

Ultra-wide Frequency Range

Based on the sound of the legendary Ampeg B15 all-tube bass amp, The REDDI's tone is tight, focused, and deep -- in essence, right in the pocket. It's ultra wide frequency range is another reason for the depth and clarity of the bass, as well as its unique ability to add a sense of dimensionality to whatever instrument is played through it. Another thing that professional bassists have discovered, is that rather than combining the DI sound with an amp, as is customary in bass recording, that sound of the REDDI alone is just perfect. On guitar, keyboards, and other electronic instruments, the REDDI works its particular brand of magic just as effectively as it does on bass. In fact, once you own a REDDI, you'll be tempted to put just about anything you can through it. (In fact, Grammy-winning producer Ted Perlman, has even used the REDDI with a Shure Green Bullet mic to record harmonica!)

New version adds a 1/4" thru jack

In order to keep the focus of the REDDI on sound quality, A Designs included only the most necessary features. On the original version of the REDDI, A Designs Audio had eliminated the 1/4" thru-put. The reason was because the REDDI sounded so good on its own, A Designs wanted users to realize that they didn't need to combine a miked amp with the direct sound of the REDDI. But A Designs listens to its customers and added a 1/4" thru jack without compromising sound quality. A Designs also refuses to sacrifice sound quality for high gain. As such, the REDDI is not a high-gain device, rather, it has just the right amount to keep its sound intact.

The REDDI's front panel features include a combo XLR/1/4-inch input, balanced XLR output, a level control knob, and very bright blue LED power indicator. On the rear panel, there's an on/off power switch, ground lift, and EIN power connector.

Field tested by Audio Professionals

Taking its place in A Designs Audio's line up of "all tube" high-end microphone pre-amplifiers and equalizers, the REDDI is another example A Designs' mission of making pro audio affordable. As always, A-Designs Audio field tests its products before releasing them to the public with notable engineers and musicians like Dylan Dresdow (TEC Award Nominee and Grammy Award nominee for Black Eyed Peas), Ross Hogarth (Grammy Award winner) Viktor Krauss (bassist for Lyle Lovett and renowned studio musician) and Reggie Hamilton (session/live bassist for Babyface, Seal, Bette Midler, etc.) who recently used the REDDI on his bass tracks for the new film Dreamgirls.

Here's what top engineers, producers, and musicians are saying about the REDDI:

"The sound of the REDDI all tube direct box on my bass and guitars is dramatic. When people come in and listen, they just go "WOW what's that? What did you do to get that sound?" "It not only delivers on bass and keys, but just out and out kills on acoustic guitars with pickups. It puts something on the sound that makes them jump and be present in the mix without that electric-type sound." -- Ted Perlman, Grammy Award-winning producer, engineer, musician (Bob Dylan, Chicago, Elton John, Burt Bacharach).

"Now, the REDDI is my favorite DI and definitely my go-to on bass." -- Dylan Dresdow (Black Eyed Peas), Grammy Award nominee, Tech Award nominee, engineer.

"The REDDI is not only the largest and brightest colored DI that I've encountered, it's the best sounding." -- Russ Long, Pro Audio Review, 11/1/2005.

"The New REDDI DI from A Designs kicks ass..." -- Ross Hogarth, Grammy Award winning producer, engineer, mixer.

"I didn't use an amp at all. I used only the REDDI and it sounded really, really nice." -- Justin Meldan-Johnsen, Bassist with Beck.

"If it needs to be really clean, then I'll just use the REDDI." -- Viktor Krauss, bassist for Lyle Lovett.

"I've used a number of DIs on electric pianos over the years, active, passive, tube, solid state, whatever was around. But, I don't remember that any of them worked as well or sounded as good as the REDDI." -- Dave Martin, Recording Magazine

"REDDI's first outing was on an active bass. The bass player's head turned as soon as he heard his instrument in the phones. It was an instant hit both in and out of the control room." -- Kevin Becka, Mix Magazine

The REDDI is only the second product I've had in for review [this year] that I sent back and then realized how much I missed it when it was gone." -- Dan Richards, Studio Review

"The best way I can describe what REDDI adds is dimension. It reveals a wide range of harmonics in a source, with an excellent translation of an instrument's character. It doesn't have to be blended with an amp signal to sound good. I tried it with electric guitar and bass as well as a synthesizer, and found the REDDI to perform impressively on every source." -- Frank Moldstad, Digital Pro Sound


Channel Strips of the Stars: Ted Perlman

Ted Perlman, renowned Grammy-winning producer, musician, arranger, engineer, and programmer, has a resume that reads like a who's who of popular music. His credits include Bob Dylan, Chicago, Burt Bacharach, Elton John, Dave Mason, Brian Wilson, Carole King, Albert Hammond, Jr. (The Strokes), Desmond Child, Young M.C., Dolly Parton, and, well, the list goes on. Ted was kind enough to provide us with his go-to signal chain for guitar and percussion. Here it is, straight from Ted Perlman himself:

"I'm producing and writing with Sara Lumholdt of the mega-selling Swedish pop group A-Teens.

ALL guitars go through the A Designs REDDI DI box > Hammer EQ (#180185) > Pacifica preamp (#189903) > Toft DC-2 Compressor (#187025)."




Specifications
Input Impedance Min1.4k Ohm
Gain Range 16 dB
Noise (EIN) -126 dB
Instrument Jack Input XLR / 1/4" combo
Input Impedance Min > 100k Ohm
Balanced XLR Output:
Output Impedance 600 Ohm
Maximum Level +22 dBu
Output Low-Z, transformer-balanced
Frequency Response 20 Hz - 60k Hz
Distortion THD: > .08 @ 1 Khz
Power Requirements: 100/120/230 VAC - 42 Watts
Dimensions (W x H x D) 3.5" x 3.5" x 14.5"
Weight 10 lbs. (4.54 kg.)
Features
Warmth, transparency, and quality sound, clean and airy high end
Vacuum-tube design
Perfect gain
Level Control
Ground lift
Front cover overlaps to provide protection for controls
Thru Jack 1/4"
Heat Vents allow the flow and circulation of air to cool the tubes and transformers. Located on both sides, front and back
Ultra bright Blue LED Lamp On/Off
Neutrik Combo XLR/1/4" Input Connectors
XLR Output Connector
Zero Feedback Loop
Custom Wound Output Transformers
Large size for easy operation up and down
Back cover extends slightly to provide protection to switches
Power Switch On/Off
Power A/C inlet
6NI-P Tube