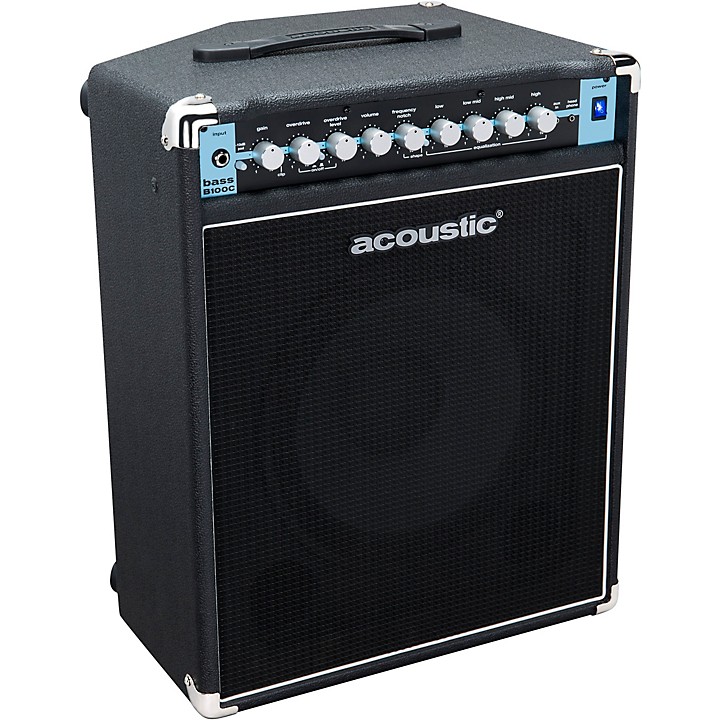 An ideal bass combo for large rehearsals and any size gigs.
The Acoustic B100C is the perfect 100-watt combo amp for the bass player who needs more power for rehearsals and full-stage performances. It features a 100-watt power section and an 12" Custom Ferrite speaker that provides optimal frequency response and sound projection. A tilt-back cabinet feature directs your sound off the floor for better monitoring.

A 4-band EQ boosts or cuts low, low-mid, high-mid and high frequencies, while a "Shape" switch gives you additional mid-range tonal adjustment. Controls also include a footswitchable overdrive circuit with a blend feature that lets you custom-tailor your sound even further. An effects loop lets you insert your favorite effects or compression into the signal chain between the preamp and power amp stages.

There's an XLR direct output with ground lift option for sending your signal to a sound system or recording device. The XLR output signal can be sent with or without your EQ settings. Connections for headphones and a convenient AUX input allow you to listen to audio files while you practice.
Features
100 watts of power
12" custom ferrite speaker for classic Acoustic tone
Tilt-back cabinet design ensure superior monitoring
Adjustable Overdrive circuit with Blend control
4-band EQ for precise tone control
Frequency "Notch" control for user-defined mid-range
FX Loop for effects expansion
XLR Direct Output with Level Control, Ground Lift and Post/Pre EQ Selector
1/8" headphone out allows for private practice
1/8" AUX input for external music devices