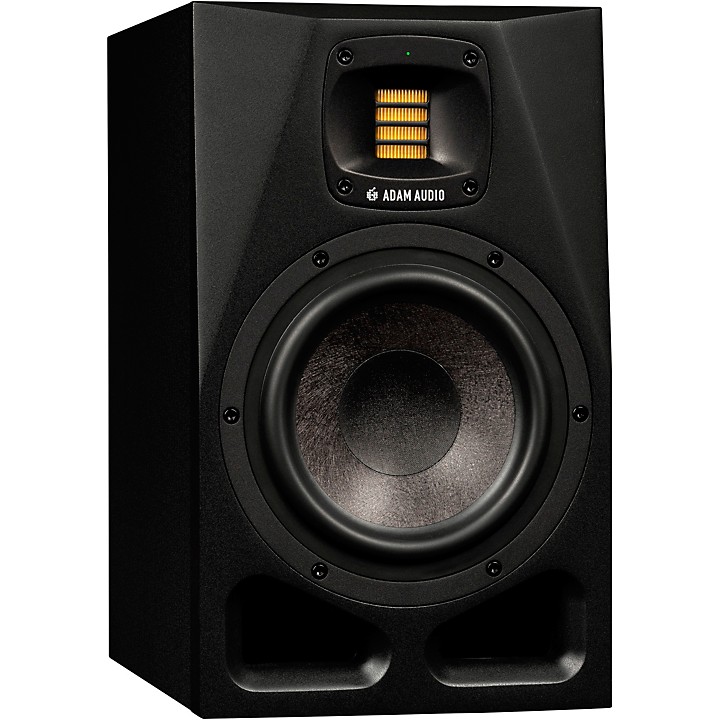 Provides incredible clarity with incredible low-frequency response when you work in the studio.
The ADAM Audio A series A7V speaker represents the evolution of ADAM Audio's best-selling, award-winning A7X. The two-way A7V combines a new 7" woofer built from Multi-Layer Mineral (MLM) fibers and ADAM Audio's handmade precision X-ART tweeter to deliver a wide frequency range of 41Hz to 42kHz. Rotatable HPS waveguide technology and onboard DSP-based tuning options enable you to optimize the sound of the A7V for your precise room requirements and sonic preferences. For many artists, mixers and producers, the A7V will be the sweet spot in the A series line.

With five models of varying dimensions and specifications to choose from, finding the right speaker is simply a matter of taste and understanding the acoustic requirements of your space. For added flexibility when it comes to speaker positioning, the rotatable HPS waveguide means each speaker can be used in a horizontal or vertical position with minimal compromise in sound quality. Room adaptation options directly on the backplate of the monitor help address common speaker placement issues such as bass overrepresentation caused by nearby walls and surfaces.

Superior Audio Performance
Every aspect of the A series' design, material and components contributes toward exceptional sound quality and improved output when comparing similar models of the preceding AX series.

The combination of Class-D amplifiers used in A series woofers, and the Class-AB amplifiers found in the tweeters deliver impressive SPL across the range and an ultralow frequency response. The use of digital signal processing enables the more advanced features found in the A series.

All A series speakers come equipped with an X-ART tweeter enclosed in a tailor made HPS waveguide. The high quality of the tweeter materials, folded by hand in Berlin, combined with the precise propagation control of the waveguide, results in superior dispersion of high frequencies over short and long listening distances.

A series woofers are constructed from multiple layers of mineral stone fibers baked together to create a lightweight but highly stable material that helps eliminate partial vibrations and other sonic impurities. By combining that material with a new magnet system, A series woofers produce high output with low distortion, delivering a clean sound for low-end material.

The elegant design of A series cabinets also contributes toward superior audio performance. Specifically, the cabinets have deeper beveling to minimize diffraction, and thicker baffle walls that reduce vibrations within the enclosure. In addition, a flared-port design reduces port noise compared with AX series speakers by optimizing airflow.

Truthful Mixing
The A series features two selectable voicing options found directly on the back panel of the monitors. "Pure" is a highly accurate and neutral sounding option. This is a super flat setting, offering an honest representation from your speakers and making it ideal for mixing, mastering and critical listening applications.

Sound With Character
The A series also offers the characterful and present sound you would expect from ADAM Audio. "UNR" or "Uniform Natural Response" is a dynamic, natural-sounding voicing that is selectable on the back panel of the monitors. Its design stems from a variety of iconic ADAM Audio legacy products, including the preceding AX series. It lends itself to production, composition and song writing as its engaging sound can give you more room for creativity and flow. It is also a great option whenever you want to use your speakers simply to enjoy some good music.

Compensate for Less-Than-Perfect Acoustic Space
For many people, acoustic treatment is not an option due to the cost and complexity involved or because they use their speakers in a living room or bedroom. The A series offers several solutions to address poor room acoustics, from room adaptation equalization to deal with unavoidable nearby objects, to automated room correction available through the Sonarworks collaboration. Together these technologies can greatly improve the listening experience without the need for costly alterations to your space.

Save Space With Mounting Options
The A series cabinets were designed with mounting in mind. All models feature four M8 threaded screw holes in a rectangular pattern.

Stay in the Zone With Remote Operation
Much of the embedded technologies found in the A series can be controlled remotely and in real time via the A Control software application. This means you can focus on your project and monitor adjustments from your listening position without the need to reach behind the speakers to adjust.

Future-Proof Feature Set
Software and firmware played an important role in the development of the A series and will continue to do so long after the launch of the speakers. Via the Ethernet connection you can expect to integrate the latest DSP-based capabilities from ADAM Audio, including new filter types and features, plus alternative voicings, meaning your A series monitors will continue to deliver the best sound possible for many years to come.

Beyond Stereo Applications
The A series features a variety of input options, mounting possibilities and sound adjustability, making it suitable for multichannel and surround applications.

Free up Processing Power
ADAM Audio and Sonarworks have worked side by side to deliver an innovative integration running directly on A series monitors. This negates the need for an additional DAW plug-in, simplifying workflows and ensuring that your studio monitors are always optimally tuned, regardless of the audio source or type.
Specifications
Audio
Tweeter: Rotatable X-ART tweeter, HPS waveguide
Woofer: 7" MLM woofer with 1.3" voice coil
Frequency response @ –6dB: 41Hz–42kHz
Maximum SPL per speaker at 1 m: 105dB
AD convertor: 24-bit
Internal sample rate: 96kHz
Crossover frequency: 3kHz
Analog input (balanced): 1 XLR
Analog input (unbalanced): 1 RCA
Power
Amplifier power RMS: 110W (woofer), 20W (tweeter)
Power rating: 300W max
AC input voltage: 100–240V, 50/60Hz
Other
Weight: 20 lb. 15 oz.
Cabinet Dimensions (HxWxD): 13-1/4" x 7-7/8" x 11"
Features
A-series studio monitor with 7" MLM woofer and X-ART tweeter
Onboard DSP for precise custom tuning for your room
Broad frequency range of 41Hz to 42kHz
What's in the box