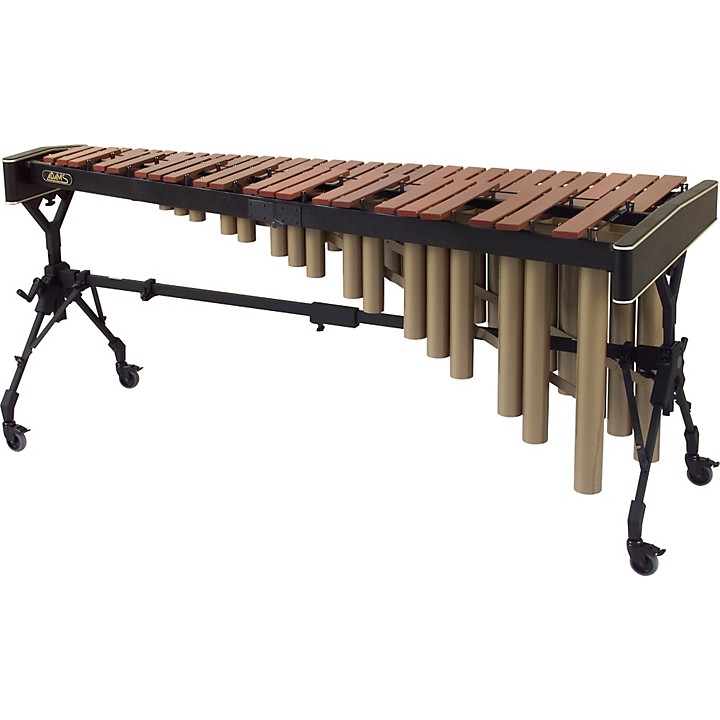 Number one selling marimba on the field.
Adams Concert Series Synthetic Marimba
Designed with Pearl's specially constructed synthetic bars, the Concert Series Sythetic marimbas offer a warm sound, superior projection, an unmatched durability to the sun and heat of outdoor performances.
This piece is constructed extremely well and is durable enough to withstand innumerable indoor and outdoor performances. The resonators are welded rather than riveted which offers the utmost strength and safety from mechanical noise. The patented voyager frame system allows effortless adjustment to a wide range of playing heights. Also included with this model is an enhanced field frame, the latest technological advance that makes transportation quite simple.
With A=442, this marimba is another industry standard. The bars are full-sizeand graduated, and are constructed with the same precise tuning and voicing as the Artist marimbas. Balanced sound throughout the entire range of the instrument is a guarentee. Also, the fact that the marimba is tuned to the sixth overtone allows complete control over all aspects of the marimba sound to be possible.
This wonderful package also includes mallets and a cover so that you can begin to play your instrument and keep it protected so that you may play it for years to come.
WARNING: Cancer and Reproductive Harm www.P65Warnings.ca.gov.