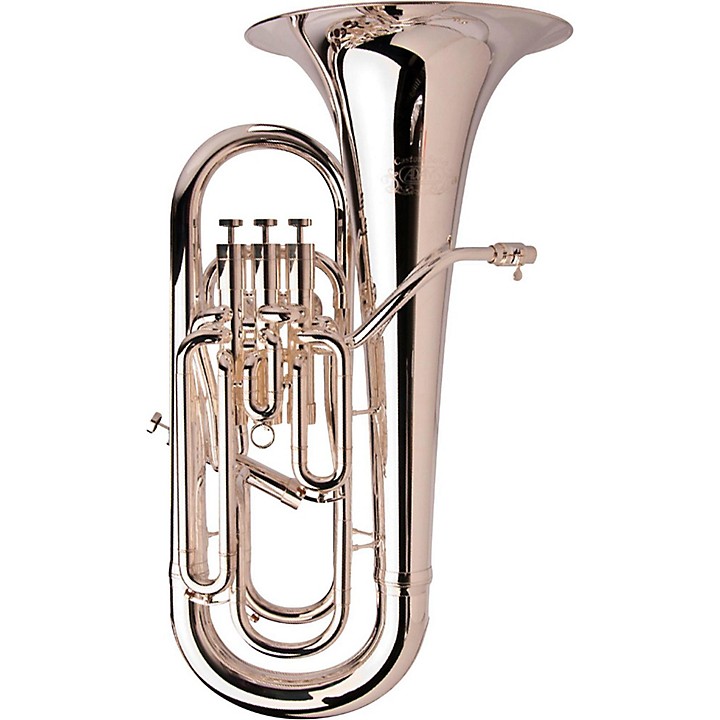 Yellow brass with silver plate, heavier gauge.
It's almost an embarrassment of riches for a brass instrument designer to be availed of Adams' knowledge and years of experience, but Miel Adams and his staff somehow suffer through, and in moments of their greatest indulgence, produce instruments like the E2 Selected Series Compensating Euphonium.

The E2 euphonium is the heavier counterpart to the E1, available with 0.80 gauge walls only. The instrument has four reinforced compensated valves and supports and a 310 mm diameter soldered bell, perfect for players who are looking for a heavier instrument. Because of the heavier weight, the instrument has more resistance and a more focused and compact sound.

Drawn from all of the possibilities offered in Adams Custom Series, the Selected Series is an overview of the most popular and though arguable and qualitative, the best combination of specifications from the thousands of possibilities found in the Adams Custom Series. This iteration of the E2 features a 310 mm yellow brass bell with a silver plate and a 0.80 gauge. The valve bores are 15 mm on 1,2, and 3, and 16 mm on 4.

Features
Bell: Yellow Brass - 310 mm
Bore: 15 mm - 1st, 2nd, 3rd valve and 16 mm 4th valve
Finish: Silver plated
Gauge 0.80