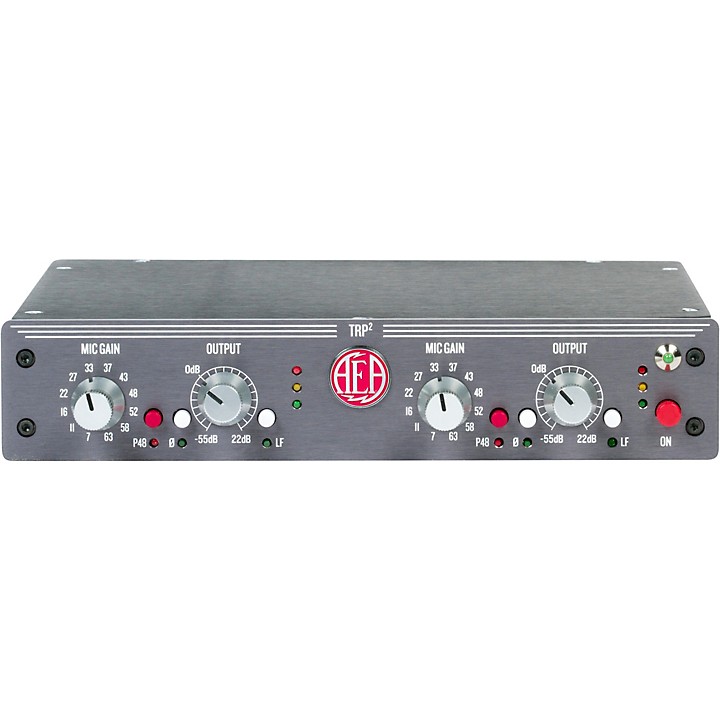 A microphone preamp specially made for Ribbon mics.
The AEA TRP2 Ribbon Preamp provides two channels of high-output, high-impedance, and low-noise gain with a rich and natural sound that brings out the full potential of your microphones. Specifically designed for ribbon microphones, the TRP2 excels at drawing out the warmth and lush sound that ribbons are uniquely known for.
The gain structure of the TRP2 gives you the ability to record quiet audio sources without adding too much noise from the unit. This high gain, low-noise ratio eliminates concern a lot of concern and allows for clearer, cleaner recordings.
The TRP2 is AEA's second iteration of the high-performance TRP preamp with the addition of new features including phantom power, optional rack ears, and a switching power supply. Polarity reverse switches for ensuring proper polarity throughout the recording chain and switchable 100 Hz, 12 dB per octave low-frequency filters allow you to tame proximity problems. The TRP2 includes switchable phantom power that is capable of powering condensers and active ribbons. For engineers concerned about phantom power hurting their passive ribbons, there is phantom power kill switch, known as No Blow Mode, located internally within the unit that easily deactivates 48V from ever turning on.

Features
Two channels with 85dB of sweet and quiet JFET gain
Switchable phantom-power, polarity reverse, and high-pass filter
63k ohm high-impedance circuitry providing better overall transients, frequency response, and higher output sensitivity
Optimized for ribbon mics, condensers, and dynamics
1U half-rack with optional hardware for mounting one or two units together