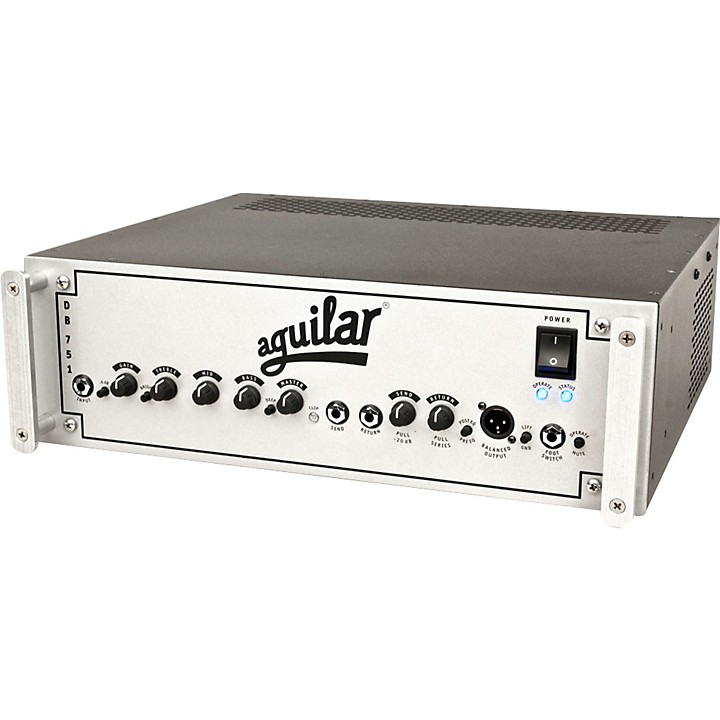 High-powered hybrid bass amp with the "Aguilar sound."
The 975W Aguilar DB 751 Bass Amplifier Head is infused with the killer technology and craftsmanship that exemplifies all of Aguilar's high-quality bass amplifiers, speaker cabinets and accessories for bassists. The DB 751 amp head offers an improved preamp that combines the legendary tube-driven tone of the DB 750 with active boost and cut for greater EQ control.

A perfect combination of raw power and excellent tone, the Aguilar DB 751 continues the legacy set by the world-famous DB 750 amp head. Delivering 975W at 2 Ohms and 750W at 4 Ohms, the Aguilar DB 751 Amp has the headroom you need to play your bass in any size venue.
Specifications
Power Output: 975 watts @ 2 ohms, 750 watts @ 4 ohms, 400 watts @ 8 ohms
EQ Section: passive tone stack with active midrange element, bass: +12 / -12 @ 40Hz; midrange: +12 / -12 @ 750Hz; treb: +12 / -7 @ 4kHz
Deep Switch: Adds 5 dB of broadband boost at 30 Hz
Bright Switch: Adds 5 dB of broadband boost at 5-7 kHz
Dimensions: 17"W x 14"D x 5.25"H
Weight: 42 lb.
Features
Self-Diagnostic Protection Circuit and Thermal Overload Protection Circuit (both with LED indicators)
Preamp Section: Three 12AX7's
Power Section: 12 complimentary lateral MOSFETs
Transformer: Custom Aguilar toroidal power transformer
Effects Loop: Send is push/pull for line or instrument level; Return is push/pull for parallel or series operation
Inputs: One 1/4" input jack with an active/passive switch
Outputs: Two Neutrik Speakon speaker outputs, Jensen XLR balanced output (with pre/post EQ and ground lift switch) and Tuner out.
Cooling: High quality whisper fans with thermal speed control
Rack size: three spaces