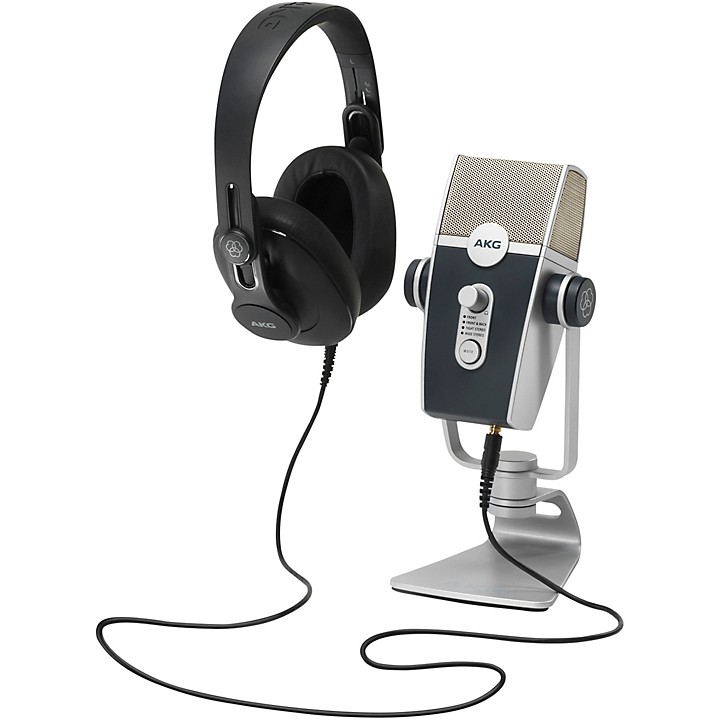 All you need to create great-sounding podcasts in stereo.
The AKG Podcaster Essentials kit includes everything you need to transform your computer, tablet or phone into a professional-quality production studio, featuring an AKG Lyra Ultra HD multimode USB microphone, AKG K371 professional closed-back headphones, Ableton Live 10 Lite audio-production software, a free introductory recording course at Berklee Online, and a full set of accessories including cables and headphone splitter. You'll be ready to record in minutes with tools optimized for capturing high-quality audio, whether you're in the studio or on location.
AKG Lyra USB microphone plugs right into your computer to capture sound in 24-bit/192kHz Ultra HD quality and offers pro features like intuitive capture modes and sonic enhancements that tailor your sound for any recording scenario.
AKG K371 professional closed-back headphones let you monitor your recordings live, in full fidelity, while preventing sound from bleeding into your microphone.
Ableton Live 10 Lite (Mac/PC) production software makes it easy to record, edit and arrange your podcast, from shaping the sound of your voice to building backing tracks with pre-recorded loops.
Berklee Online Recording Course This four-part course provides a broad introduction to audio production, from using microphones to recording digital audio.
For 70 years, the pros have relied on AKG products to craft music's biggest hits. Now you can bring that legendary sound quality to your podcasts with this versatile production kit that goes anywhere you go.
Features
AKG Lyra USB microphone
4K-ready, Ultra HD, 24-bit/192 kHz resolution with a full-spectrum frequency response of 20 Hz–20 kHz
Compatible with Mac, Windows, Android and iOS devices (see system requirements for full support)
Adaptive Capsule Array technology provides four intuitive capture modes: Front, Front + Back, Tight Stereo and Wide Stereo
Easily accessible controls: Capture Mode Selection, Input Gain Control, Output Volume, Microphone Mute
Camera-ready, vintage-modern design
Self-adjusting shock mount reduces surface contact noise
Built-in sound diffuser and proprietary Internal Element Overload Prevention reduce noise and pops and improve signal levels
Integrated desktop stand with cable-management channel can be removed to mount microphone on a boom or traditional mic stand
S/N ratio: 98 dB
Zero-latency monitoring via 3.5mm headphone jack
Frequency response: 20 Hz–22 kHz
Output impedance: 16 ohms
Power output (RMS): 24 mW
USB C 2.0 output
AKG K371 Headphone
Closed-back, oval over-ear design offers superior isolation, improved low-frequency response, ergonomic fit
Engineered to match AKG's Reference Response curve acoustic target for accurate, neutral sound
Largest-in-class, titanium-coated 50mm transducers with pure OFC voice coils
Best-in-class frequency response: 5 Hz to 40 kHz
Superior sensitivity: 114 dB
Calibrated headbands with slow-retention oval foam pads offer precise fit, superior comfort
Earcups swivel 90 degrees for single-ear monitoring
Ultra-light weight: 224 grams
Robust build quality with metal parts for extra durability
Sleek, stylish design
Accessories
Registration code for Ableton Live 10 Lite audio-production software
Redemption code for free, four-part recording course from Berklee Online
USB C-to-USB A cable
Swappable detachable headphone cables: 3m (9.8') and 1.2m (2.5') straight cables
3.5mm (1/8")-to-3.5mm (1/8") dual headphone adapter
3.5mm (1/8")-to-6.5mm (1/4") adapter
AKG-branded protective headphone pouch