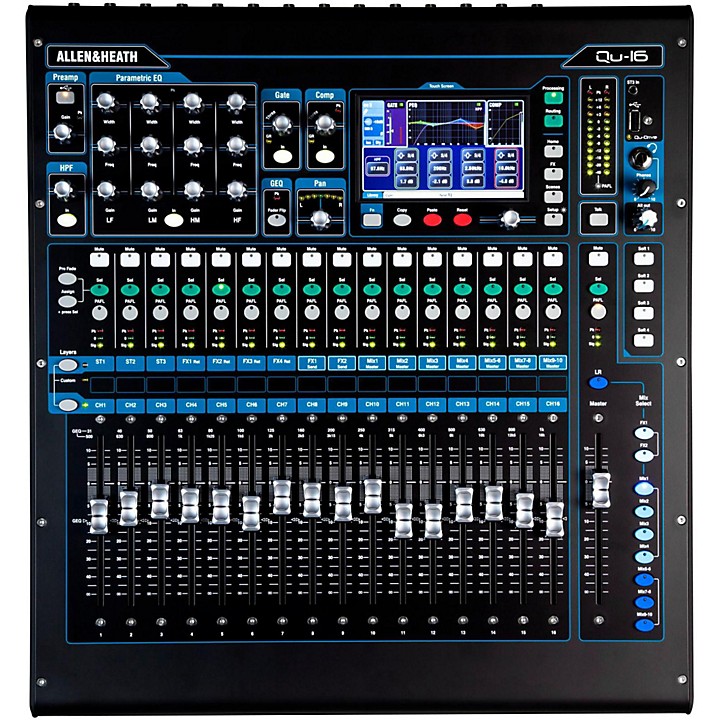 An incredible mixer for live music, conferencing, panel discussions and much more.
The Allen & Heath Qu-16 Chrome Edition compact digital mixer delivers a powerful, professional mixing experience. With 16 channels at your fingertips, this innovative mixer delivers uncompromising sound quality thanks to its AnalogiQ total recall preamps. Pro factory microphone presets from Shure, Sennhieser and Audio-Technica give you dialed-in sound every time. The Qu-16 features Windows DAW control support, and the versatile and convenient Qu-Control customizable app puts you in the driver's seat.

The Qu-16 Chrome also features Automatic Mic Mixing, a Spectrogram and additional monitor mixes. Sporting the same high-contrast metallic finish rotary controls and fader caps as the premium GLD Chrome series, the Qu-16 provides optimal visibility in low lighting scenarios and enhanced tactile control.

For conference and business presentation applications, the Automatic Microphone Mixer (AMM) helps the engineer manage the levels of multiple inputs, ensuring that each speaker's contribution is heard, but with priority settings to establish an order of precedence. AMM is vital in applications such as meetings and panel discussions where a number of microphones are open at the same time, reducing background noise and minimizing the risk of feedback.

The Qu-Pad app receives lets you wirelessly adjust the monitors on stage, roam around the venue while tweaking the PA, and then mix the show from the heart of the audience. It also features a full scene manager, remote patching and routing capabilities, effects parameter control and full control over Qu-Drive and DAW transport. Qu-Pad connects to the mixer over Wi-Fi and gives instant access to all live mixing parameters and settings.


Features
16 Mono Inputs (TRS + XLR) 3 Stereo Inputs (TRS) 4 Stereo FX Returns 16 Busses 12 Mix Outputs (LR, Mono Mix 1-4, Stereo Mix 1-3) 4 FX Engines AES Digital Out 19" Rack Mountable Moving Faders Recallable AnaLOGIQ Preamps Qu-Drive direct Multitrack Recording / Playback on USB drives 800x480 Touchscreen iLive FX Library dSNAKE Remote Audio Port Compatible with ME Personal Mixing System Qu-Pad iPad App USB Audio Streaming DAW MIDI Control 4 Mute Groups Trim, polarity, HPF, gate, insert, 4-band PEQ, compressor and delay on all Inputs Insert, 1/3 octave GEQ, compressor and delay on Main LR and Mono Mix outputs Insert, 4-band PEQ, compressor and delay on Stereo Mix outputs Built-in Signal Generator