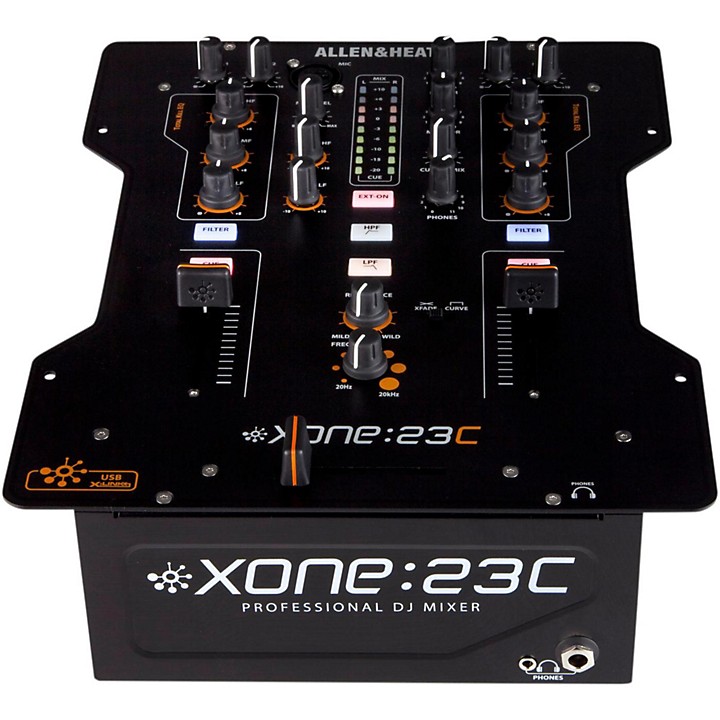 4-channel DJ mixer with built-in soundcard.
4 stereo channel 96kHz 24bit internal soundcard The Xone:23C brings together the best of digital DJing and conventional mixing in a compact accessible format. This high performance DJ mixer is equipped with a premium quality, 4 stereo channel 24-bit 96kHz internal soundcard and offers plug-and-play connection via X:LINK to Xone:K series controllers, making it perfect for performers looking to combine the convenience of digital DJing and recording with the hands-on control and visual appeal of a real mixer.

Xone:23C includes an enhanced version of the legendary Xone filter with resonance control, VCA faders, 3 band total kill EQ, illuminated switches, crossfader curve selector and styling inspired by the flagship Xone:DB4.

4 Stereo Channel USB Soundcard
96kHz 24bit 4 stereo channel USB soundcard which enables replaying and recording from your chosen DJ software, offering digital DJing with a real mixer.

USB X:LINK
X:LINK provides power and MIDI data over ethernet connection to our Xone:K Series controllers, saving USB ports on computers and offering extended software control.

VCF Filter System
At the heart of the mixer is the renowned analogue Voltage Control Filter (VCF) system offering Low-Pass and High-Pass filters, frequency sweep and ˜mild to wild™ resonance control. There is also an FX loop to connect to third party FX units, which route back in through the filter system.

External FX Loop
Seamlessly integrate your favourite external FX unit into your setup with send and return connections plus FX loop switching.

3-Band Total Kill EQ
Both channels feature 3 band EQ Isolator, allowing you to creatively eliminate frequencies and bring them back into the mix with complete control.
Features
4 stereo channels with built-in 96kHz 24bit soundcard
VCF Filter system " low-pass + high-pass filters plus frequency and resonance controls
3-band true total kill EQ
External FX loop
Mic input on balanced XLR, with 2-band EQ
Balanced main mix out on XLR
Independent booth out
Record out
3.5mm and 1/4³ headphone outputs
Touring grade build quality
Super smooth VCA channel faders
User changeable crossfader
Innofader compatible
Crossfader curve switch
20dB pro standard headroom
Ultra low distortion
2mm Steel face plate
9-segment signal level monitoring