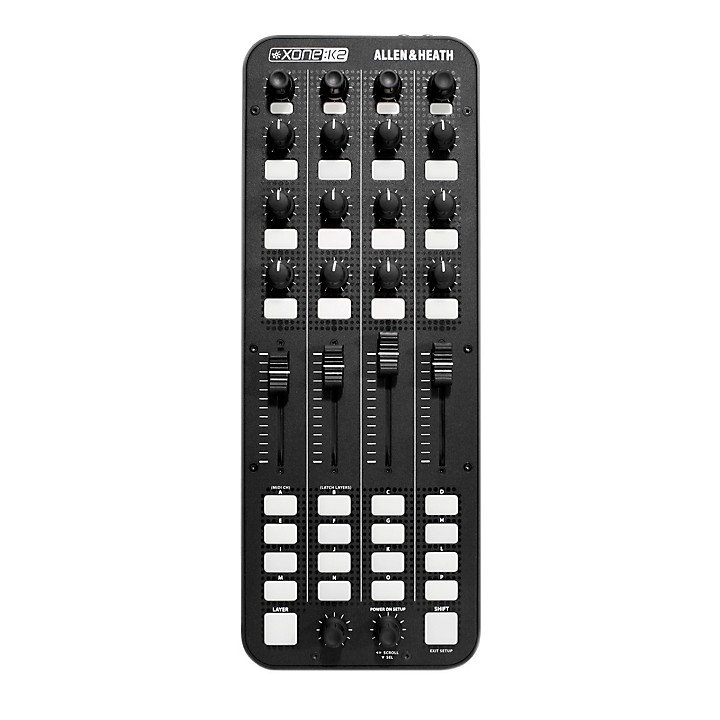 The power of flexibility, take command with 52 physical controls.
Allen & Heath's Xone:K2 is a compact, slim line universal MIDI controller - incorporating a 4 channel soundcard, for use with any DJ software. Quick and simple mapping lets you create a unique layout that mirrors your style and puts the functions that matter at your fingertips, whilst 3 color illuminating switches give at-a-glance feedback - allowing you to work however you decide.

MIDI Control
Xone:K2 has 52 physical controls - including 12 analogue and 6 endless rotary encoders with push switch, 4 linear faders, and 30 backlit performance switches - providing up to 171 MIDI control commands across 3 layers. What each control does is entirely up to you - you can create a completely customized layout that perfectly fits the way you want to work. We also provide maps to get you started out the box and information on how to set up your own.

Latching Layers
By assigning controls to multiple layers you can give a single physical control up to 3 functions. You can configure all, some or none of K2's controls to be linked to the latching layers system. As a quick visual reminder, when toggling through layers all switches assigned to a particular layer will illuminate in the appropriate colour.

Audio Interface
Xone:K2 has a high quality internal, four channel (2 stereo) soundcard. Setup options include using the Xone:K2 with headphones, headphones and a mix/PA system or with an external mixer - Xone:K2 is truly versatile for all modern DJs requirements.

Style with Strength
Its slim line chassis, soft touch controls and minimal looks set K2 apart from the pack. There's plenty of substance too - Xone:K2 is built to Allen & Heath's renowned touring grade audio and build quality standards, including the use of steel nuts on all rotary controls to protect the circuitry from impact damage.

Case / Stand
Xone:K2 comes packed in a robust black padded case as standard. As well as keeping it safe on the road, the case doubles as a stand, bringing the K2 up to the same height as most pro DJ mixers.

X:LINK
Two K2s can be linked via Allen & Heath's X:LINK protocol, giving twice as much control capability. X:LINK uses a standard RJ45 connector and distributes power and data, which means two K2s can be connected to your software using only one USB port on your computer. X:LINK also allows connection to Xone:DB4 and Xone:DB2 mixers, offering further expansion.

Specifications
Frequency Response 44.1kHz: 20Hz to 20kHz +0/-0.4 dB
THD + N: 0.01% typical
Maximum Output Level: +6 dBu
Dynamic Range Output: 96 dB
DIMENSIONS (WxHxD)
Xone:K2 - 5.3" x 1.2" x 14"
Carry Case - 6.7" x 2.8" x 15.4"
WEIGHT
Xone:K2 - 2.2lb.
Carry Case - .9lb.
Features
Universal MIDI controller for use with any DJ software
Extremely durable, touring grade build quality standards
Minimal design with slim line chassis and soft touch controls
12 analogue and 6 endless rotary encoders with push switch
4 linear faders
30 backlit performance switches
Up to 171 MIDI control commands across 3 layers
Latching layers can give a single physical control up to 3 functions
High quality internal, four channel (2 stereo) soundcard
Includes robust black padded case that doubles as a stand
Link two units together via Allen & Heath's X:LINK protocol