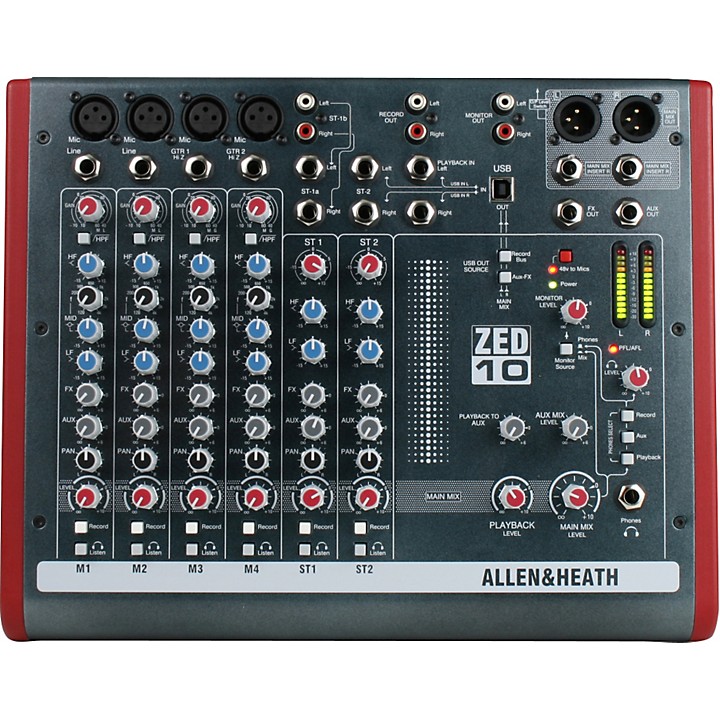 Small-format mulitpurpose USB-equipped mixer with 10 inputs (4 mic, 2 line-level, and stereo playback).
The ZED-10 is an amazing little deskstop mixer made for small band mixing. it is ultra portable for carrying to a gig, and can be used for recording live or in the studio.

Guitars can be plugged in directly to the mixer using the specially designed high-impedance inputs, while the mixer has two stereo inputs for MP3/CD players or keyboards. It is equipped with professional XLR main stereo outputs and a flexible monitoring section with headphone and speaker feed outputs.

The ZED-10 is great for live mixing. The layout makes it very simple to use and easy to achieve a great sound. It's also perfect for recording a live show or an audio project at home that you build up track by track using the USB digital audio interface.

The flexibility and quality of this mixer makes it stand out from the crowd. You can plug your guitars or instruments straight into the class A discrete FET high impedance inputs, up to four microphones, two stereo sources with MP3 player compatibility, separate 2-track record outputs, and a stereo playback input for 2-track replay or perhaps interval music from a CD player, XLR main stereo outputs with inserts, comprehensive monitoring with headphones, and separate monitor speaker outputs, 48V microphone phantom power, DI level switching for sub mixing, and last but not least, the same digital effects algorithms as those used on Allen & Heath's flagship digital consoles costing 150 times as much.
Specifications
Operating Levels: Inputs
Mono Channel (XLR) Input -10 to -60dBU for nominal (+11dBu in max)
Stereo input (Jack or phono sockets) 0dBu nominal (control = Off to +15dB)
Outputs
L/R Outputs (XLR) 0dBu nominal + 21dBu maximum
Record & Monitor Outputs (phono sockets) 0dBu nominal. +21 dBu maximum
Send options: Main Mix left + Right (post master level, and Record bus left + right (separate stereo bus to Main Mix)
Return options: To playback input (through jack socket break contacts)
To stereo 2 channel (through jack socket break contacts)
Frequency Response
Mic in to Mix L/R Out, 30dB gain + 0.5/-1dB 10Hz to 30kHz
Line in to Mix L/R out 0dB 10Hz to 30kHz
Stereo in to Mix L/R +0.5/-1dB 10Hz to 30kHz
THD+N
Mic in to Mix L/R Out, 10dB gain 1kHz + 10dBu out 0.002%
Mic in to Mix L/R Out, 30dB gain 1kHz 0.01%
Line in to Mix L/R OUT 0dB gain 0dBu 1kHz 0.003%
Stereo in to Mix L/R out 0dBu +10 1kHz 0.002%
Gtr Input to Mix L/R Out, 0dBu, Boost OUT 0.015%
Gtr input to Mix L/R Out, 0dBu, Boost IN 2% Second Harmonic
Headroom
Analog headroom from nominal (0Vu) 21dB
USB in & out headroom from nominal (0Vu) 14dB
Noise
Mic Pre EIN @ max gain 150R input Z 22-22kHz - 127dBu
Mix L/R out, L/R faders = 0, levels min, 22-22kHz-96dBu
Mix L/R out, L/R faders = 0, Levels min, 22-22kHz-96dBu
Dimensions: 10.8"D x 3.7"H x 13"W
Weight: 3.3kg
Features
4 mic/line, 2 with Class A FET high impedance
Neutrik mic XLR
Neutrik 1/4" jacks
3-band EQ with MusiQ
2 Auxes
Sound image pan
Illuminated PFL indicator
Stereo returns & playback
All inputs with level control
12-bar meters
Responsive 3-band, swept mid EQ with MusiQ
2 stereo sources with MP3 player compatibility
Separate 2-track record outputs
Stereo playback input for 2-track replay
XLR main stereo outputs with inserts
Comprehensive monitoring
Configurable USB stereo audio in/out
Stereo monitor outs
48V microphone phantom power
DI level switching for sub mixing