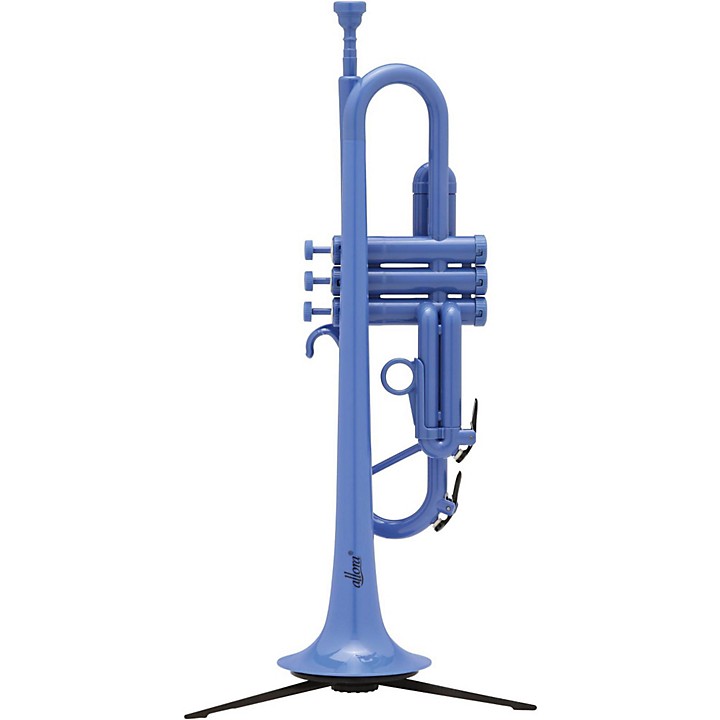 Fun trumpet for beginners and experts.
Allora's AERE Series of composite trumpets are lightweight, affordable and surprisingly robust instruments, viable for beginners, intermediate students and beyond. Designed with True Note Technology, they combine metal with ABS plastic to create a structurally sound instrument with a unique blended brass instrument tone. These trumpets are available in 11 different colors including metallic finishes (#J10754) exclusive to AERE, and they are the only plastic trumpets which feature true stainless steel valves (just like their brass counterparts). Weighing in at half the weight of brass trumpets, it is a perfect solution for musicians looking to shed a few pounds. The complete AERE Trumpet Package includes a mouthpiece, deluxe in bell stand, maintenance kit and custom carrying bag. Perfect for anyone from the experienced players and students alike.

When plastic trombones, trumpets and flutes began to hit the market, the initial response was skepticism. The surprising thing is that experienced players tended to give a ringing endorsement of these instruments not only as an inexpensive instrument to learn on, but as a nice horn for a pro or an experienced player to have in his or her arsenal. The Aere ATR130 is a great sounding, good playing trumpet that is lightweight, available in cool colors, and is easy and fun to play. You'll be astonished at how good it sounds.

Developed from durable ABS plastic the AERE trumpets and trombones are lighter and more affordable than their brass counterparts, but still function as truly exceptional and versatile instruments.Like all Allora instruments, the new AERE Series is designed with True Note Technology, combining metal with ABS plastic to create structurally sound instruments with a unique blended brass instrument tone. AERE also benefits from a unique plating process that enables the instruments to radiate with an outstanding metallic finish. From the football field to the concert stage the look of these instruments get almost as much attention as the sound.
Specifications
5" One Piece Bell, 0.459 Bore
Weight: Approx. 1.10 lbs
Extremely robust and sturdy ABS construction
Avaliable in various colors and Metallic Finishes
Adjustable 1st,2nd and 3rd valve tuning slides
Adjustable main tuning slide
2 Water keys (main tuning and 3rd valve tuning slides)
Conventional top sprung valves with interchangeable springs
Rugged one piece moulded valve block
Unique twist and lock quick release top and bottom valve caps
Valves can be lubricated by any normal quality synthetic oil
5 bracing points from bell section to valve block and leadpipe section
Reinforced mouthpiece receiver"accepts any standard metal mouthpiece
Traditional finger Hook and 3rd Valve Slide Ring
Conventional design with smooth comfort hold styling
Features
Lightweight and colorful
Easy and fun to play
Comes with case, stand and mouthpiece
Comes with care products:
Valve brush
Mouthpiece brush
Trumpet cleaning rod
Trumpet snake
Cleaning cloth
Warranty card
WARNING: This product can expose you to chemicals including 1,3-Butadiene, which is known to the State of California to cause cancer, and to cause birth defects or other reproductive harm. For more information go to www.P65Warnings.ca.gov.