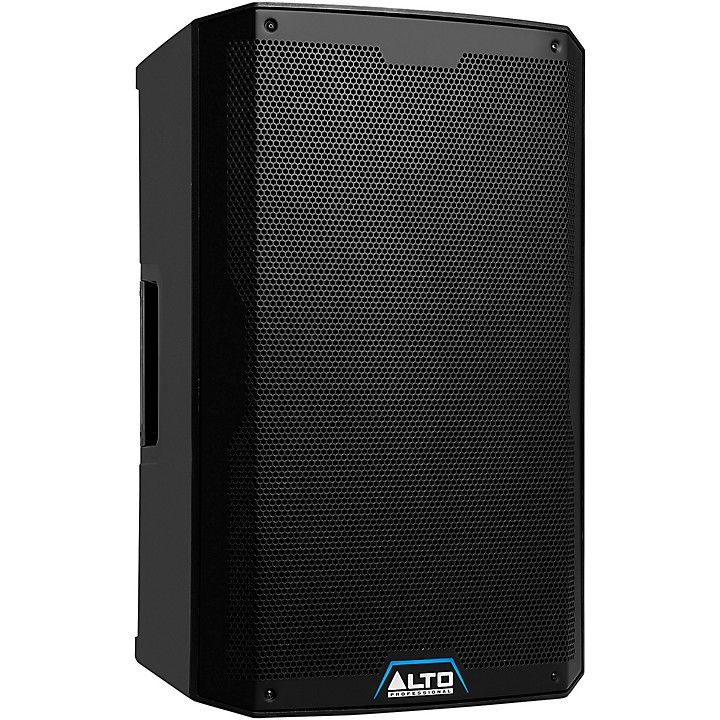 A 2,500W 15" two-way loudspeaker with powerful DSP and easy control.
Building on the legacy of the popular TrueSonic speakers, the Alto TS415 15" loudspeakers provide increased power, clearer sound and advanced Bluetooth functions, including streaming, speaker linking and wireless control via the Alto App. Compact, lightweight and designed for reliability, the new TS415 makes it simple to get great live sound at every event.
True Sonic Power
Whether you need a powerful vocal PA or club-shaking bass performance for a DJ set, TS415 speakers deliver loud, clear, room-filling sound for any application. With a 15" woofer and a 1.4" compression driver, TS415 delivers 2,500W of class-leading power and clarity in equal measure.
Alto App for Remote Configuration and Control
Available free for both Android and iOS, the Alto App gives hands-on remote control over Bluetooth levels, Speaker Use modes, Custom EQ and Sub Size selection. Further, True Wireless Stereo linking can be configured remotely via the app to save time during setup.
Built-in 3-channel Mixer
Every TS415 features an integrated 3-channel mixer, with two mic/line input channels and a dedicated Bluetooth channel. The mic/line channels feature XLR/TRS combo jacks and can be used with microphones, instruments and line-level signals without the need for additional hardware or adjustment. Just plug straight into the rear panel, and you're up and running.
Simple Bluetooth Streaming and Speaker Linking
The ideal high-powered streaming solution, TS415's built-in Bluetooth connectivity makes it easy to pair your laptop, phone or tablet and get the music pumping. With the True Wireless Stereo function you can stream Bluetooth audio to two TS415 speakers in perfect stereo, without the need for any cables.
DSP Modes for the Best Sound in Every Application
TS415's three preset "Speaker Use" modes let you optimize the speaker for any application, so you'll get great sound every time at the touch of a button. For even more control over your sound, you can configure a Custom EQ within the Alto App and remote adjust the settings from any listening point in the venue. You can even save your favorite Custom EQ setting direct to the TS415 for easy recall whenever you need it.
Versatile and Reliable
From the high-quality drivers to the fanless Class-D amplifiers, every aspect of the TS415 has been designed for superb reliability, whether used for mobile gigs and performances or fixed installation. Each speaker features a lightweight, sleek, black box design that can be used as the application demands—freestanding, as a wedge monitor, pole-mounted or suspended via the integrated suspension points.
Specifications
Output Power Low-Frequency Driver
15" driver
2.5" (63 mm) high-temperature voice coil
800W RMS @ 2 ohms
High-Frequency Driver
1.0" exit ceramic driver
1.4" (35 mm) coil
450W @ 4 ohms
Crossover Frequency Maximum SPL
Peak dBSPL @ 1 m: 135dB
Continuous dBSPL @ 1 m: 132dB
Frequency Response Frequency Range Horn Coverage
90° horizontal x 60° vertical (nominal)
Connectors
XLR + 1/4" (6.35 mm) TRS combo inputs (balanced): 2
XLR output (link): 1
IEC power cable input: 1
Input Impedance Line
Balanced: 10 kohms
Unbalanced: 20 kohms
Mic: 1.2K
Line Gain/Volume Control Range
–∞ to 0dB, +4dBu nominal
+10dBu for max output
Mic/Inst. Gain/Volume Control Range USB Charging Port Controls
Power switch
2 gain control knobs (1 per input)
2 Mic/Line switches
Bluetooth volume control encoder
Pairing button
Stereo Link button
Sub Size button
Speaker Use button
Indicators
1 Input Channel Signal/Limit/Clip LED (Green = Ch1/2 Signal) (Yellow = Ch1/2 Limiter) (Red = Ch1/2 Output Clipped)
1 Bluetooth LED (blue)
1 Link LED (orange)
4 DSP Presets LED (green)
3 HPF LED (green)
Power Connection Voltage
100–120V, 50–60Hz
220–240V, 50–60Hz
Consumption Fuse
100–120V T15AL AC250V
220–240V T6.3AL AC250V
Protection
Electronic clip
Thermal
Transducer overdrive
Other
Enclosure: Injected Molded Enclosure and Perforated Metal Grille
Mounting/Installation: Standard 36 mm pole socket, flown application with integral M10 suspension points, or in a wedge monitor position
Operating Temperature: 14°F to 113°F
Dimensions (HxWxD): 25.3" x 16.4" x 15.8"
Weight: 38.0 lb.
Features
2,500W for powerful performance
Free Alto App (iOS/Android) for remote configuration and control
Bluetooth audio streaming direct from device
Onboard DSP with four Speaker Use modes (including Custom EQ via App)
True Wireless Stereo speaker linking via Bluetooth
Integrated 3-channel mixer with dual XLR 1/4" combo inputs, mic/line switches and independent level controls
XLR Mix output, Speaker Use, and Sub Size Controls
15" driver, 2.5" (63 mm) high-temperature voice coil
1" exit ceramic driver with 1.4" (35 mm) coil
Lightweight enclosure for easy transport, setup and installation
Versatile design—pole-mountable, wedge monitor or flown application with integral M10 suspension points
Powerful and efficient class D amplifiers with fanless cooling design to run cleaner, quieter and with greater longterm reliability
Designed and tuned in the USA