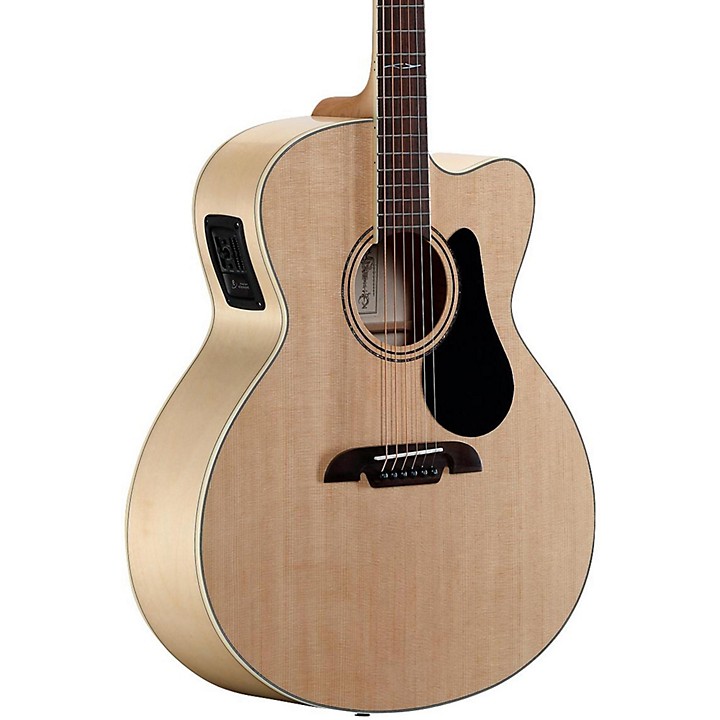 An affordable guitar with a hand-selected solid spruce top, maple back and sides, and B-BAND electronics.
The Alvarez Artist Series AJ80CE Jumbo Acoustic-Electric Guitar is big, bright and beautiful. The solid A grade Sitka tops with forward scalloped bracing lets this guitar really sing and the player experience is fantastic, you can really feel the energy of this guitar vibrate against your chest. Like most classic Jumbos the '80 has maple back and sides and all natural, premium components throughout. This acoustic-electric version is fitted with the awesome SYS550 pickup system EQ with chromatic tuner.

The term "solid top" of course refers to the soundboard of an acoustic guitar being made of solid wood, rather than being laminated. However, just because the top is solid, it does not necessarily mean the sound automatically benefits from this feature. The tone of the instrument only improves significantly when the whole guitar is built correctly to really release the energy a solid soundboard can generate. The Artist Series is built to do exactly this.

Each model is designed to get the best out if its components, and for them to work together to produce a tone and player experience, rarely found in affordable instruments.

The sound is warm, open and powerful, and both the treble and bass registers are clearly present and balanced in relation to each other. These guitars feel right and are exciting to play and responsive.

The solid ˜A' grade Sitka spruce tops are hand selected from quarter-sawn wood. This ensures consistent quality, and its no secret better guitars are made from better wood. These tops not only look great but they are stiff and strong and finely grained. This allows them to be cut just that tiny bit thinner, which lets them dance a little more and produce a lot more vibration, and ultimately a richer tone.

New Artist Series guitars look stunning and all of their components are made of natural materials such as mother of pearl and abalone inlays, real bone saddles and nuts and rosewood appointments.

SYS550 dual pickup
The SYS550 designed by B-BAND is a pro-level EQ and pickup that reproduces the sound of the guitar very closely with great clarity. B-BAND uses a patented under saddle electret film pickup which eliminates synthetic or processed sounds often heard with piezo or other styles of pickup. The result is a very true, acoustic sound. SYS550 also has an accurate, backlit chromatic digital tuner.

Case sold separately.
Features
Jumbo Acoustic Guitar
Hand selected, ˜A' grade, solid Sitka spruce top
Hand sanded, scalloped bracing
Maple back and sides
SYS550 electronics with EQ and tuner
Alvarez bi-level rosewood bridge
Rosewood fingerboard
Premium, high gloss finish
Dovetail neck joint
Real bone nut and saddle
Paua abalone and mother of pearl inlays
Premium die cast chrome tuners
ABS binding
D'Addario EXP's
Case sold separately