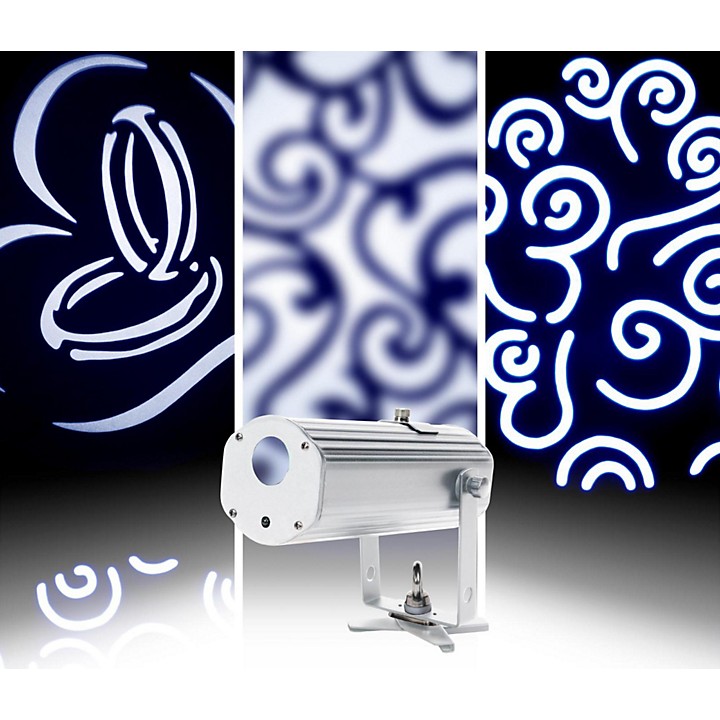 Battery powered GOBO projector with 10-Watt cool white LED.
The ADJ PinPoint Gobo is a battery powered GOBO projector powered by a 10-Watt cool white LED. It includes 4 standard removable GOBOs, 5 color gels and a frost filter to defuse the beam for wider washes of light. When the GOBO is remove it may be used as a pinspot to spot tables, decor, architecture or used for special effects.

The PinPoint Gobo has an easy replaceable GOBO holder so that user may interchange the supplied GOBOs or to insert custom GOBOs. It features a magnetic bracket so the fixture may be quick attached to metal, plus a X-Clip mount is also included to attach to the metal in drop down ceilings.

The battery has a charge time of 6.5 hours to achieve a full charge. The battery life is rated at 4.5 hours (full on) or 12.5 hours when set in energy saving mode. On the side of the fixture are sliders to manually adjust the focus and beam angle.
Features
Rechargeable battery powered, bright 10W CW 4-in-1 LED Pinspot / Gobo Projector
12-25 degree variable beam
Manual focus
Compact high-tech metal case design
Gobo size: 26.8mm; Viewable size: 24mm
Drop in GOBO Slot for Metal or Glass Gobos
Long-life LED: 50,000 hour LED life
Power consumption: 11W
Includes magnetic bracket for easy quick install on metal
X-CLIP Bracket for drop ceiling frame mounting
Includes 4 metal GOBOs and 5 color filters
Replaceable Gobo size: 26.8mm; Viewable size: 24mm
Includes Frost Filter
Includes Power Adapter (DC 8.7V 1A)
ADJ UC IR Remote Control & ADJ LED RC3 Control (Sold Separately) & Airstream IR compatible
Battery Charge Time: 6.5 Hours (With POWER switch off)
Battery Life: 4.5 Hours (Full On) / 12.5 Hours (In Energy Saving Mode w/ Full Charge
Dimensions (LxWxH): 9.75" x 4" x 2.75" / 245 x 102 x 70mm
Weight: 3 lbs. / 1.1 kgs.