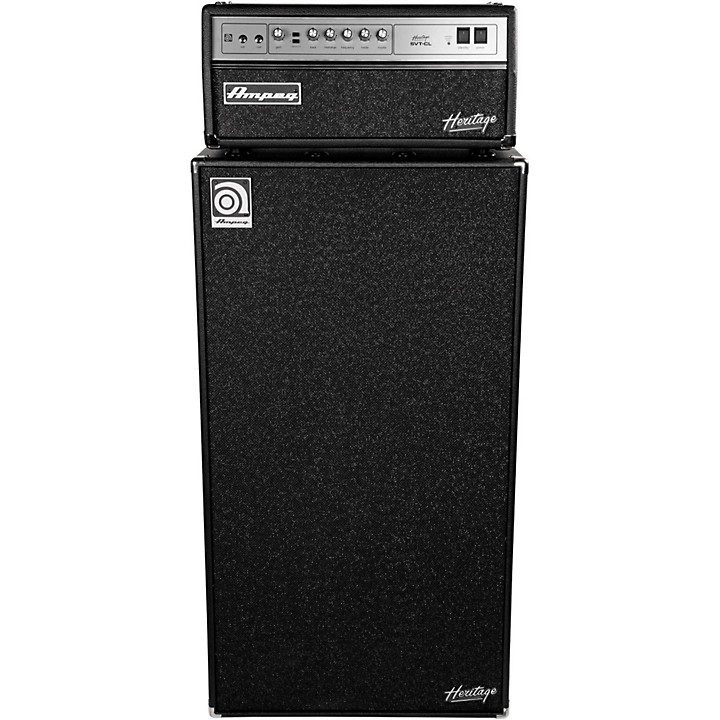 Classic Ampeg tone with a booming 8x10" cab.
The reissue Ampeg SVT-CL Classic Bass Head brings back in all its glory a classic big-stage amp that was the choice of players in the '60s. There's no question that the SVT-CL delivers 300W (to either 2 or 4 ohms). Its tube array includes two 12AX7s in the preamp, two 12AU7s and a 12AX7 for drivers, and six 6550s for power.

Controls include three bands of tone, a five-way mid selector, plus ultralow and high boosts. Other pro features on the Ampeg SVT-CL Bass Head include normal and padded inputs, tube protection circuitry, auto-fault mode, fan cooling, slave output jack, 4/2-ohm selector, user biasing controls, and 3-position AC polarity switch.

SVT-810E Cab
Designed and assembled in the U.S.A., the Ampeg Heritage SVT-810E bass speaker cabinet delivers legendary Ampeg tone in a premium package. Fully stocked with eight custom-made 10" U.S. Eminence drivers and overbuilt for ultimate reliability, the Heritage SVT-810E gives you classic Ampeg performance, unsurpassed quality and uncompromising Ampeg tone.

Features
SVT-CL Head
Power: 300W (tube)
Tubes: two 12AX7 (preamp); two 12AU7, one 12AX7 (driver); six 6550 (power)
Controls: 3-band tone, five-way mid selector, low and high boosts
Normal and padded inputs
Tube protection circuitry
Fan cooled
Slave output
Dimensions: 24"W x 11-1/2"H x 13"D
Weight: 80 lb.
SVT-410HLF 4x10" Cab
Power handling: 800W @ 4 ohms, 2 x 400W @ 8 ohms stereo
Speakers: 8 x 10" custom U.S.-made Eminence LF drivers; 2" Eminence APT:50 HF driver w/ L-Pad level control
Rugged 15mm birch enclosure
Dimensions: 26" x 48" x 16"
Weight: 140 lbs.