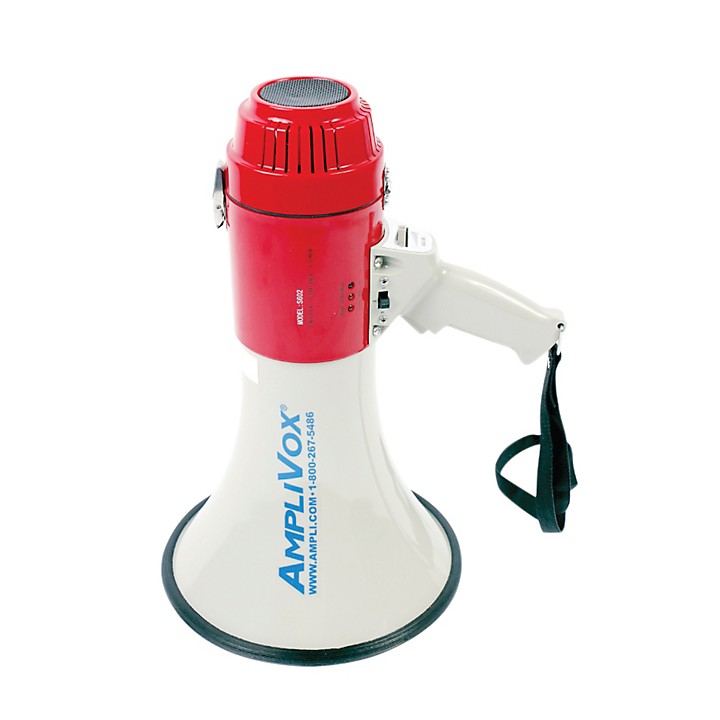 25-watt megaphone that can be heard a mile away.
Far more lightweight than traditional megaphones, the AmpliVox Mity-Meg 25 uses piezo dynamic technology to achieve a loud-and-clear reproduction of the human voice using battery power. It features a comfortable pistol grip and has three modes for different applications: Talk, to amplify speaking; Siren, to issue warning; and Whistle to issue urgent warning. Its practical range in ideal conditions is up to one mile (1,760 yards). Weatherproof high-impact plastic and steel make this a reliable tool for band directors, event organizers, protest leaders and parents who want to surprise their children in the morning. A battery indicator light shows power status (low, med, hi) on the outer housing.

A volume/gain knob is located inside the cover for control over the sound. The Mity-Meg 25 requires eight C-Cell batteries and lasts up to 40 hours continuously. Half the weight and twice the battery run time of other megaphones. Net weight 2 lb. without batteries.
Specifications
Effective range: 1,760 yards/one mile
Warranty: 1 year
Product dimensions: 14-1/2" long x 8-1/4" diameter
Product weight: 2 lb.
Features
25 watts
Effective Range: 1,760 yards/one mile
Ultra-lightweight at 2 lb.
Requires 8 C-cell batteries (not included)
Battery indicator lights (Low, Medium, High) shows power status
3 Modes: Talk, Siren and Whistle functions
Adjustable volume
Easy-to-use battery cartridge
40 hours continuous talk time