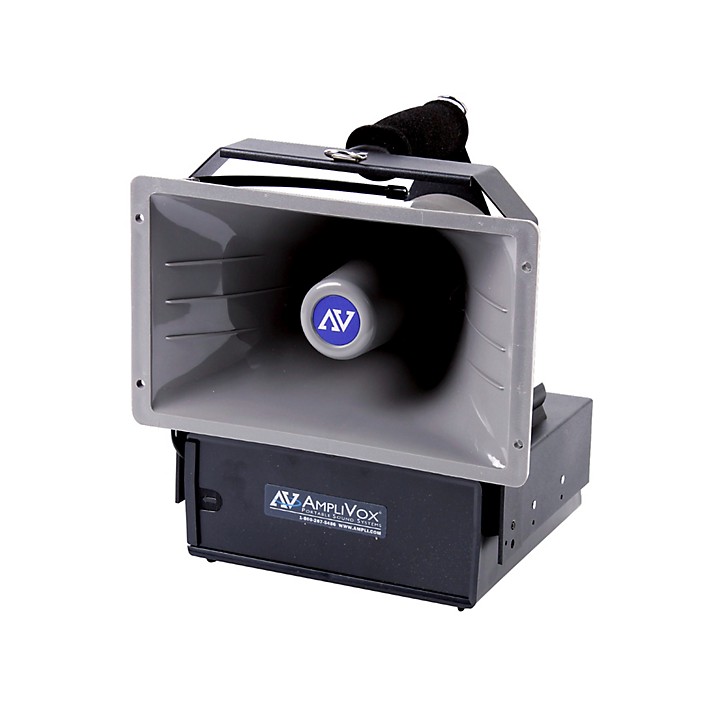 Loud, powerful wireless microphone along with a battery-powered portable PA.
Ideal for sporting events, outdoor presentations of any kind that require communication. you can easily be heard more than a half mile away with the SW610A Half Mile Hailer loudspeaker PA system. Its simple straightforward controls, and lightweight design make it the most practical and portable outdoor speaker sound system on the market. If you need to be heard in a large and noisy crowd environments, this is your solution. The SW610A includes wireless headset & lapel omnidirectional microphones with transmitter in addition to the powered loudspeaker.

This is a durable, professionally viable system that can be used in inclement weather and is built for consistent use. It is ideal for outdoor athletic events or any situation where clear communication from an announcer is important.
Specifications
Audience Size: up to 5000 people
Product Dimensions: 11"H x 12"W x 10"D
Product Weight: 10lb.
Features
50 watt wireless multimedia stereo amplifier with built in receiver; 3 mic inputs
Weatherproof reverberant horn speaker
Wireless lapel and headset mic with body pack transmitter
Shoulder strap
Power up to 200 hours with 10 D-cell alkaline batteries