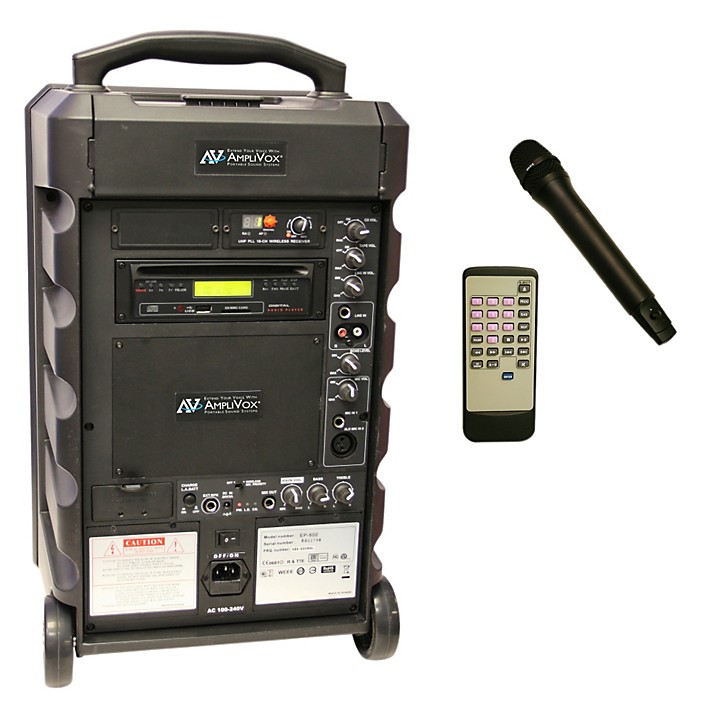 100-Watt full range wireless, portable PA system.
The Amplivox Titan Wireless 100 Watt Portable PA system features a powerful amplifier, a rugged 8" full-range speaker, built-in accessory storage and microphone battery recharger, and comes ready for all of your amplification needs. It additionally features a built-in CD/MP3 player with variable pitch, SD Slot, USB input, and Remote Control.

After your presentation is complete, everything packs right into the Titan's carrying case. Never wonder where your microphones, battery cord and other accessories are with built-in storage. It is easy to move thanks to luggage handle and hard wheels. The Titan is equally at home in Indoor or Outdoor aplications. Comes with rechargeable battery.
Specifications
Dimensions (W x H x D): 13" x 19.5" x 11.5"
Weight: 35 lb.
Audience size: up to 2500 people
Power Options: built-in rechargeable battery and AC power cord
Warranty: 1 Year
Features
100 Watt Amplifier
Wireless microphone
16 Channel UHF wireless receiver
CD/MP3 disc player with pitch control, reverb, and ducking
USB Port and SD slot
Built-in 8" Speaker
XLR mic input, RCA input, three 1/4" inputs.
3 level equalizer Hi - Mid - Low
Built-in rechargeable battery
Easy to move with luggage handle and wheels
Charging station for 4 AA batteries, for the wireless microphone
Molded plastic enclosure