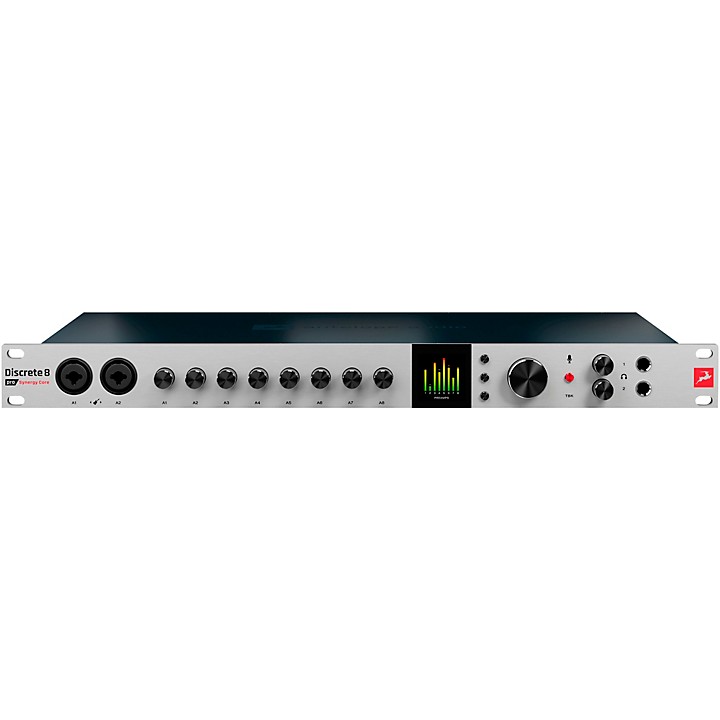 26x32 Thunderbolt 3 and USB 2.0 audio interface with onboard real-time effects.
Discrete 8 Pro Synergy Core implements Antelope Audio's latest software features and allows studio owners, bands and recording engineers to record with legendary sound quality. With blazing-fast Thunderbolt 3 and USB 2.0, ultra-low latency performance and even better effects processing capabilities, this audio interface is worthy of carrying the name of the model that first introduced us to Synergy Core technology.
Uncompromising A/D and D/A conversion and clocking
A/D and D/A converters and signal clocking are at the heart of every studio. The Discrete 8 Pro SC has been upgraded with latest-generation converters (up to 130dB of headroom) and Antelope Audio's proprietary 64-bit AFC clocking. With this interface in your rack, you can experience a new level of detail in your recordings and enjoy a wider soundstage for an exceptional stereo image in audio playback.
The key to transparent recordings
Antelope Audio's discrete preamps topology is a descendant of the great console preamps of the time. Designed using a combination of transistors, the Discrete preamps result in maximum noise reduction and, most importantly, precise sound capture, for beautifully transparent recordings.
Extensive connectivity for your entire studio
The Discrete 8 Pro Synergy Core offers impressive analog and digital I/O in one rack space. Eight mic/line inputs, two instrument inputs, eight DC-coupled line outputs on D-Sub 25, two reamp outputs, a pair of monitor outputs, two headphone outputs, ADAT and S/PDIF I/O are all at your disposal. For your computer connection, you have USB 2.0 and Thunderbolt 3 ports. All I/O is available at any time and can be used simultaneously without the need to change setups. This makes it easy to work on multiple sessions.
Push the FX processing further
The 37 effects included with Discrete 8 Pro SC are modeled after iconic studio equipment and can be applied in real time during monitoring, post-production and live recording. The analog-modeled compressors, EQs and preamps are processed with near-zero latency entirely inside the interface, putting zero load on your host CPU. The onboard Synergy Core contains the processing power of a complex multi-rack setup, which enables you to load effects on up to 16 channel strips—this is double the available channel strips compared to the original Discrete 8 SC.

At any time, you can expand your collection by purchasing more analog-modeled effects, such as Grove Hill's Liverpool and third-party effects like Antares' Auto-Tune.
Expansive feature set
The virtual routing patchbay on the Discrete 8 Pro SC streamlines the routing process, and even adds creative possibilities. Apart from the intuitive routing, the software control panel allows you to create presets, quickly configure mixes and more. With the enhanced processing, you can now add effects on every input source.
Specifications
Analog

Analog Inputs
6 mic/line inputs
2 mic/line/Hi-Z inputs
Analog Outputs
1 monitor out on TRS 1/4" jacks, +20dBu max
2 reamp out on TRS 1/4" jacks
1 line out (8 channels) on DB25, +20dBu max
2 stereo headphone outputs
Mic Preamp
EIN: -128dBuA
Dynamic range: -122dBA
THD: -116dB
Max input: +18dBu
Max gain: 65dB
D/A Monitor Converter
Dynamic range: 130dB
THD + N: -115dB
A/D Converter
Dynamic range: 122dB
THD + N: -116dB
D/A Converters (Line Out)
Dynamic Range: 121dB
THD + N: -100dB
DC coupled
Digital

Digital Inputs
2 ADAT (up to 16 channels)
1 S/PDIF
Digital Outputs
2 ADAT (up to 16 channels)
1 S/PDIF
USB 2.0 I/O: USB 2.0 Type-B connector
Thunderbolt: Thunderbolt connector 3 on USB-C
Clocking
Word clock input: 1 input @ 75 ohms, 3Vpp on BNC 32, 192kHz
Word clock outputs: 3 outputs @ 75 ohms, 3Vpp on BNC 32, 192kHz
Clocking System: 4th generation Acoustically Focused Clocking, 64-bit DDS
Sample rates (kHz): 32, 44.1, 48, 88.2, 96, 176.4, 192
Other
Operating temperature: 0–50°C, 32–122°F
Weight (approx.): 6.61 lb.
Dimensions (WxHxD): 19" x 1.7" x 8.6"
Power consumption: 25W
Features
Conversion and clocking
Class-leading AD/DA conversion with up to 130dB of headroom
Recording, mixing and playback at up to 24-bit/192kHz
Proprietary 64-bit AFC (Acoustically Focused Clocking) technology and Jitter Management algorithm delivering increased sound width, separation and detail
Connectivity
Eight Discrete six-transistor preamps with 65dB of gain for pristine recordings
All preamps work as microphone/line and two are also Hi-Z inputs on combo XLR jacks and supply 48V of phantom power
Eight DC-coupled line outputs over D-Sub 25
Two preamp outputs on TRS 1/4" jacks for further amp processing of guitar signal
The TRS preamp outputs can also be used as an additional stereo monitor output, allowing you to have two pairs of monitor speakers playing together simultaneously
Thunderbolt 3 and USB 2.0 port with custom macOS & Windows drivers
Digitally expandable over ADAT I/O, with 16 channels available
Digitally expandable over S/PDIF I/O, with two channels available
Three word clock outputs letting you distribute the interface's highly stable clock signal across your studio and a word clock input allowing you to sync the Discrete 8 Pro Synergy Core with other gear
Footswitch input that can be used as a single footswitch (on 1/4" TS jack) to control the dim function and a dual footswitch to control both the talkback and dim functions
Two stereo headphone outputs with separate gain control
Dedicated stereo monitor output over TRS
Workflow-enhancing features
Direct monitoring with Synergy Core effects, processed in real-time with imperceptible latency
Expanded routing capabilities—switch audio sources per channel based on a drop-down menu sequence or make use of a virtual routing matrix
Customizable presets with signal routing, level adjustments, mixer and effects settings
Customizable monitoring mixes with adjustable volume, pan and reverb
Easily accessible front-panel talkback with built-in microphone
Front panel with independent headphone and monitor volume knobs and buttons for sample rate configuration, and hands-on control of core parameters
Hardware relay-based gain knobs for each preamp, plus mode control (mic/line/Hi-Z) via push sequence
Option to work without being connected to a computer (standalone operation)
Wireless control of software features from a separate computer connected to the same network
Real-time effects processing
Collection of 37 Synergy Core effects modeled after classic and rare analog outboard gear
Synergy Core proprietary onboard platform powered by two DSP and one FPGA chips for real-time effects processing with imperceptible latency
Modeling Engine allowing pairing with the Edge line of microphones for real-time use of vintage microphone emulations
In-the-box content
Discrete 8 Pro Synergy Core
Getting started guide
USB 2.0 type-B cable
External power supply unit
Note: Thunderbolt cable is not included
Discrete 8 Pro Synergy Core includes 37 effects
Gyraf Gyratec IX (dual-tube mic preamp with HPF)
VCA160 (VCA compressor/limiter)
Stay-Levin (vari-mu tube compressor)
FET-A76 (FET compressor/limiting amplifier)
VEQ-1A (2-band tube EQ)
VMEQ-5 (3-band tube mid-range EQ)
X903 (VCA compressor/limiter)
PowerFFC (feed-forward compressor)
Clear Q (parametric EQ)
Power EX (expander)
VEQ-HLF (tube 2-band HPF/LPF)
Auraverb (reverb)
BA-31 (germanium mic preamp)
Power Gate (noise gate)
A-Tuner (guitar tuner)
Plexi 59 (UK) (tube guitar amp)
Bass SuperTube VR (tube guitar amp)
Darkface 65 (US) (tube guitar amp)
Top30 (UK) Bright (tube guitar amp)
Tweed Deluxe (US) (tube guitar amp)
Overange 120 (UK) (tube guitar amp)
BurnSphere (DE) Lead (tube guitar amp)
Marcus II (US) Lead (tube guitar amp)
Modern (US) CH3 (tube guitar amp)
Rock 75 (UK) (tube guitar amp)
Rock 22.10 (UK) (tube guitar amp)
Darkface 65 2x12 (2x12 guitar cabinet)
Top30 2x12 (2x12 guitar cabinet)
Modern 4x12 (4x12 guitar cabinet)
Green 2x12 (2x12 guitar cabinet)
Vintage 4x12 (4x12 guitar cabinet)
Green 4x12 (4x12 guitar cabinet)
Caliper 50 1x10 (1x10 guitar cabinet)
Bluelux 1x12 (1x12 guitar cabinet)
Clst 1x12 (1x12 guitar cabinet)
England 4x12 (4x12 guitar cabinet)
Bass Tube 1x15 (1x15 guitar cabinet)