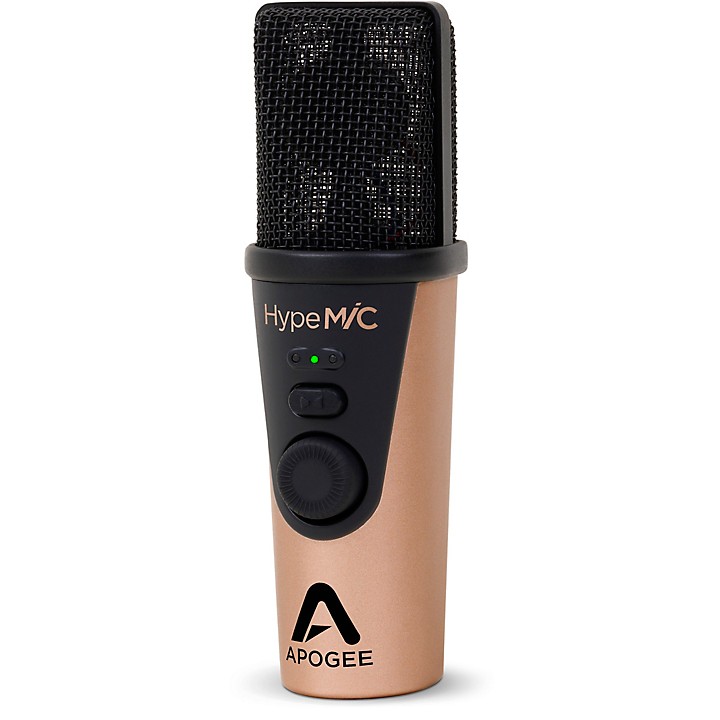 USB mic with headphone output and studio quality compression.
HypeMiC combines a microphone, analog compressor, microphone preamp, and A/D and D/A converters into one compact device. Apogee has carefully designed each part of HypeMiC to deliver the highest quality signal possible with the lowest noise. HypeMiC brings a new level of smoothness and warmth to acoustic instrument recording. Built for high SPL levels, HypeMiC provides greater clarity and detail when recording loud acoustic instruments from drums to horns to choirs. Also ideal for live streaming, podcasts and broadcasts, HypeMiC balances audio dynamics for greater clarity resulting in better 'broadcast ready' recordings. HypeMiC is compatible with any Mac/PC and iOS app that allows you to select an audio device so you're never without a pro studio when you are on the go.

Built-in compression settings
Ever wonder how your favorite recordings seem to leap from the speaker, with vocals that magically float above even a dense background track? That's compression. HypeMiC features studio-quality analog compression that's easy to use and brings the magic to your vocals, voice-overs, instruments, percussion, and podcasts. HypeMiC's unique analog compression enhances vocals like no other microphone. HypeMiC offers 3 analog compression settings, all accessible from the front panel control knob: Shape, Squeeze and Smash. The Shape setting offers a minimal amount of compression, great for shaping the vocals and instruments in your music recordings. Squeeze is great for podcasts, interviews and streaming when you want to squeeze a little more pop out of your voice. Last is Smash which is the highest amount of compression, perfect for voice recording when you really want to smash it for that big broadcast sound.

Additional functionality
Like its cousins, Jam+ and MiC+, HypeMiC also features a 1/8" stereo headphone output and Blend function for zero-latency monitoring. The Blend button allows you to easily adjust how much direct signal input (sound going into the microphone) you hear mixed with software playback (sound coming out of your computer), enabling you to dial in the perfect mix. Whether you're monitoring as you play and record with your favorite app, or streaming audio, the stereo output on HypeMiC dramatically improves the playback quality of your audio. With high-resolution sample rates up to 96k and ample headroom, HypeMiC delivers incredible clarity and plenty of volume to your headphones or powered speakers.

Features
Studio-quality analog compressor
PureDIGITAL connection for pristine sound quality up to 24-bit/96kHz
Premium cardioid condenser microphone capsule
Headphone output with Blend feature offers zero-latency recording
Premium accessories kit includes tripod, pop filter and carrying case
No configuration required, just plug in and record with any audio app
Works with iOS, Mac and PC