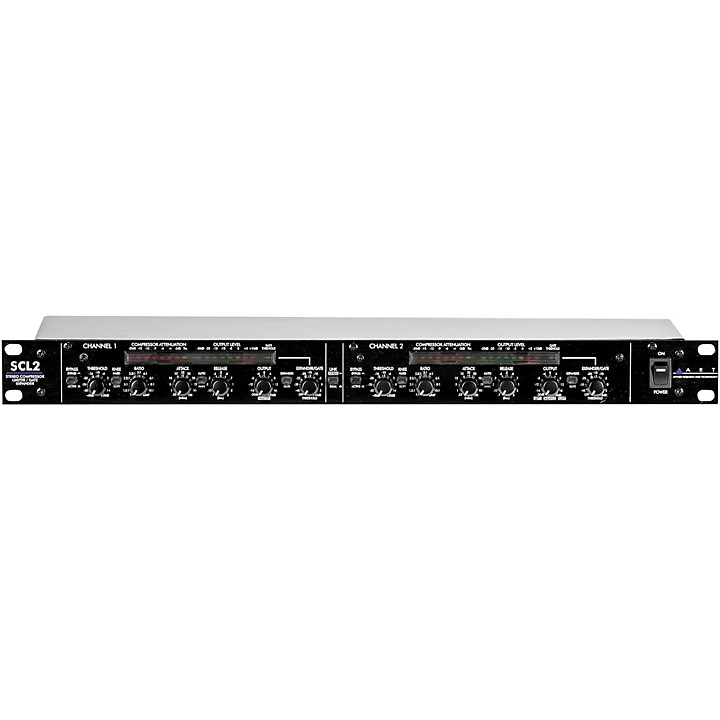 An essential piece of equipment offered at a very fair price.
The SCL2 is a quiet and versatile processor. It is a two-channel compresser, limiter/expander and a gate all in one. It is an ideal live system processor that does a great job at the essentials of live sound presentation, preventing spikes of volume and potential distortion, and tames mics with the gate in such a way that your drums and vocals sound tighter and cleaner.

It is a highly sophisticated and flexible dynamics processor designed for easy operation and great tone. The unit can be adjusted to provide anything from smooth, subtle compression to hard limiting. Noise reduction is provided by a fast solid gate or a subtle expander.

The Attack and Release functions allow the user to set the general operating range and then automatically adapt to the audio being processed. A full auto mode is also available. The ultra-precise LED meters while two LED meters clearly display the gain reduction for each channel.
Specifications
Input/Output Connections: ¼-inch TRS balanced
Side Chain Connections: ¼-inch TRS (Tip = Send, Ring = Receive)
Input Impedance: 10k Ohms
Output Impedance: 200 ohms (bal), 100 Ohms (unbal)
Maximum Input Level: +20 dBu Balanced
Maximum Output Level: +20 dBu Balanced
Frequency Response: 10Hz to 40kHz, +/- .5dB
Dynamic Range: 120 dB
Attack Time: .25mSec to 100mSec Adjustable
Release Time: 100mSec to 3 Sec Adjustable
Total Harmonic Distortion: <0.06% (typical)
Power Requirements: 120 V 60 Hz/50H, 10W max.
Dimensions: 1.75" H x 19.0" W x 6" D (4.5 x 48 x 15.2 cm)
Weight: 4.2 lbs / 1.9 kg
Features
Dual Channel or Linked Stereo Operation
¼-Inch TRS Side Chain Inserts
¼-Inch TRS And XLR Balanced Inputs
¼-Inch TRS And XLR Balanced Outputs
Stereo Mode Balance Control
Led Gain Reduction Meters
Selectable Auto/ Manual Attack/Release
Selectable Hard/Soft Knee
Precise Led Level Meters
Internal Power Supply
All Steel Chassis