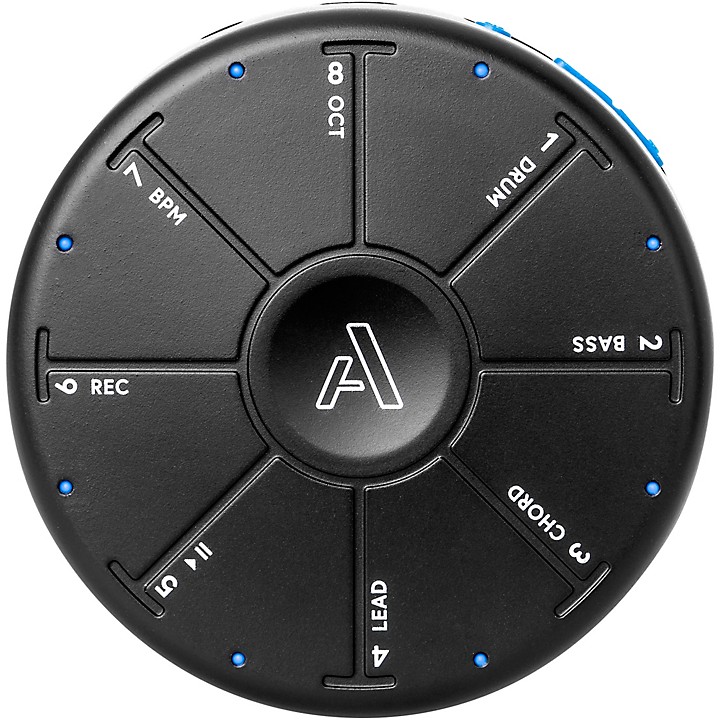 Hold out your hand and meet Orba 2.
The follow-up to Orba, Artiphon's best-selling instrument, Orba 2 has everything you love about the original—plus some significant upgrades. Make songs in seconds with the most unique sounds in the world. Play through the built-in speaker or plug-in headphones. Pair wirelessly to the Orba app to customize your instrument and share your creations with friends. Take your music making to new heights with Orba 2, anywhere you go.
Play Any Sound in the World
Orba 2's unique sounds include electronic synths, as well as more traditional and acoustic instruments. Its redesigned sound engine lets you play pianos, guitars, band instruments and more. You can conduct a string orchestra in the park—no strings attached, and no screens required.
Create Your Instruments
With the Orba 2 app, you can record any sound from the real world and instantly turn it into a playable musical instrument. For example, you could capture the sounds of the city on your walk—whether it's turning a jackhammer into a percussion instrument, or capturing a tone from a street busker so you can play it yourself later.
Loop Songs in Seconds
Orba 2 has an integrated looper that allows you to record right on the device itself. Using Drum, Bass, Chord and Lead modes, you'll be able to combine these sounds to create songs that are uniquely yours. Orba 2's new quantizing feature will keep everything in time, so you focus on creativity and fun. And, since Orba 2 has far more memory than its predecessor, you'll be able to make way longer songs—up to 128 bars.
Play with Gestures
Orba's touch and motion sensors combine to capture even the most subtle micro movements. The playing surface features eight highly touch-sensitive pads, and Orba has nine core gestures: Tap, Press, Spin, Radiate, Tilt, Shake, Slide, Vibrato, Move and Bump. Each motion can control the onboard synth engine or your MIDI music software of choice. Simply by sliding a finger across the Orba 2's surface, you'll have endless fun blending and morphing these samples to achieve an infinite combination of sounds. You'll never play the same note twice.
MIDI Control
Use Orba to control your MIDI-based software and hardware instruments (via USB-C or wirelessly via Bluetooth MIDI). Use Orba with GarageBand, Ableton Live, Logic Pro, Pro Tools, Cubase, FL Studio, as well as any MIDI-compatible mobile app. In addition, Orba is fully compliant with the new standard for MIDI Polyphonic Expression (MPE), making it capable of multiple independent note expressions.
Specifications
I/O
USB-C (USB 2.0 class-compliant audio/MIDI)
1/8" TRS headphone stereo out
Bluetooth
Bluetooth LE MIDI
Speaker System
3W built-in active speaker system
Battery
Lithium polymer battery
1250mAH
5 hours of constant playtime at 50% volume
Capacitive Touch-Sensitive Pads
8 pads can be used with different gestures
Sound Engine
4-part polyphonic synthesizer with subtractive and physical modeling synthesis
Compatibility
iOS, Android, Mac, Windows
Product WeightProduct Dimensions (Diameter x Height)What's in the Box
Orba 2
USB-C to USB-A cable
Quick start guide
Features
Eight capacitive-sensing pads respond to the lightest velocities
Accelerometer and gyroscope capture a range of multi-dimensional gestures
Onboard synthesizer and built-in speaker offer an immediate playing experience
Use the built-in looper to layer Drum, Bass, Chord and Lead parts
Connect to the cross-platform Orba app for more sounds, songs and settings
Connect via MIDI over Bluetooth or USB, and use MIDI Polyphonic Expression (MPE) to play your sounds in dynamic new ways
Use the 1/8" output to listen on headphones, speakers and amps
Multicolor LEDs respond to the way you play
An embedded haptic engine offers vibration feedback
USB-rechargeable battery