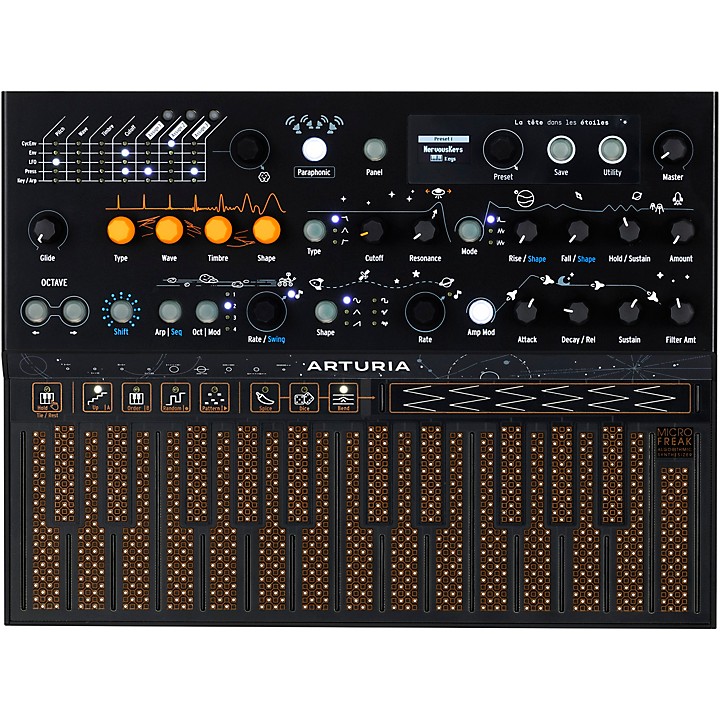 A best-selling versatile synth just got better.
The Arturia MicroFreak Stellar is a hybrid synthesizer that now combines digital oscillators, sampling, analog filters, quirky modulation, a uniquely flat PCB keybed and expressive sequencing with a subtly out-of-this-world aesthetic design. Discover the same lovable hybrid beast that sent the synth world into a spin—but primed for launch and ready for an interplanetary sonic voyage. MicroFreak Stellar features the same inspiring, bonkers sound but embellished with a sleek, all-black finish and unique space-age graphics.

Treat yourself to only the weirdest and most wonderful paraphonic synth sounds with MicroFreak's multimode sound engine. Choose from numerous algorithms, including Wavetable, Chord, four new Sample and Granular engines and many more, and immediately customize your patches with four intuitive controls and real-time visual feedback. Change the way you play and unlock fresh musical expression with MicroFreak's distinct PCB keyboard. It's flat, it's fast and it's fit for everything from lightning-fast solos to instant arp creation. Not only is it pressure sensitive, but it offers poly-aftertouch too.
Analog Filter and Modulation Matrix


Unlock truly unique hybrid tones by combining MicroFreak's digital sound engines with a crunchy resonant analog filter, inspired by the classic Oberheim SEM. With low-pass, band-pass and high-pass modes, you can make this Freak whisper, scream or launch into self-oscillating orbit. Quickly rewire MicroFreak's architecture and delve deep into complex sound design with its modulation matrix, offering up to seven simultaneous destinations and five sources, including an ADSR envelope, cycling envelope and six-shape LFO.


Sequencing and Randomization


Blur the lines between sequencing and arpeggiation and create spontaneous melodies, motifs and rhythmic patterns on the fly. MicroFreak encourages musical exploration, expression and evolution with its unique Spice & Dice randomization feature, ribbon controller and four lanes of automation.
Specifications
General
Keys: 25
Sequencer: 64-step
Patterns per preset: 2
Automation tracks per preset: 4
Preset slots: 384
Factory presets: 320
Oscillator modes: Over 20
Voices, Monophonic or Paraphonic modes: Up to 4
Display: OLED
Outputs
Master: 6.35 mm
Headphone: 3.5 mm (TRRS input compatible for Vocoder engine)
Features
Desktop hybrid synthesizer with unique Stellar design
Over 20 digital oscillator modes, including a new Sample engine, three new Granular engines, plus algorithms from Mutable Instruments and Noise Engineering
Analog State Variable Filter, 12dB/octave, resonant, Low Pass, Band Pass, High Pass
ADSR envelope with new "snappy" mode
LFO with Sync: Sine, Tri, Saw, Square, Random, Slew Random
Modulation matrix with five sources and seven destinations (three custom destinations)
Cycling Envelope offering two modes: Envelope, LFO
Monophonic or Paraphonic modes, up to four voices
Chord mode lets you program a chord shape and play it on any note
Scale Quantize lets you set a specific scale for the white notes to simplify the creative process
25-key capacitive keybed with polyphonic aftertouch
Capacitive touch strip
Crisp OLED display for editing and parameter values
CV/Gate/Mod outputs
USB, Clock and MIDI in and out
Powerful arpeggiator with Up, Order, Random, Pattern modes
Spice & Dice Gate randomizers