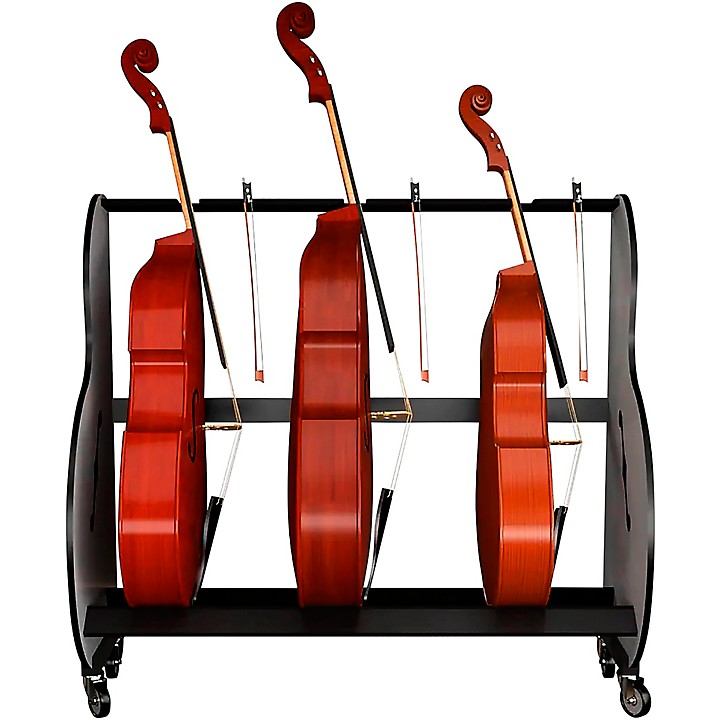 Sturdy rack for the classroom.
For music teachers whose classrooms are already cluttered with smaller-sized instruments, risers and sheet music stands, it's difficult to make space for instruments as large as the double bass. And leaning them against the wall can be a risky proposition. The Band Room Double Bass Cart is just what you need. It can hold 1/4, 1/2 and 3/4-size double basses and their bows too. Felt lining on all contact points protects against scratching and scuffing.

Specifications
Capacity: Up to three double basses (of up to 3/4 size) and bows
Dimensions (WxHxD): 62"x59"x27"
Features
Easy Transport
All Band Room racks include heavy-duty wheels which allow you to push this cart around your classroom with ease and are designed to fit through standard 32" wide classroom doorways
Easy Assembly
Easily assembled with just the hex wrenches (included) and a friend (not included)
American-made Craftsmanship
Constructed of hardwood rails and scuff-resistant, high-pressure laminate sides with a brushed-aluminum finish and a decorative f-hole cut-out
All Band Room products are made in the USA, designed and built to last by a passionate team of people who deeply care about your satisfaction