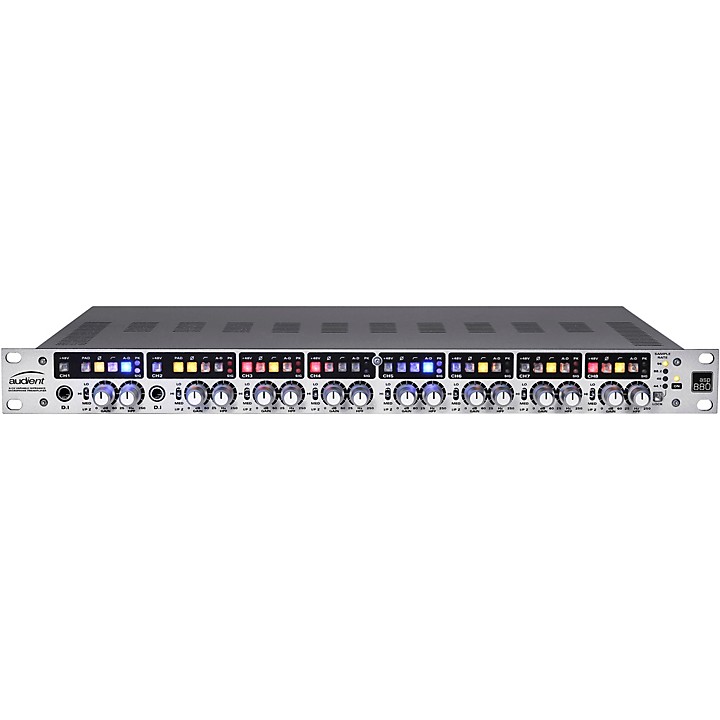 8-channel mic preamp with ADC in 1RU package.
The Audient ASP880 8-channel microphone preamplifier is an audio powerhouse designed with expandability in mind, making it the perfect addition to your audio interface. Upgrade your current setup with eight channels of Audient's Console mic preamps, eight line inputs/outputs, class-leading converters, two JFET D.I.s—all in a compact 1RU package. The ASP880 allows you to add professional quality mic pres to your rig and expand your existing interface, take on bigger sessions with confidence and to comfortably take on drum recordings.

Audient Consol Mic Pres
Tackle any project with the Audient Console mic preamp, the same discrete circuit design found in the renowned ASP8024-HE recording console. Designed to deliver ultra-low noise and low distortion with a touch of classic analogue warmth, the ASP800's eight Audient Console mic pres provide the professional sound your projects deserve.

Class-Leading Converters
Confidently capture microphones and line level instrument with ASP880's class-leading converter technology. By providing the cleaning signal path possible, ASP880 makes sure you capture every nuance and detail of your audio, allowing you to focus on getting the most from your session.

Plug and Play
As well as offering eight channels of mic pre, ASP800 has two harmonically rich JFET D.I. inputs that replicate the input stage of a classic valve amplifier. Plug your guitar, bass, keyboard or drum machine in and start recording instantly.
Specifications
Preamp Type: Solid State
Number of Channels: 8
Phantom Power: Yes
EQ: High Pass Filter (variable)
Sample Rate: Up to 96kHz
Bit Depth: 24-bit
Analog Inputs: 8 x XLR-1/4" combo (mic/line), 2 x 1/4" (Hi-Z), 1 x DB-25 (return)
Analog Outputs: 1 x DB25 (send)
Digital Outputs: 2 x Optical Toslink (ADAT, SMUX), DB-9 (AES, S/PDIF)
Clock I/O: 1 x Word Clock
Frequency Response: 10Hz-100kHz (±0.5dB)
Rack Spaces: 1U
Power Source: Standard IEC AC cable
Height: 1.75"
Depth: 11" (not including jacks/controls)
Weight: 8.8 lb.
Included:
8 Audient mic pres
8 ADC line inputs/insert points
Two JFET instrument inputs
Digital outputs ADAT, AES + S/PDIF