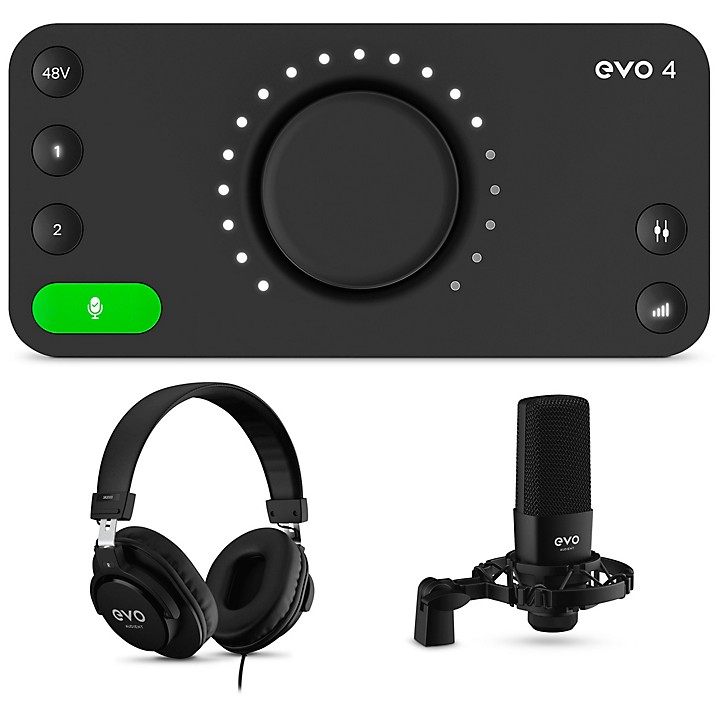 An audio interface bundle with everything needed to start recording.
Start your journey into the world of audio recording with the Audient Start Recording bundle, a professional, powerful and versatile solution for home recording. Featuring the EVO 4 audio interface, SR1 condenser mic and shockmount, SR2000 monitoring headphones and a balanced XLR cable, the Start Recording bundle has everything you need to get recording right away.

EVO 4 Audio Interface
Capture your microphones and instruments by recording audio directly to your computer with EVO 4's intuitive feature set. Combining leading tech specs with astounding performance and sound quality, EVO 4 is the ultimate interface for beginners and pros alike. Four warm and accurate EVO preamps offer 58dB of gain range, while high performance converters allow you to hear your recordings more accurately than ever and make better mix decisions with 113dB of dynamic range, while Smartgain automatically sets microphone levels.

Included Mic and Headphones
The SR1 condenser microphone lets you capture every detail and nuance of your performance from the moment you hit record. Its large diaphragm design and versatile nature will give you studio quality recordings no matter the source. Plus, the SR2000 monitoring headphones not only deliver superior audio performance but have been engineered to provide long-lasting comfort. 40 mm neodymium drivers consistently deliver accuracy and clarity where you need it most, helping to make sure you make the right sonic decisions when recording and mixing.

Unlimited Possibilities
Audio has no boundaries and neither should you. The Start Recording bundle provides all the tools you need to get started, but what you create is up to you. The bundle is great for recording music, podcasting, streaming, gaming and content creation of all kinds.

Included Software
EVO 4 includes a small application allowing you to make quick and simple adjustments to your EVO 4 directly from your computer. The EVO application is available for both MacOS and Windows. Great for making quick adjustments while tracking or mixing.
Specifications
SR2000 Headphones
Headphone Type: Supra-aural
Driver Type: Dynamic
Impedance: 32ohms
Sensitivity/Max SPL: 95+/-3dB, 105+/-3dB
Frequency Response: 15Hz to 22kHz
Max Power: 400MW
Rating Power: 250MW
Plug: 3.5mm
SR1 Microphone
Polar Pattern: Super-cardioid
Frequency Response: 20Hz to 18kHz
Sensitivity: -30dB+/-3dB
Max Input SPL: 134dB
Phantom Power Requirement: 48V
Phantom Power Current Draw: 3mA
Microphone Preamplifier
Mic Gain Range: 58 dB
Line Gain Range: 58 dB with -10dB Pad
Phantom Power: 48v+/-4v @ 10mA/Channel
CMRR: 85dB @ 1kHz
Max Input Level: +16dBu
Frequency Response: +/-0.5dB 10Hz to 40kHz
XLR: Pin 2 (Hot), Pin 3 (Cold) and Pin 1 (Shield)
1/4" Jack: TIP (Hot), RING (Cold) and SLEEVE (Shield)
D.I:
D.I Gain Range: 58dB
Max Input Level: +10dBu
Frequency Response: +/-0.5dB 10Hz to 20kHz
1/4" Jack: TIP (Hot) and SLEEVE (Shield)
DAC Outputs
Max Output Level: +11dBu
Frequency Response: +/-0.5dB 10Hz to Fs/2
Dynamic Range: 113dB A-weighted
1/4" Jack: TIP (Hot), RING (Cold) and SLEEVE (Shield)
Headphone Output
Frequency Response: +/-0.5dB 10Hz to Fs/2
Dynamic Range: 113dB A-weighted
Max Level Into 30ohms: +0.5dBu, 0.0025% THD+N, 1.16Vpk Power: 52mW
Max Level Into 60ohms: +4.22dBu, 0.0015% THD+N, 3.52Vpk Power: 20mW
Max Level Into 600ohms: +10.1dBu, 0.0018% THD+N, 3.52Vpk Power: 20mW
1/4" Jack: TIP (Left, RING(Right) and SLEEVE (Shield)
USB 2.0 High Speed
Input Channels: 2 analogue
Output Channels: 2 digital
Connector: USB Type-C
Included Cables: 1m USB 2.0 Type-C to USB Type-A
Features
Included:
EVO 4 Audio Interface
SR1 Condenser Microphone
SR2000 Monitoring Headphones
Shockmount
XLR Cable
Free Software and Plugins
iOS Compatible