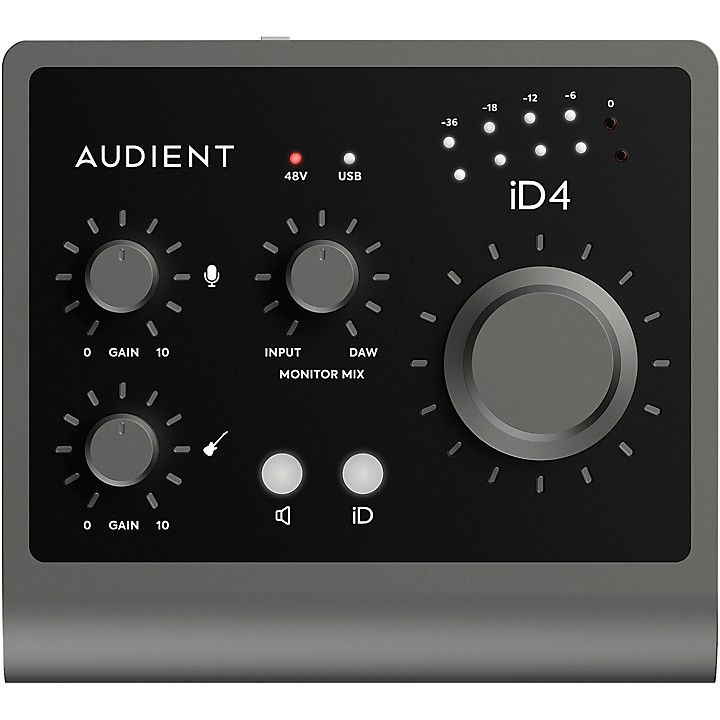 Everything you need to create studio-quality recordings at home.
Designed to take your recordings to the next level in every way, the iD4 MKII from Audient delivers professional audio performance in a compact and modern desktop package. Featuring an Audient Console mic pre, class-leading converters, dual headphone outputs and a JFET Instrument Input, iD4 gives you everything you need to create studio-quality recordings at home.

The Professional Sound You Deserve
Every iD interface features the Audient Console Mic Preamp, the same discrete circuit design found in Audient's renowned recording console, the ASP8024-HE. Designed to deliver ultralow noise and low distortion with a touch of classic analog warmth, iD4's Audient mic pre will give you the professional sound you deserve.

It's All in the Details
iD4's converters make sure you hear every nuance and detail of your audio, letting you hear your mix more accurately. Work faster, make better creative decisions and experience professional audio performance from your desktop. Plus, it is equipped with both a jack and mini jack connection, and a powerful headphone amp capable of driving headphones up to 600 ohms, ready to take on the most demanding recording sessions.

Plug and Play With Ultralow Latency
Designed to replicate the input stage of a classic valve amplifier, iD4's harmonically rich JFET Instrument Input is the ideal sonic foundation for your guitar or bass. Don't let latency slow you down, either. With Monitor Mix, quickly create and monitor a blend of iD4's inputs, and your computer audio, to find the perfect balance and lay down your tracks effortlessly.
Specifications
General
Sample rate: 96kHz
Bit depth: 24
Mic gain: 58dB
Mic pre EIN: 128dBA
Mic pre SNR: 100dBA
Mic pre THD+N: <0.002%
Frequency response (at unity gain): ±.5dB 10Hz to 40kHz
ADC dynamic range: 121dB
ADC THD+N: <0.001%
Line output dynamic range: 126dBA
Line output THD+N: 0.0005%
Frequency response: ±0.1dB 10Hz to 40kHz
Inputs and Outputs
Mic pre: 1
JFT instrument input: 1
Line outputs: 2
Headphone outputs: 2
Power
Max power with 30 ohm load: 220mW
Max power with 62 ohm load: 280mW
Max power with 600 ohm load: 100mW
Power requirements
USB 3.0: 900mA at 5V
USB-C: 1.5A at 5V
Other
Included cable: USC Type-C

Features
Class-leading converters
ScrollControl takes the volume knob and turns it into a virtual scroll wheel for control of many compatible onscreen parameters
Speaker on/off button
Monitor mix and pan
True phantom power over USB for optimal sonic performance
USB3.0 bus powered
iOS compatible
24-bit/96kHz
All-metal design engineered to survive everyday use
Bundled with a free suite of creative software, including Cubase LE and Cubasis LE for iOS, alongside industry-leading plug-ins and virtual instruments