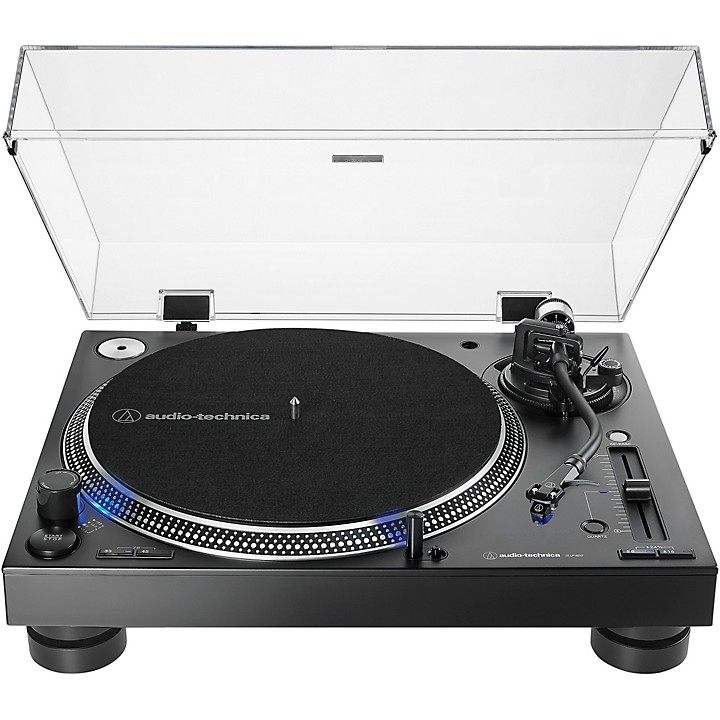 High-torque direct-drive motor and custom-designed phono cartridge.
The Audio-Technica AT-LP140XP direct-drive turntable is designed with professional DJs in mind. It features a rugged body and a heavy-duty aluminum platter. DJs who learned to spin on vinyl will recognize the AT-LP140XP's traditional 1200-style layout and appreciate its manual operation. The 1200-style record player was made famous by the Technics SL1200 DJ turntable in the 1970s. Whether you're spinning selections from your vintage record collection or using a modern digital vinyl system (DVS), the AT-LP140XP is up to the task.

The AT-LP140XP manual DJ turntable features a high-torque direct-drive motor. DJs of all genre require high torque for quick starts. Things move quickly in the DJ booth, so the AT-LP140XP is designed to keep up.

With its heavy-duty construction, the AT-LP140XP is made to fight vibrations in loud nightclub environments. Its die-cast aluminum platter is mass-damped and designed to resist resonance and vibration. The result is smooth, stable rotation and excellent sound quality. Easy-to-use buttons let you select from 33-1/3, 45 and 78 RPM speeds.

An S-shaped tonearm features height adjustment and has an adjustable tracking force. There's also an adjustable anti-skate control to improve tracking and avoid skipping. Professional DJs know the importance of having their decks set up properly. The AT-LP140XP's adjustments give you the ability to dial in the perfect settings for the type of DJing you practice.

The Audio-Technica AT-LP140XP comes equipped with a phono cartridge and needle. Designed specifically for this turntable, the AT-XP3 DJ cartridge features a conical bonded stylus. It is mounted to an AT-HS6 universal 1/2" mount headshell. This phono cartridge combination provides excellent output and high-fidelity sound. It's ideal for backcueing and mixing.

Designed to connect to components with a dedicated phono input, the turntable comes with a detachable dual RCA output cable and supplies a strong 5.5 mV output.

As you'd expect from a pro-grade DJ turntable, the AT-LP140XP is rich with features DJs need to perform their best. The stop/start button is precisely where it should be on the front of the turntable. DJs can select from forward and reverse play. The accurate quartz-controlled pitch slider features an adjustable range. The stroboscopic platter with speed indicator lets you keep an eye on the platter's speed. The retractable plug-in style target light illuminates lets put the needle precisely where you want it. When the AT-LP140XP isn't in use, the hinged dust cover keeps it safe.
Specifications
General
Type: Manual
Drive type: Direct-drive
Speeds: 33-1/3, 45 and 78 RPM
Tone arm: S-shaped
Onboard Features
USB: No
Bluetooth: No
Line output: RCA
Reverse play: Yes
Target light: Yes
Other
Width: 17.80"
Height: 6.24"
Depth: 13.86"
Weight: 22 lb.
Features
Direct-drive, high-torque motor
Heavy-duty construction
Die-cast aluminum platter
Detachable RCA cables
Includes custom phono cartridge