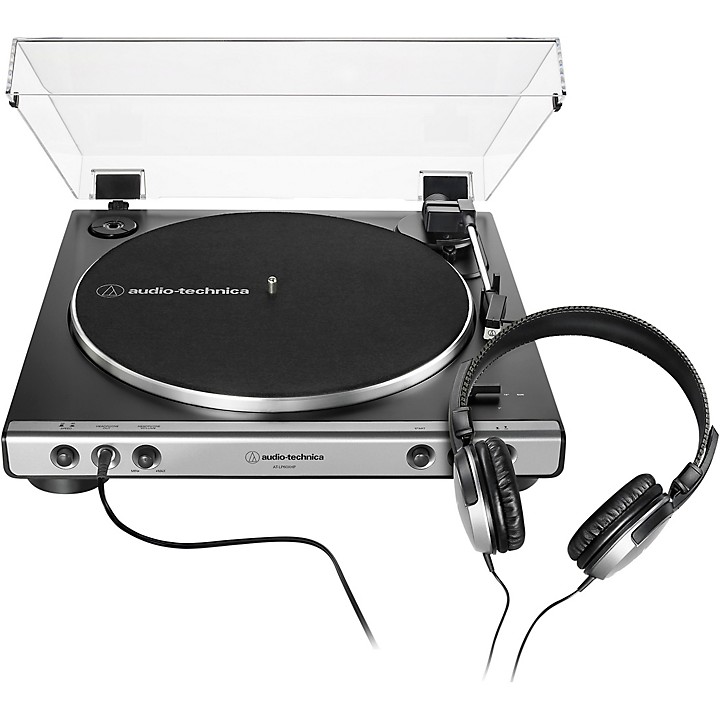 Turntable package with a pair of great-sounding headphones.
The AT-LP60XHP turntable and headphones combination combines the Audio-Technica AT-LP60X record player and ATH-250AV headphones. This turntable package features a belt-drive record player for high-quality sound and reliability. Enjoy your vinyl record collection at either 33 1/3 or 45 RPM speeds.

The included AT-LP60X automatic belt-drive turntable adds an integrated headphone amplifier with a 3.5 mm mini-stereo headphone jack and volume control on the front panel. All you have to do is plug in the included ATH-250AV over-ear headphones and start spinning your vinyl.

Of course, the turntable can also be connected to your stereo, powered speakers, computer or other components and used as a standard turntable. The detachable RCA output cable (3.5 mm male to dual RCA male) and built-in switchable phono preamp allow the turntable be connected to components with and without a dedicated phono input. Like the AT-LP60X, the AT-LP60XHP features a redesigned tonearm base and headshell to improve tracking and reduce resonance. Noise is further reduced by the inclusion of an AC adapter that moves the AC/DC conversion outside of the chassis where its impact on the signal chain is limited.

Audio-Technica has been a leader in phono cartridge design for more than 50 years, and that expertise shows in the AT-LP60XBT's Dual Magnet cartridge with replaceable stylus. The cartridge is integrated into the headshell for assured performance and ease of setup.

The ATH-250AV headphones are equipped with 40 mm drivers for clear mid- and low-frequency reproduction. The lightweight construction and comfortable, isolating earpads allow you to listen for as long as you like, and the 3.5 m (11.5') cable gives you plenty of flexibility.

The turntable comes with a 45 RPM adapter and a removable hinged dust cover.


Features
Turntable package with AP-LP60X and ATH-250AV headphones
Belt-drive mechanism
Automatic operation
Hinged dust cover
Over-ear headphones