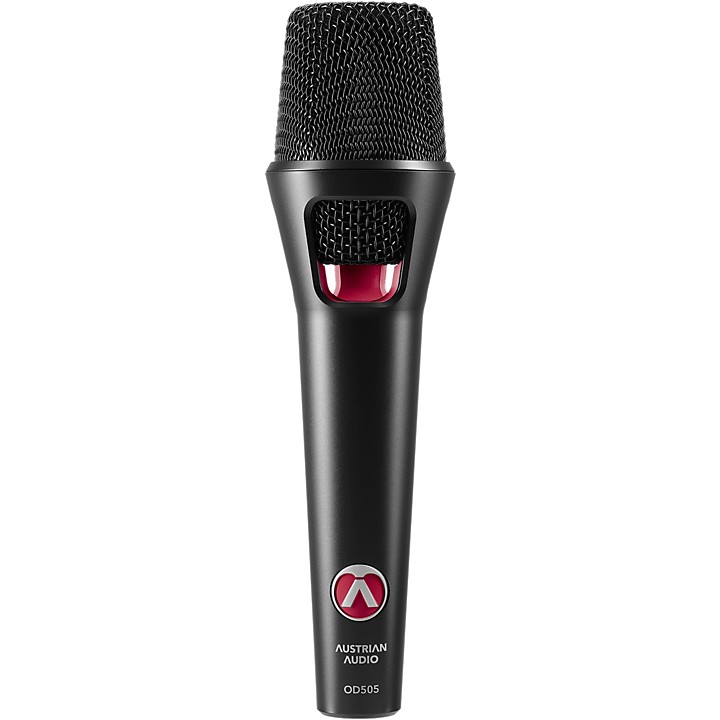 Designed primarily for the stage.
The OD505 active dynamic vocal microphone is designed primarily for the stage, though it is also a very capable microphone for studio application. Uncompromisingly robust, it combines all the advantages of a dynamic micro- phone with the tonal finesse of a condenser microphone.

Featuring Austrian Audio's proprietary Open Acoustics Technology, the OD505 delivers a pristine, natural and resonance-free sound without any colouring, making it the perfect choice for singers, podcasters and radio broadcasters. Its amazingly natural sound makes it very easy to shape and highlight a vocalist's strengths.

The state-of-the-art dual capsule design, together with the selectable 2nd order high-pass filter makes the OD505 practically immune to noise such as handling noises, bumps and stage knocks. With its active circuitry, the OD505's sound is always consistent, regardless of the internal resistance of the microphone preamplifier or length of connecting cables. The OD505 also includes another Austrian Audio proprietary development: The 3D Pop Noise Diffuser. This filter is specially designed for the OD505 and effectively reduces the impact of plosives.

Specifications
Directional characteristic: Supercardioid
Frequency range: 35Hz–16kHz
Sensitivity: 4.4 mV/Pa
Max. SPL: 154dB SPL
Low cut filter: 120Hz (2nd order)
Impedance: 275 ohm (symmetrical)
Load impedance: > 1 kohl
Supply voltage: 48V (< 1 mA)
Main Connector: XLR 3 pin
Dimensions:194 x 53 x 53 mm
Weight: 340 g
Features
Active dynamic circuit increases the sensitivity to condenser microphone level, which ensures consistent sound, regardless of the impedance of the microphone preamp
Cable invariant frequency response
Rugged die-cast body for the most challenging live environments
Proprietary 3D Pop Noise Diffuser for outstanding pop noise suppression
Switchable second-order high-pass filter]
Made in Austria
Contents of Package
1 x OD505 Active Dynamic Vocal Microphone
1x OCH1 Mic Clip
1 x MSC1 Carry Case