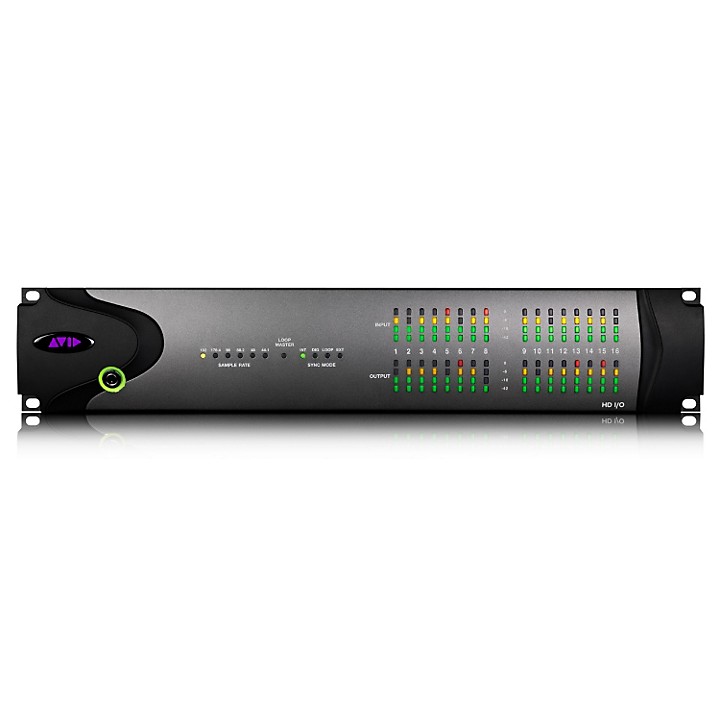 Highly professional 16 x 16 analog I/O, perfect for music production.
Professional studio recording requires a professional audio interface, something that will perform with the precision and stability needed for larger more demanding sessions. Cue in the Avid HD I/O, a high-performance Pro Tools HD|Seris 8 x 8 x 8 analog and digital audio interface thats designed to completely integrate with Pro Tools HD|Systems. The interface features premium A/D and D/A conversion and advanced circuitry, giving you pristine sound quality and clarity and the lowest possible latency.

Hear what youve been missing
A sonic improvement over its audio interface predecessors, HD I/O features premium A/D and D/A conversion, so you can achieve higher audio fidelity, extensive dynamic range, super-low jitter, and the absolute lowest possible latency in your sessions. With certain configurations, you also get built-in sample rate conversion and a soft clip feature for worry-free recording. And using Curv, a new built-in soft-knee limiter that catches even the fastest transients, you can track hotter signals and smooth out inconsistent levels from incoming sources.

The connections you need"now and later
HD I/O comes in three configurations, so you can choose the interface that best suits your connection needs. What's more, you can expand your analog or digital I/O by simply installing an HD I/O option card into any empty bay.

The ultimate in interface flexibility
As your needs grow or change, you can easily add more analog inputs, analog outputs, or digital I/O by installing an option card. You can install one option card in HD I/O 8x8x8 and up to two in HD I/O 16x16 Digital. While HD I/O 16x16 Analog comes with the maximum four cards, you can customize your I/O by swapping out any card.

Work with Pro Tools and more
HD I/O and all other Pro Tools, HD Series interfaces completely integrate with Pro Tools|HD, so you get maximum performance, dependability, and control of your inputs, outputs, and routing right from your Pro Tools software interface. You'll also get higher production quality and greater workflow flexibility than with previous Pro Tools interfaces. And if you want to use your interface with Pro Tools| HD and other DAW software, you can do that too, as all Pro Tools|HD systems support Core Audio and ASIO drivers.
Specifications
Analog inputs: 16
Analog outputs: 16
AES/EBU I/O 2: 2
AES single-wire (192 kHz): Yes
S/PDIF I/O: 1 In + 1 Out (coax or optical)
ADAT I/O: 8
S/MUX: S/MUX II and IV
SRC: N/A
Word Clock I/O: 1 In + 1 Out
Loop Sync I/O: 1 In + 1 Out
Digital interface: DigiLink Mini
Dynamic range ADC: 122 dB
Dynamic range DAC: 125 dB
THD+N ADC: -114 dB (0.0002%)
THD+N DAC: -110 dB (0.00032%)
Frequency response ADC: 20 Hz " 20 kHz N/A
Frequency response DAC: 20 Hz " 20 kHz N/A
Expansion: None (card swaps only)
Curv: Yes
Soft clip: Yes
Cal trims: Yes
Metering: 32 4-segment LEDs
Internal fan: Yes
Chassis: 2U rack-mountable
Features
Pristine audio clarity and ultra low latency
State-of-the- art A/D and D/A conversion
Premium analog circuitry, and meticulous attention to design
Maximize your analog I/O with HD I/O 16x16 Analog
Versatile digital I/O on all interfaces, with built-in sample rate conversion
Completely integrates with Pro Tools|HD family system for full input, output, and routing control
Track hotter signals and smooth out sounds with Curv, a new built-in soft-knee limiter
Keep things in sync with dedicated Word Clock and Loop Sync I/O
Keep an eye on your levels easily through 32 4-segment metering LEDs
Robust 2U rack-mountable chassis
Connects to Pro Tools|HD family system through a DigiLink Mini connection (cable and adaptor included)