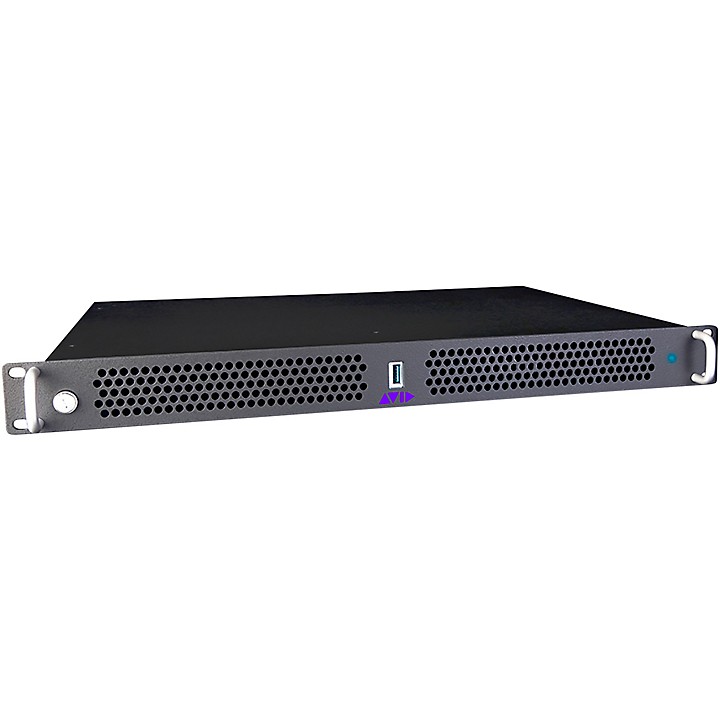 Create music with one of the fastest, and most powerful DAWs in the industry.
Bring the power of HDX to your studio rack with the Avid Pro Tools | HDX Thunderbolt 3 Rackmount Chassis, built in partnership with Sonnet. The 1U rack-mountable chassis can house a single HDX card, as well as a Mac mini, providing portability and easy connection to today's Thunderbolt 3-equipped computers.

Avid Pro Tools | HDX takes the performance and the power of the industry leading Pro Tools | HD system and adds even more power, higher audio quality and easier workflows for recording, editing, and mixing some of the most demanding productions. With Pro Tools | HDX, you get more tracks, more headroom, and up to 5x more dedicated DSP power to tackle massive post-production projects with the confidence that comes with guaranteed performance. There' a reason that Pro Tools is the standard in most professional studio environments, and with Pro Tools | HDX there' even more.


Mix Bigger, Better Projects
With Pro Tools | HDX, you get up to 5x more power per card than Pro Tools|HD Accel, so you can focus on your mix"not your mixer"and do much more with less.

- Create bigger, more complex mixes with 4x more tracks (up to 768 voices)
- Double your ins and outs with up to 64 channels of I/O per card (up to 192 total)
- Handle large plug-in-heavy mixes easily with 4x more Automatic Delay Compensation


More Headroom—Less Headaches
Pro Tools | HDX uses floating-point calculations for plug-in processing and mixing, enabling you to achieve the best sound quality possible, with the least effort.

- Record and mix in higher resolution (up to 32-bit, 192 kHz audio) and significantly greater dynamic range
- Let your mixes breathe with increased headroom, and eliminate clipping and obsessive gain staging
- Improve workflow and sonic parity between DSP-accelerated and native-based Pro Tools systems with the new AAX plug-in platform


The Fastest Workflows—Yours
Pro Tools|HDX tightly integrates with Pro Tools HD software and your Mac or PC, giving you optimized performance from creation to completion.

- Get a highly responsive feel"even in your most complex projects"with RAM-cached record/playback and real-time fades
- Keep the channel routing in complex sessions in check easily with bus interrogation
- Work faster with pro-level tools, including Clip Gain, advanced audio editing and automation, surround sound, and more
- Accelerate your recording, editing, and mixing with Avid Pro Mixing consoles, which offer unprecedented hands-on control
- Share even more with Media Composer and other AAF-compatible software with support for multichannel tracks, Clip Gain, and a 24-hour timeline


It's All About the Sound
There' a reason why more professionals trust the sound of Pro Tools than with any other DAW. Now you can get even higher fidelity audio with Pro Tools | HDX.

- Get better audio clarity and detail than ever before combining Pro Tools | HDX with any Pro Tools HD Series audio interface
- Compose music and polish mixes with over 75 high-quality virtual instruments, effects, and sound processing plug-ins
- Get the renowned sound of the coveted Avid System 5 console with the Avid Channel Strip plug-in


The Versatility You Need—Now and In The Future
As your needs or business grows, you can easily scale Pro Tools | HDX to handle whatever comes your way, and take advantage of unique features and workflows.

- Gain more tracks and power by simply adding another Pro Tools | HDX card to your system
- Mix and match Pro Tools HD Series interfaces to meet your needs, or use Pro Tools HD software standalone for on-the-go mixing
- Collaborate with Media Composer editors through AAF sharing or Satellite technology options

Specifications
System Requirements
Mac OS X
Computer:Apple Mac Pro (Nehalem/Westmere models only)
OS: (32 or 64-bit) Mac OS X Lion
Memory: 4 GB of RAM (8 GB or more recommended)
Minimum 15 GB free hard disk space for installation
USB port for iLok authorization (iLok included)
Windows
Computer: HP Z800 series computer
OS: (32 or 64-bit) Windows 7 Home Premium, Professional, or Ultimate (with Service Pack 1)
Memory: 4 GB of RAM (8 GB or more recommended)
Minimum 15 GB free hard disk space for installation
USB port for iLok authorization (iLok 2 key included)
In The Box
HDX Card
TDM Flex Cable
Power cable for HDX Card
Registration Card

Features
Get up to 5x more power per card than Pro Tools | HD Accel
Bigger, more complex mixes with 4x more tracks (up to 768 voices)
Up to 64 channels of I/O per card (up to 192 total)
Handle plug-in-heavy mixes with 4x more Automatic Delay Compensation
Floating-point calculations for plug-in processing and mixing
Record and mix in higher resolution (up to 32-bit, 192 kHz audio)
Tightly integrates with Pro Tools HD software and your Mac or PC