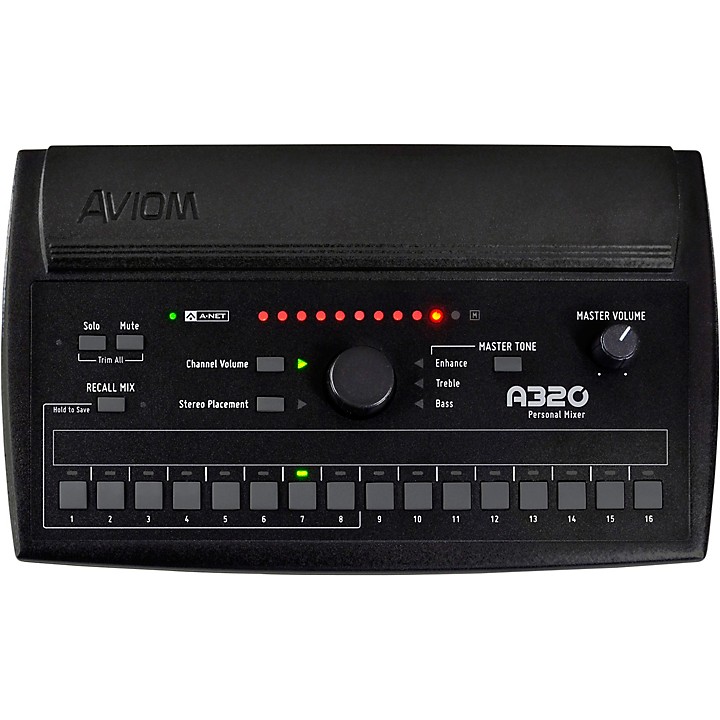 Pro-level control and features.
The A320 Personal Mixer gives performing and recording musicians simple, intuitive control over their monitor mixes. With many of the features of the award-winning A360 Personal Mixer, the A320 gives musicians the ability to get clear, musical monitor mixes every time they play. Ideal for use with in-ear monitors and headphones, the A320 gives musicians powerful control over their mix, while also preserving the simplicity required for use while performing. The A320 is compatible with all existing and legacy Aviom personal mixing systems and can be used simultaneously with the A360 and/or A-16II Personal Mixers.

Each of the 16 mix channels on the A320 can host a mono or a stereo source. That means you can preserve the fidelity of your stereo instruments and submixes from the console without giving up another mix source in your personal mixer. And that translates directly into clearer, more natural sounding monitor and cue mixes.

Good stereo imaging in a monitor mix is essential for hearing every source clearly and distinctly, within the context of the ensemble. It's also an important way to reduce the sense of isolation many musicians experience with in-ear monitors.

Like the A360 Personal Mixer, the A320 allows users to pan both mono and stereo sources. With stereo sources, the Stereo Placement control adjusts both the separation and the position of the source in the mix as a whole. The A320 places all that power in a single control, allowing musicians to make a clear, natural sounding monitor mix with just the simple turn of the knob.
Specifications
Audio Output: 1/4" TRS stereo, headphone or line level
Stereo Mix Output, Headphone/Line: Tip: Audio Left; Ring: Audio Right; Sleeve: Ground
A-Net I/O: 1 A-Net In, RJ45 connector; Supports Pro16 (16-channel) and Pro16e (32-channel)
D/A Conversion: 44.1/48kHz, 24-bit
Stereo Operation: Stereo Link, per channel pair; Set at the input module; Variable pan per mono channel or pan/spread per stereo channel pair
Headphone Output: 275 mW per side into 50 Ohms (both sides driven)
Output Impedance: 5 Ohms
Freq. Response: 3Hz-22kHz +0.2dB/-3dB at 50 Ohms
THD +N: < 0.003%
Output Voltage for Personal Mixers: 24VDC, 0.5 amp Transmitted over the Cat-5e cable
Signal to Noise (unweighted): -106dB (measured with zero data into all channels)
Latency: 0.880 msec (measured from analog input to analog output)
Pro16e A-Net: Use Cat-5e (or better) cable; Maximum 400 ft (122 m) between devices; Supports Power Over A-Net
Cat-5 cable: Use shielded Cat-5e (or better) cable to stay below the CISPR 22 Class B, ICES-003, and FCC 47 CFR Part 15 Class B emissions limits.
Power: 24 VDC, 0.5 amp; Power is supplied over the Cat-5 cable when connected to an Aviom A-Net Distributor
Dimensions: 10.26" (260.6 mm) wide x 6.14" (155.95 mm) deep x 1.91" (48.51 mm) high
Weight: 1.3 lb. (0.59 kg)
Options: MT-1a Mic Stand Mount
Features
16 mono or stereo sources
32-channel mix engine
Per-channel volume and Stereo Placement
Eight customizable mix presets
Three-band master tone controls optimized for in-ear monitors
Per-channel solo and mute
Compatible with existing Aviom personal mixing systems